Here's What Happens If Tillerson Isn't Confirmed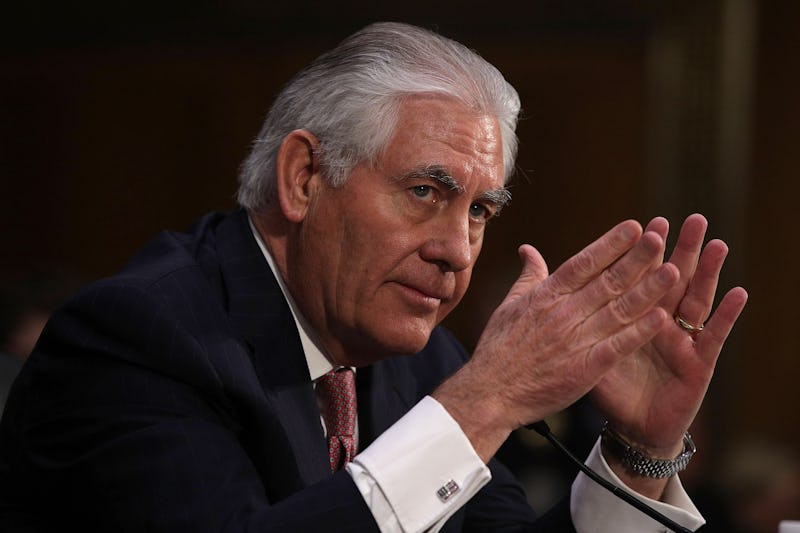 Alex Wong/Getty Images News/Getty Images
After weeks of speculation and rumors, virtually all of Donald Trump's Cabinet appointments have now been made, and a few have already begun confirmation hearings. For example, Senator Jeff Sessions of Alabama, a highly controversial far-right choice for attorney general, is currently going through the second day of his Senate Judiciary Committee hearings, in advance of a likely confirmation vote by the full Senate sometime in the days to come. And Trump's pick for secretary of state is also now facing his hearing. So what happens if Rex Tillerson isn't confirmed?
Although the Republicans have enough votes in the Senate for Tillerson to be confirmed ― he needs only a 51-vote majority, and the GOP currently holds 52 seats ― the margin of error is extremely slim. Just two defections by Republican senators would upend the former ExxonMobil CEO's chance to become America's chief diplomat, assuming the Democrats held firm against him.
And by virtue of Tillerson's work with the Russian government while at ExxonMobil ― a part of his career that's highly charged, thanks to intelligence agencies alleging Russian interference in the American election ― those defections could come. Although the GOP has largely rolled over for Trump in a great many respects, more than the number of Republican senators needed to block Tillerson have expressed reservations about both his and the administration's posture towards Russia. Namely, senators like Marco Rubio, Lindsay Graham, and John McCain.
So what happens if Tillerson doesn't make it? The answer is simple: Trump needs to find somebody else to do the job, a process which would be a real headache just days out from his inauguration. There's a good chance he'd already have some notion of who to pick as a replacement, however, given that a number of high-profile names were floated and reportedly considered. (Former Bush administration U.N. ambassador John Bolton, a staunch neoconservative and military interventionist, and former Massachusetts governor and 2012 GOP presidential nominee Mitt Romney.)
Of those two, Romney would undoubtedly have the clearer path to nomination. Bolton is a very controversial figure in his own right, and news of his appointment similarly stirred up opposition from some Republican senators. By contrast, Romney is a broadly popular figure within the GOP establishment, and his standing has only increased in the years following his defeat at the hands of President Obama.
That's especially as far as Russia-wary hawks like McCain and Graham are concerned. Whatever you think of Romney, his 2012 claim that Russia was America's number-one geopolitical adversary (which drew a lot of snide mockery from Democrats) looks pretty validated by recent reporting.
For what it's worth, it's rare for first-term Cabinet appointments to get shot down in a Senate vote, as there's typically deference to the president-elect's decisions on assembling their team. As NBC News reported this week, in fact, it's only happened once ― when incoming president George H.W. Bush picked Texas senator John Tower to be his Defense secretary, only to have allegations of alcoholism and womanizing derail the bid. Tower was rejected by the by a vote of 47 yeas to 53 nays, clearing the way for Wyoming representative and future vice president Dick Cheney to get the job. ‌
It'll be fascinating to see how Tillerson's hearings go, and whether there seems to be a swell of opposition that could imperil his nomination. He's already weathered some aggressive questioning from Rubio, who challenged him on his direct refusal to label Putin a "war criminal," and proceeded to detail a laundry list of objectionable acts by the Russian military under his command, including atrocities in the Syrian city of Aleppo.