Spencer Pratt & Heidi Montag Gave Their Baby A Name With A Powerful Meaning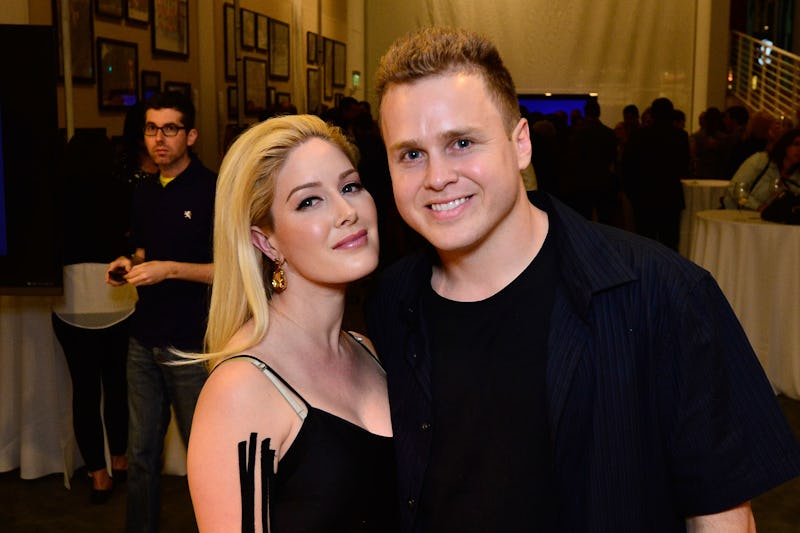 Jerod Harris/Getty Images Entertainment/Getty Images
For those of us who were absolutely obsessed with The Hills in the 2000s, this news is a biggie. Heidi Montag and Spencer Pratt had a baby on Sunday, and their first child was a boy that they named Gunner Stone. But what does Montag and Pratt's baby name mean? So far, the proud new parents haven't explained why they chose the name, but it's been clear all along that they were looking for something unique. And knowing the couple formerly known as Speidi, was there ever any doubt?
According to Us Weekly, Gunner was born on Sunday afternoon at 3:06 p.m, sporting one of the most interesting celebrity baby names of 2017 so far. And since they've had the name picked out for awhile, it's probably safe to say that they've put a lot of thought into choosing it. As Baby Center explains, "Gunner" has Scandinavian roots and means "warrior," while "Stone" obviously reflects a nature theme. Or if you want to look even deeper into it, it could be a reference to how much Pratt loves his healing crystals. Who's to truly say?
Regardless of why they chose it, Pratt certainly seems proud of his baby boy's name... especially since he announced it on Twitter in all caps just hours after Gunner's birth.
In fact, Pratt and Montag have known what they were going to name their little one at least since August, when they revealed that they'd made their choice during an interview with E! News. They didn't share the actual name back then, but they did admit that it was "very original," and they weren't lying — although Pratt chimed in that it was "not as flashy as I would like."
Gunner Stone wasn't as fancy as Pratt would have liked? Having that information, it would certainly be interesting to see the list of names he would have chosen if the responsibility of naming their kid was on him. Or maybe it's better that we're all left in the dark on that one.
And of course, there's the fact that Pratt had to cross a few names off that list when he realized that they weren't available as social media handles... at least, according to what he told podcast Allegedly with Theo Vaugn and Matthew Cole Weiss in August. Yes, this is a real thing that he has said.
Can we all just take a minute to realize what this means? Pratt and Montag have given birth to an actual human being, which means against all odds, ten years later, they're still together. Considering all of the drama that stemmed from their relationship on The Hills and everything that led to Montag's falling out with Lauren Conrad over it, many of us would have predicted that their relationship would come to a swift and sudden end the second those MTV cameras were gone.
But here they are, in 2017, welcoming a baby and proving us all wrong. Let's be real: With all the celebrity marriages and relationships that have come to an end this year, the continued love story of Speidi might be just what we all need to renew our faith in true, everlasting love... or something like that.
So far, it sounds like Gunner and his parents are doing well. In a statement to Us Weekly, Pratt called his baby's birth "officially the most lit day of my life," while his wife was a bit more heartfelt. "We are so blessed to have a beautiful, healthy baby boy," Montag told the magazine. "It was the hardest and most rewarding experience."
Sadly, no photos of their baby have made it to the internet quite yet, but, knowing his parents, it's only a matter of time. After all, he does already have his own social media accounts set up for when his parents are ready to share them... not that anyone expected anything less.