Here's What Eric Trump Has Been Up To Since His Dad Became President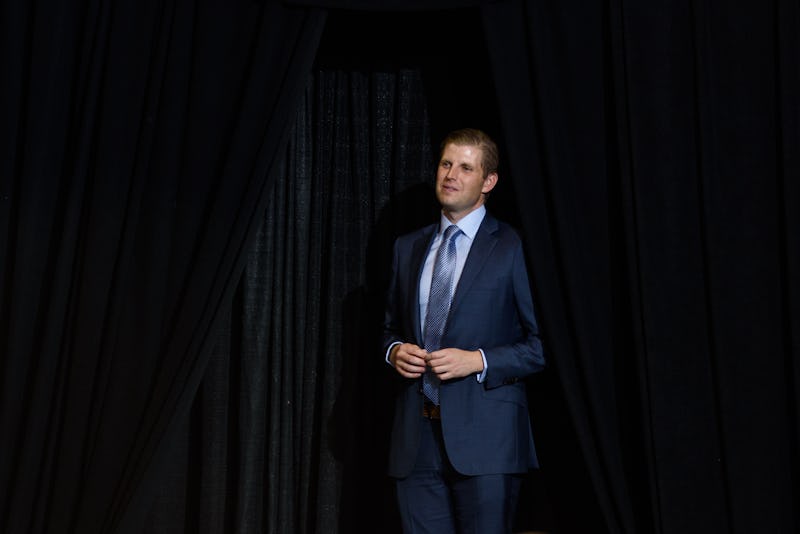 Justin Merriman/Getty Images News/Getty Images
President Donald Trump is known for keeping his family close: his eldest son, Donald Jr., is an avid campaigner on behalf of his father; his eldest daughter, Ivanka, serves as adviser to the president; and her husband, Jared Kushner, also works in the White House as a senior adviser. But Trump's third child chose a nonpolitical career: the family's global luxury real estate brand. So, if you're wondering what exactly Eric Trump is doing these days, look no further.
According to his Twitter profile, Eric, 34, is the Executive Vice President of the Trump Organization. He also labels himself as husband to Lara Trump, and a "large advocate" for St. Jude Children's Research Hospital.
In the real estate world, Eric is responsible for "all new project acquisition, development and construction around the world," according to his company bio. He's vastly expanded the number of properties in the Trump Golf Collection since taking on his role, and his company bio credits him with the creation of Trump Hotels. Eric also aides in the management of Trump International Realty, the company's brokerage firm, and the Trump Winery, located in Charlottesville, Virginia.
With real estate around the world, the Trump Organization hosts many fundraisers and events. Most recently, the organization shared photos from a school supplies drive, Operation Backpack, that will aid kids living in New York City's homeless shelters. In one photo, Eric is smiling alongside others, surrounded by backpacks.
Eric's philanthropy extends outside his family's work, too. In 2006, the young Trump started the Eric Trump Foundation to support St. Jude Children's Research Hospital. In 2014, the Eric Trump Foundation Surgery & ICU Center opened at St. Jude Hospital in Memphis, Tennessee.
Eric decided to "cease all direct fundraising efforts" for his organization in December 2016, after his father's victorious presidential election. The move was made "to avoid the appearance or assertion of any impropriety and/or a conflict of interest," Eric wrote on the foundation's homepage.
The organization has been restructured under new leadership and renamed Cureitivity, with the same mission. While Eric is no longer associated with the charity, he still considers himself "the greatest ambassador for St. Jude Children's Research Hospital."
As for his personal life, Eric lives in New York with his wife, son, and two dogs. His wife, Lara, was an associate producer for the TV show Inside Edition up until 2016, when she left CBS to work on Donald Trump's 2020 reelection campaign. Eric recently shared photos of his wife campaigning, with the caption "#RockStar."
The two welcomed their first child, Luke, late last year, and Eric seems to have taken to his role as father. Earlier this week, he shared adorable photos of his young son visiting him at the office, clutching a plush Minion toy. The caption read, "My best buddy came to visit me in the office today! #LittleLuke."
While Eric isn't directly involved with the White House, the president's son will occasionally appear on TV to support his father, and his Twitter feed promotes #MAGA views. Earlier this year, for example, Eric appeared on the Fox News morning show Fox & Friends to defend President Trump against claims of racism.
"My father sees one color: green," said Eric, according to The Guardian, implying the green of American bills. "He cares about the economy, right? He does not see race."
More recently, Eric accused Amazon CEO and Washington Post owner Jeff Bezos of paying writers to publish "nasty things" about the Trump Organization, and critiqued CNN.
While he dabbles in politics to defend his father, Eric's full-time job is with the Trump Foundation. And, of course, his growing family.