Florida's SB 140 Bill Is Controversial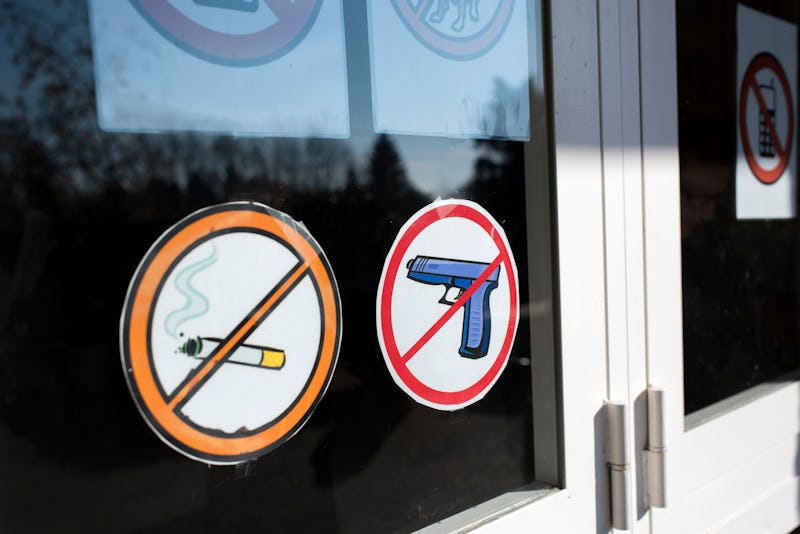 ROMAIN LAFABREGUE/AFP/Getty Images
Five people were killed and at least eight injured during a Friday afternoon shooting at the Fort Lauderdale-Hollywood airport, according to the Broward County Sheriff's Office. In light of this shooting, Florida's already controversial gun laws have once again come under scrutiny. Among these pieces of legislation is Florida's proposed Senate Bill 140, which would repeal a gun ban on college campuses, airport terminals, and at government meetings.
Republican State Sen. Greg Steube introduced SB 140 to the Florida Senate Judiciary Committee on Tuesday, the Tallahassee Democrat reported. When he first filed the bill last month, Steube argued that laws restricting open carry actually encouraged shooters.
"If you want to kill as many people as possible before the cops arrive then you are likely to go to a place where law-abiding citizens can't carry," Steube said at the time. "That's what we've seen, time and time again, and why I think we shouldn't have them."
The bill has been touted by gun advocates as "the most important pro-2nd Amendment rights bill of the 2017 legislative session." In the aftermath of the airport shooting, the bill's potential effectiveness — or lack thereof — has been debated on social media.
Gun advocates appear to agree with Steube's logic: They argue that laws limiting open carry in airport terminals prevented people from stopping the shooter sooner, because they couldn't have guns. Indeed, according to the Huffington Post, Steube himself argued that the shooting was evidence that his bill was necessary.
"Law-abiding people who have gone through the background checks, gone through the training … shouldn't be told that they can't carry and that they can't defend themselves," Steube said after the shooting. "It further enforces the point of the whole bill."
But those who are in favor of tighter gun control measures have pointed out that these measures need to be enforced to prevent tragedies like the one in Fort Lauderdale. Moreover, as law enforcement officials pointed out after five police officers were killed in Dallas last year, open carry actually made it more difficult to identify who was actually responsible for the shooting.
It is also important to remember that SB 140 does not just apply to airport terminals, though that is the most relevant portion of the bill in relation to the Friday afternoon's shooting. In a statement released following the airport shooting, Michelle Gajda — a volunteer chapter leader with the Florida chapter of Moms Demand Action for Gun Sense in America — reminded Floridians that guns don't belong in airports or other places cited by SB 140:
Floridians have the right to be in an airport, a nightclub or on college campuses without the fear of possibly being gunned down. Right now, our lawmakers are weighing two dangerous bills, SB 140 and HB 6001, that would allow the presence of guns in passenger terminals in Florida's airports. Today should serve as a reminder that guns have no place in such areas in our communities.
Open carry measures have failed to pass the Florida State Legislature in the past two years, but gun advocates believe that they might pass now that Steube is the Judiciary Committee's new chair. Gun safety advocates, however, will continue putting pressure on lawmakers to ensure that SB 140 also fails, especially in light of Friday's events.