It Looks Like Kristina's Living Her Best Life After 'Bachelor In Paradise,' As She Should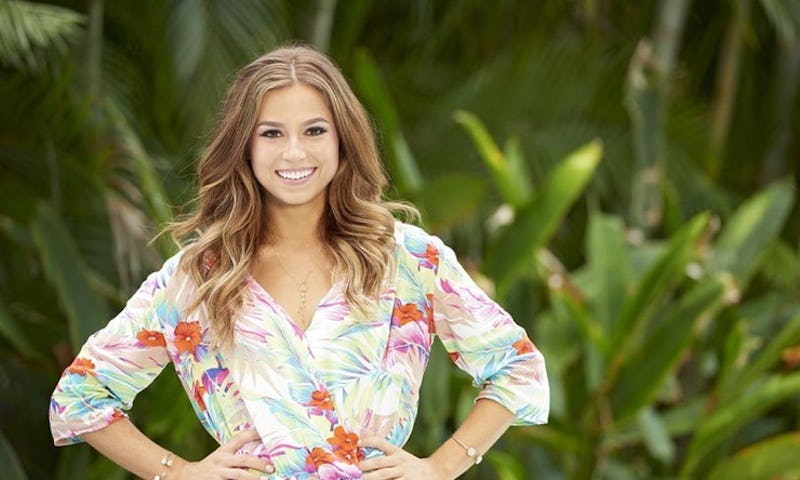 Bob D'Amico/ABC
The cameras may have stopped rolling on Season 4 of Bachelor in Paradise, but that doesn't mean fans still don't want to know everything there is to know about the current lives of some of the show's most memorable contestants. Kristina Schulman quickly became a fan-favorite this summer, despite the drama in her relationship with Dean Unglert, which fizzled out right before our eyes. So, what has Kristina been up to since filming ended? It looks like she's happily single and living every day to the fullest.
As much as some people may have been rooting for her relationship with Dean to work out, Kristina appears to be flying solo and loving every minute of it. Photos on her social media accounts show that she's quite the traveler, as the reality star spent the past week living her best life on a private island. She documented her trip via her Instagram Story videos throughout the week. And Kristina's most recent Instagram photo is a from-behind shot of her posing in a bright yellow bikini in the water near a fancy resort in the Maldives. She channeled her inner Cardi B and captioned the photo,
"'You know where I'm at, you know where I be' (thanks Cardi B) spent my mornings for the sunrise & evenings for the sunset on this net hammock in love with the Maldives & this island @shangrilamaldives #privateisland."
And a few days before that, she shared another photo of herself wearing a sailor's hat on a boat, still slaying and still looking carefree AF.
It also looks like she still has a pretty close relationship with her fellow Bachelor Season 21 contestant and bestie, Danielle Maltby. In late September, Kristina shared a photo of herself from a night out on the town that the girls had in Nashville, Danielle's hometown.
Traveling and taking Instagram photos isn't all she's been up to, though. Kristina recently appeared on Dean's new podcast, Help, I Suck At Dating!, in which the former Bachelorette Season 13 contestant discusses his dating woes with fellow guests. On the first episode, Dean welcomes a call from Kristina to discuss what went wrong in their relationship, and their conversation pretty much opened a can of worms.
Kristina starts off the chat by mentioning that one of the biggest issues that caused trouble to fester in their relationship was communication, or lack thereof, citing Dean's need to constantly build a wall up between himself and those he gets closer to. Of course, the conversation takes a lighter turn toward the end of the call, but it definitely makes you think about what could've potentially evolved between the two of them. They don't appear to have rekindled the flame at this point, though there has been some speculation in recent weeks on what the status of their relationship might currently be.
Of course, there was plenty of talk about Kristina's relationship with Dean during the most recent season of BiP, as Dean's status as a fan-favorite caused a lot of viewers to have some pretty high hopes for them. The two hit it off pretty quickly on the show, bonding over the fact that they both grew up in unstable family environments. They seemed to have a strong bond with each other in the beginning, but things in their relationship took a turn when they were both involved in a love triangle with fellow BiP-er, Danielle Lombard, and Dean and Kristina eventually ended up splitting.
Speaking of that love triangle, Kristina also made an appearance on The Ellen DeGeneres Show once the BiP finale aired and talked to the show's host about what went down between herself, Dean, and Danielle L. in Mexico.
The great thing about the aftermath of their experience in Mexico is that there doesn't appear to be any bad blood between the three of them at all. But even though there's been speculation, don't count on Kristina and Dean getting back together — at least not yet. Kristina may not have found love in paradise, but it's nice to see that not being in a romantic relationship right now isn't holding her back from having as much fun as she possibly can.