'Gilmore Girls' Star Keiko Agena Has Way More In Common With Lane Than You Thought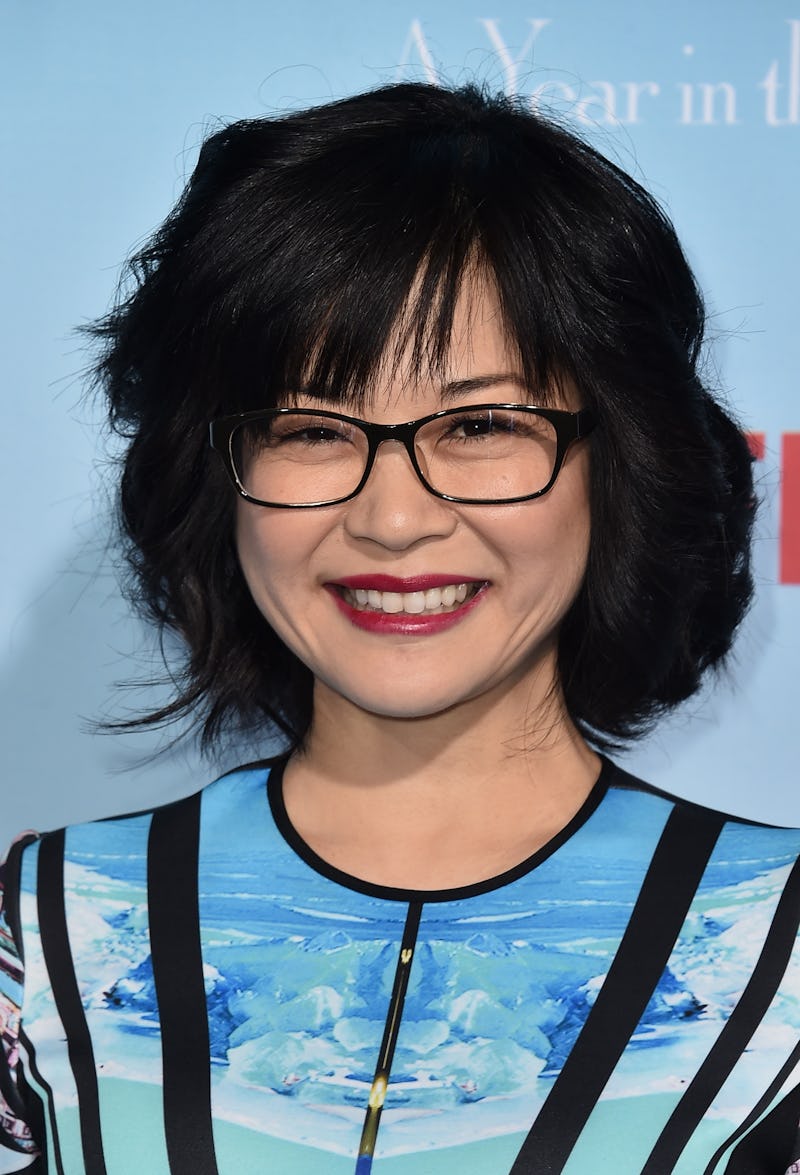 Alberto E. Rodriguez/Getty Images Entertainment/Getty Images
Gilmore Girls' Lane Kim will always be the epitome of cool, thanks to her undying love for rock and roll, but the character also gets some of that cool cred from her portrayer, Keiko Agena. And if you're wondering what the actor who played Gilmore Girls' Lane is up to now, the answer is simple: making art. Just like Lane, Agena is a creative person, but she channels her energy into drawing, painting, acting, and writing. Over the weekend, Agena appeared at the Gilmore Girls Fan Fest in Kent, Connecticut, where she held an art show.
If you haven't heard, Gilmore Girls Fan Fest is three-day, fan-run event that includes a special screening of select Season 1 episodes, panels like "What the DAR is Really Like, Could You Be a Daughter?," and much more. Two editors from Bustle Digital Group also hosted panels. During the festival, Agena sold pieces of art to fans. According to her official website, Agena's tools of choice when it comes to painting are acrylic, ink, and graphite. Her work itself is edgy and dreamlike — the kind of pictures that a musician like Lane would no doubt appreciate. If you want to get your hands on an Agena original even though you couldn't attend the event, then you can follow her Etsy shop where she sometimes sells her artwork online.
Since the Gilmore Girls revival aired in 2016, Agena has found plenty of outlets for her creativity. In addition to her art, she's also following in the footsteps of her co-star Lauren Graham and writing a book, No Mistakes, which is set for a 2018 release. The book is described as an "interactive workbook for creatives" by Bradford Lit, and it will feature original illustrations by Agena.
Acting and comedy remain touchstones for Agena, as well. Gilmore Girls allowed her to show off her comedy chops with lightning fast dialogue, but she's just as at home performing with a troupe. She's an improv show staple in Hollywood, and a co-host of the Asian AF Show at the UCB. But she still makes time for primetime TV too. Most recently, Agena appeared in Colony Season 2 on USA and as a teacher in Netflix's 13 Reasons Why.
Fans have always known Agena is a talented actor, but knowing she shares Lane's love of art is a wonderful surprise. Even though they express their artistic sides in different ways, they are both talented women who love to create. Agena's drawings have an abstract, dream-like aesthetic that show off an entirely different side of the actor. Through her art, she appears to let loose and tap into her imagination in a major way. It seems that most of her pictures feature dark colors used to create a twisted fairytale vibe.
During a 2016 Reddit AMA, Agena revealed that she had only been drawing and painting for about year, proving that you can find new outlets to express yourself at any stage of your life. At the time, she also expressed her excitement over her upcoming book, which is set for a summer 2018 release. "I will be putting out a book in 2018 that will have some artwork in it as well as journal pages for artists to fill in their own creations," she wrote in response to a question about how long she had been making art.
It seems like there's never been a time when Agena wasn't creating something. Acting, writing, improv, painting, and, yes, even drumming like Lane — there's not much that Agena can't do. She's very much her own person, but it's hard not to see shades of Lane Kim in the way Agena is constantly finding new ways to share her work with the world.
With any luck, Agena will one day play Lane again in another Gilmore Girls revival. But even if she doesn't get the chance to return to Stars Hollow for a third time, Agena has proven that just like Lane, she'll never stop creating.