Meghan's Baby Name Hasn't Been Announced, But Prince Harry Hinted They'll Decide Soon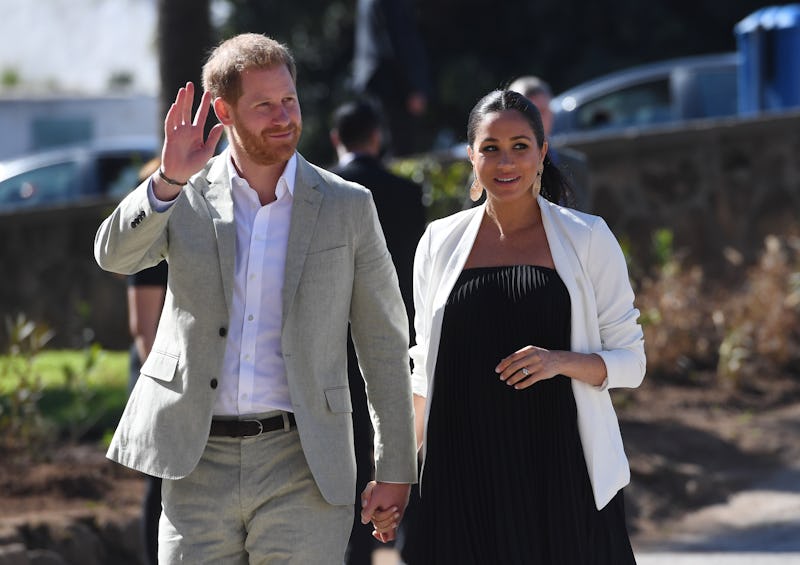 Pool/Getty Images Entertainment/Getty Images
It's here! It's here! The newest royal nugget has finally arrived, and the royal family has officially announced that it's a boy. What is Prince Harry and Meghan Markle's baby's name, though, you wonder? Well, for now, they're just calling him "the newest royal nugget." Just kidding. Actually, there's no telling what they're calling him at the moment, as they've yet to even officially decide on a name.
According to the birth announcement on Harry and Meghan's shared Instagram page, @sussexroyal, the couple's first child was born in the morning of May 6, 2019, and weighs 7lbs. 3oz. "The Duchess and baby are both healthy and well, and the couple thank members of the public for their shared excitement and support during this very special time in their lives," the post continued. "More details will be shared in the forthcoming days."
One of those soon-to-be-released details will be their son's name, obviously. There'll be photos coming, too, but they won't be on the steps of the hospital like Prince William and Kate Middleton have done for the births of their last three children. Harry and Meghan's pics debuting their baby will instead be on the ground's of Windsor Castle, according to People.
Hang on a minute, though. Let's back up and revisit this whole naming thing again. Despite the fact that Harry and Meghan are still tossing ideas around — as per Harry himself, who told press this morning that deciding on a name was "the next bit," and will seemingly be solidified within the next two days — there have long-been several guesses as to what they'll end up calling their son. The odds have been ever-changing pretty much since they announced the duchess' pregnancy, but — now that we know its a boy — there are a few definite outliers.
As per Oddschecker, a website that compares the odds from multiple betting sources, James is the current favorite for Baby Boy Sussex. After James comes Arthur, then Philip, Alexander, and Albert, all of which hold their own either historical or personal significance to the royal couple.
There's really no telling which way they'll end up going, though. Even William and Kate — who have certainly been perceived as the more traditional royal couple between the two — surprised fans last year with the naming of Prince Louis. At the time, most bets favored either Philip, Arthur, or Albert, according to Town & Country.
Now, William and Kate ended up making Louis' middle name Arthur, which is also William's middle name, too. That being said, it's kind of safe to assume that Harry and Meghan have probably crossed "Arthur" off their list of baby boy names. Way too repetitive, right?
As for the remaining names on the list, your guess is as good as mine. You've still got time to place your bets, though, so get on in there if you feel like you've got a hunch. They could always end up going with an out-of-nowhere curve ball, though, so maybe don't put all your eggs in the royal baby name basket. Just sayin'.