The Questions Mazie Hirono Plans To Ask Kavanaugh Cut Straight To The Chase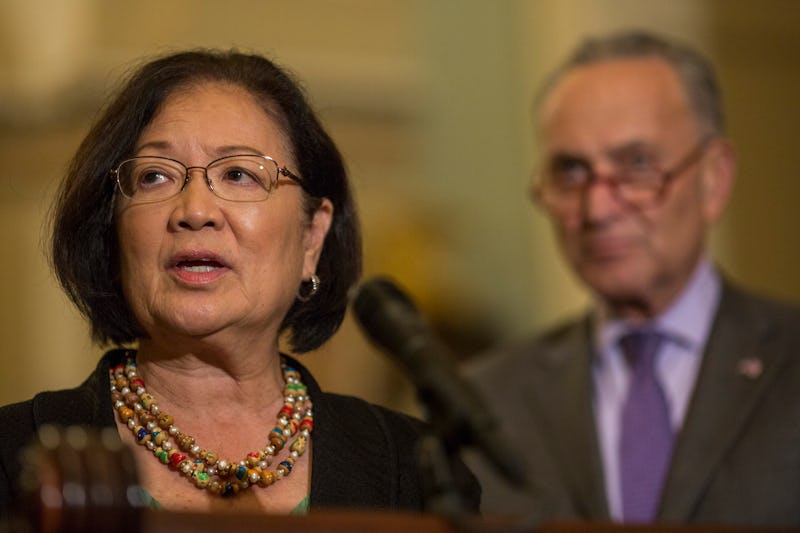 Zach Gibson/Getty Images News/Getty Images
On Thursday, the Senate Judiciary Committee will hold a hearing in which Supreme Court justice nominee Brett Kavanaugh and his accuser Dr. Christine Blasey Ford will testify. One of the committee members, the Hawaii Democratic senator from Hawaii, revealed a likely line of focus for Kavanaugh's questioning. During an interview with CNN on Sunday, Mazie Hirono revealed what she plans to ask Kavanaugh revolves around his high school days.
Kavanaugh is currently grappling with two sexual misconduct allegations. He has categorically denied both. The most recent accusation came on Sunday, in which a former Yale classmate, Deborah Ramirez, claimed Kavanaugh exposed himself to her during a dorm room party in the 1983-1984 school year. Bustle has reached out to the White House for comment on the new allegation.
According to The New Yorker, Kavanaugh wrote in a statement, "This alleged event from 35 years ago did not happen. The people who knew me then know that this did not happen, and have said so. This is a smear, plain and simple. I look forward to testifying on Thursday about the truth, and defending my good name—and the reputation for character and integrity I have spent a lifetime building—against these last-minute allegations."
On the heels of these accusations, Hirono has said that she plans to ask Kavanaugh about his high school experiences and what the atmosphere was like. "I would be wanting to hear what kind of environment it was in high school," Hirono said to CNN's Jake Tapper. "Apparently, there was a lot of drinking and partying going on."
In The New Yorker's report, Hirono responded to Ramirez's claim, calling for authorities to look into it. "This is another serious, credible, and disturbing allegation against Brett Kavanaugh. It should be fully investigated," Hirono said.
The Hawaii senator also revealed that she "had issues" with Kavanaugh's credibility during the CNN interview. "Even before all of this happened, he had credibility issues in his testimony, three days of testimony," she told Tapper. "He's very outcome-driven in terms of how he views cases before him. And so I had issues with his credibility and how he went about things way before this even happened."
Hirono explained that she has taken Kavanaugh's denials and considered them in the context of what she already knows about him and how he approaches his cases.
"As I said, his credibility is already very questionable in my mind and in the minds of a lot of my fellow Judiciary Committee members, the Democrats," Hirono told Tapper in the interview.
Kavanaugh's confirmation vote was thrown off track after Ford, a professor at Stanford University and Palo Alto University, accused the nominee of sexual misconduct stemming from an incident at a high school party in the 1980s. Kavanaugh has denied the allegation.
Hirono isn't the only one scrutinizing Kavanaugh's high school days; on Sunday evening, Stormy Daniels' attorney Michael Avenatti revealed that a new client had what he called "credible information" on Kavanaugh and Mark Judge, Kavanaugh's friend from his high school days. Avenatti's revelation on Twitter led to an email exchange with the chief counsel for nominations for the Senate Judiciary Committee. In the email chain, Avenatti also called for Senate investigators to question Kavanaugh about the circumstances surrounding the high school parties he had attended. Bustle has reached out to the White House for comment regarding Avenatti's tweets.