This Is What Serena Williams Whispered To Naomi Osaka After Their US Open Final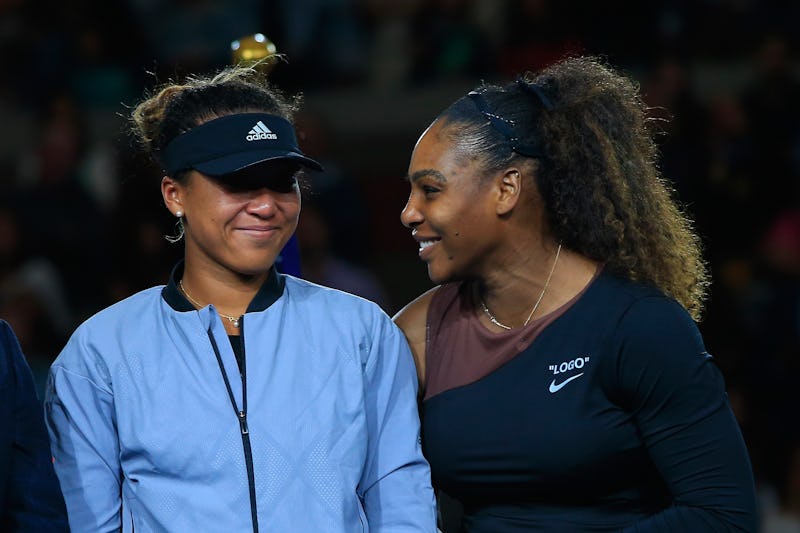 Chris Trotman/Getty Images Sport/Getty Images
The U.S. Open final garnered a ton of attention over the weekend, for several controversial reasons. And unfortunately, along with all of the drama came a rather boisterous crowd, which booed loudly when it was time to hand out the final trophy. Undeterred however, what Serena Williams told Naomi Osaka during the award ceremony was gracious and encouraging.
On Wednesday, Osaka revealed on The Ellen DeGeneres Show that she wasn't entirely sure why the crowd was booing when she arrived to accept her trophy. She had purposefully chosen not to pay attention during the match wherein Williams, her opponent, clashed with chair umpire Carlos Ramos, resulting a national media storm.
"At the time, I did think that they were booing at me. I couldn't tell what was going on, because it was just so loud in there," she told Ellen. "It was a little bit stressful."
But veteran Williams seemed to take notice of Osaka's apprehension, and she leaned in to embrace her. Ellen asked Osaka what Williams had said during that embrace.
"She said that she was proud of me and that I should know that the crowd wasn't booing at me," Osaka told DeGeneres.
DeGeneres appeared slightly surprised when Osaka said that she hadn't known, at the time, why the crowd was booing. But Osaka told her that when tennis players are young, they are told not to physically turn around when there is a confrontation on the court.
"In my mind I was sort of, like, I really wanted to know what was going on... I couldn't hear and I was looking away," Osaka said. "I heard a lot of people in the crowd and I really wanted to turn around, but I didn't."
Since her win, Osaka has become known as an extraordinarily gracious victor. A lot of this had to do what what she said after winning, including taking a moment just to thank the audience for watching at all.
"I know that everyone was cheering for her and I'm sorry it had to end like this," she said. "I just wanted to say thank you for watching the match."
On the TODAY Show on Monday, Osaka explained why she had felt compelled to apologize to a crowd that was booing during the trophy ceremony.
"I just felt like everyone was sort of unhappy up there and I knew the ending wasn't how people wanted it to be," Osaka explained. "I know that in my dreams, I won in a very tough, competitive match so, I don't know, I just felt very emotional andI felt like I had to apologize."
Williams, for her part, asked the crowd to stop their behavior.
"She played well and this is her first Grand Slam," Williams said at the time. "Congratulations, Naomi! No more booing."
The 2018 U.S. Open will undoubtedly go down as a significant event in athletic history, for reasons both positive and unfortunate. But at the end of the day — and the days after — Osaka's earnest, genuine response to the onslaught of attention was certainly just as noteworthy.