The 2017 MET Gala Red Carpet Is Happening Soon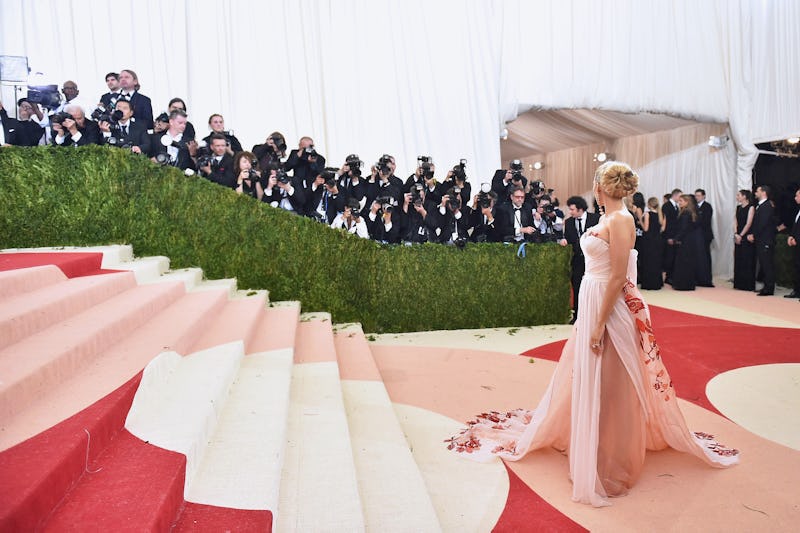 Mike Coppola/Getty Images Entertainment/Getty Images
It's no exaggeration that the Met Gala is one of the biggest fashion events of the year and it's likely an event that fashion lovers worldwide will have marked on their calendars. But, you're probably wondering what time does the 2017 Met Gala red carpet start? Because obviously, you won't want to miss a moment.
The Metropolitan Museum of Art's Costume Institute's spring 2017 exhibition is Rei Kawakubo/Comme des Garcons: Art of the In-Between and the Met Gala will celebrate the exhibit's opening, as it does every year. In true Met Gala tradition, the theme of the gala is tied to the exhibition, therefore, the sartorial theme of the 2017 Met Gala will honor Rei Kawakubo. Fashion fans will know this to be a huge deal because not only are Kawakubo's designs innovative and avant-garde — which will surely make for some seriously well dressed gala attendees — but she is only the second living designer to be granted the honor of being the focus of the exhibition.
Last year's theme, Manus x Machina: Fashion in the Age of Technology, gave red carpet walkers a futuristic theme and the Met Gala 2016 attendees did not disappoint with their creative ensembles. With this year's equally exciting theme and the likes of Katy Perry and Pharrell Williams hosting the 2017 Met Gala, it's no wonder that you might be stoked to watch the events of the evening unfold.
So what time does the 2017 Met Gala red carpet start?
Well, fashion addicts, I am sorry to be the bearer of bad news, but at the time of writing there is no news surrounding the official time that the Met Gala 2017 red carpet begins. What's worse, it appears that the event won't be televised. According to United Press International, "The 2017 Met Gala will not be televised..." In essence, this could mean that us mere mortals won't get to watch the evening unfold and we might have to make do with photos instead of basking in the glory of actual footage from the night. However, there's still almost a week to go until the gala commences on May 1, so things may change.
Although, if the schedule of this year's Met Gala is anything like last year's, the red carpet will begin around 7 p.m. EST. According to Time, reporting on how to watch the 2016 Met Gala red carpet, coverage of last year's event began at 7 p.m. EST, so it's possible that this year's red carpet will begin around this time too.
I'll be keeping my fingers firmly crossed that somebody will be offering coverage of the night and that we find out soon what time the festivities begin — because I don't want to miss a second, even if its documented via good old fashioned photography!