The Women's March Will Last Close To Nightfall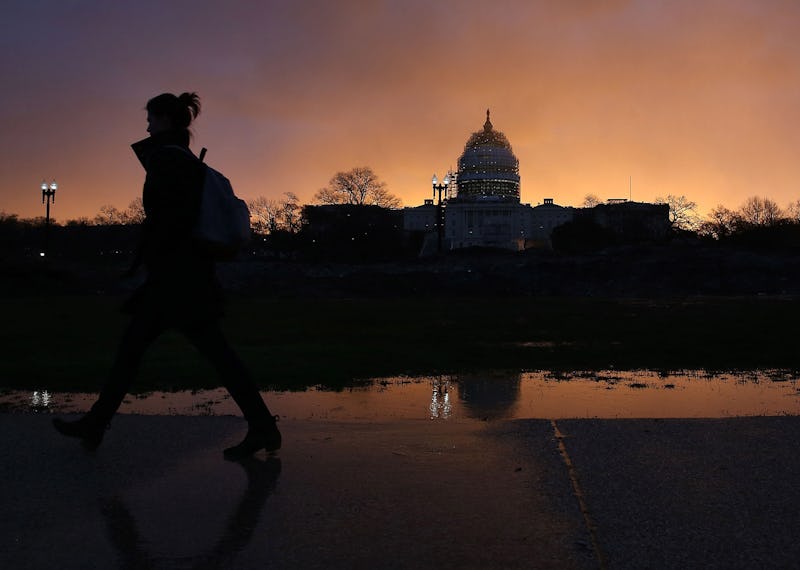 Mark Wilson/Getty Images News/Getty Images
President-elect Donald Trump may spend his first day as commander-in-chief trying to drown out the chants of thousands of Americans who he spent the past year insulting. The Women's March on Washington is set to descend on the capitol city on Jan. 21, just as Trump and his maybe-not-yet-confirmed cabinet appointees settle in to their new offices. Although the massive, grassroots march is not explicitly anti-Trump, the organization's mission makes it clear that women's marchers are opposed to many Trumpian positions about the place and respect owed to women in modern American society.
If turnout estimates prove accurate, it's entirely possible that Trump and his colleagues will spend their entire first workday trying to ignore the thousands of people chanting right outside their office window. As the march's website explains:
"The Women's March on Washington will send a bold message to our new government on their first day in office, and to the world that women's rights are human rights. We stand together, recognizing that defending the most marginalized among us is defending all of us."
The march is scheduled to begin at 10 a.m. EST near the U.S. Capitol, at the intersection of Independence Avenue and Third Street SW. Although the exact route has not been made public, the march is expected to last until 5 p.m. EST, according to NJ.com. That means that newly minted members of Congress may be riding the Metro home shoulder-to-shoulder with women and their allies who spent the day demanding justice and equality under the law.
The Women's March on Washington is open to all, and has already pulled in some high-profile celebrity supporters, including Cher, America Ferrera, Katy Perry, Chelsea Handler, Samantha Bee, and Jessica Chastain. Feminist icon Gloria Steinem is a co-chair of the march, which looks to find strength in the broad diversity of expected participants, and turn the vitriol of the past year into grassroots organizing and genuine human connection that can facilitate lasting change.
Local groups from around the country have organized transportation to and from the march, and volunteers are still needed. If you're willing and able to offer your services, fill out this form and an organizer will get back to you within five days. Those who can't make it to D.C. can still make their voices heard by participating in one of the "Sister Marches" held in most major cities around the country, and in several other countries.
But no matter what you do or where you are on January 21, take a moment to check in on the demonstration, and marvel at the incredible strength, diversity, and peaceful power of thousands of "nasty women" all converging on the nation's capitol. Then, as women have always done, roll up your sleeves and get to work.