Here's When The Women's March On Washington Starts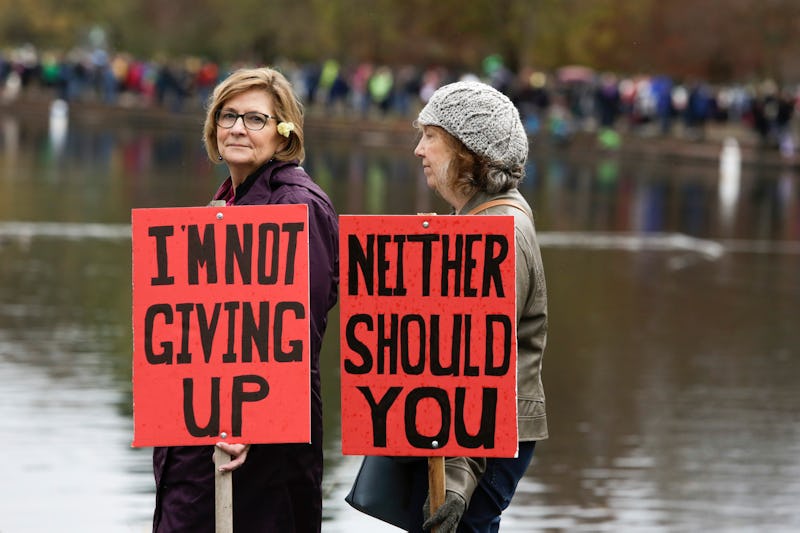 JASON REDMOND/AFP/Getty Images
If you're planning on being part of this historic demonstration, you'll need to know what time the Women's March on Washington officially begins. According to the official website, the march will convene at 10 a.m. on Saturday, Jan. 21, at the corner of Independence Avenue and Third Street SW, right near the U.S. Capitol. A final schedule of events has not yet been published, but the event could last as late as 5 p.m.
Of course, you should expect a lot of traffic and congestion getting to the event. Considering that the March is expected to draw more people than Donald Trump's Inauguration, scheduled for the day before, most of central D.C. will be packed with activists and supporters, so getting to the event early would probably help things.
Additionally, the route of the march has not yet been published. It's probably wise to follow the official Twitter account for any last-minute updates.
Though an official program for the event has not been released, several celebrities and prominent activists have stated their intention to attend. Gloria Steinem and Harry Belafonte are serving as honorary co-chairs, and Cher, Katy Perry, Amy Schumer, Evan Rachel Wood, and Scarlett Johanssen are just some of the notable women who have said they plan to march in D.C.
If you can't make it to D.C. and plan on attending one of the many sister marches scheduled around the country — and around the world — be sure to check the local event pages, as many of the other marches have their own start times. Some start as early as 9 a.m., whereas the march in San Francisco will involve a rally followed by a candlelit march.