Why You Seriously Need To Watch 'Black Books' Before Netflix Takes It Away In November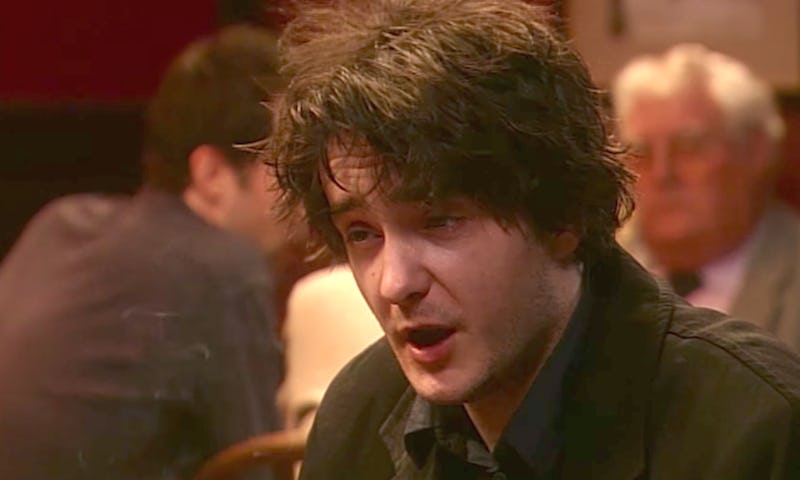 Channel 4 Sales
If you want a lazy day in while it's cold and gray outside, then there's one thing to watch on Netflix before it leaves in November: Seasons 1 to 3 of Black Books. If you've never watched the iconic British comedy series before, know this: according to The Guardian, it was co-created and co-written by Irish comedian Dylan Moran, who also stars in the sitcom, and Graham Linehan. More importantly, it boasts some pretty major British comic talent, and it will encourage you to drink, smoke and read more. So, yeah, it's definitely a smart idea to marathon it now rather than when you're attempting a more pious lifestyle after the festive season.
The series features talent from stand up comedian Bill Bailey to Tamsin Greig (Green Wing) to cameos from Simon Pegg (Shaun of the Dead, Hot Fuzz), Peter Serafinowicz (Guardians of the Galaxy), David Walliams (Little Britain), and Martin Freeman (The Office). And the plot revolves around Bernard Black, a jerk who somehow manages to run a small bookshop, Black Books, despite seething with irritation if a customer so much as ventures anywhere in his vicinity. Around to help is his assistant, the sweet, slightly bumbling Manny Bianco, and their neighbor, Fran Katzenjammer, who runs a bric-a-brac shop. All of this is a little beside the point. What you need to know is that it is one of the funniest shows ever made — yes, funnier than How I Met Your Mother, which also leaves Netflix in November.
The joy of the series is the joy of a lot of British comedy. Each episode takes one small everyday thing and creates a storyline around it that stretches what seems like an innocuous topic to surreal proportions.
In the first episode, a stressed-out Manny buys a pocket-sized inspirational guide, The Little Book of Calm, but, after accidentally swallowing it along with his tea, becomes a Jesus-like figure of serenity, complete with a halo, dispensing tips for inner peace. In the fifth episode, the shop gets a new security system, but because assistant Manny was distracted during the installation, Bernard gets locked out, rendering him effectively homeless while Manny uses The SAS Survival Handbook to hunt for food within the bookshop. In Season 2, Episode 2, Britain's going through a heatwave and Manny is doing his best to stave off his mysterious "Dave syndrome," triggered by his body temperate reaching 88 degrees.
Still, if surrealism isn't your cup of tea, there's still something in this series for you. The other appealing aspect of the show is the thin line it treads between pure nihilism and silliness. This could be thanks to Moran's own taste in comedy; in his Guardian interview, he talks approvingly about Seinfeld avoiding "all the 'hugging and learning' that ruins other American sitcoms."
There's very little intimacy between the three lead characters, despite them being each other's only friends, and the patterns established by the sitcom — generally opening on Bernard having a hangover and ending with the characters drinking and/or smoking together — suggests that learning also isn't a central part of the series. Basically, it's more or less the anti-Friends. And it's fun to watch Bernard dispense insults to his customers, especially if you've ever had the misfortune to work in a customer service.
That said, anyone who's actually concerned about the characters should refer to Linehan's Ask Me Anything on Reddit. When he was asked what Bernard, Manny and Fran would be "up to 10 years later," the Father Ted co-writer replied, "They'll grow up, like everyone else," suggesting that change and development might still be possible for the characters.
If you're in the mood for a British comedy as dark and depraved as you are, give Black Books a try. It's both wicked and wickedly funny, and like nothing you've ever seen before.