A Guide To Dressing For Any Sort Of Destination Wedding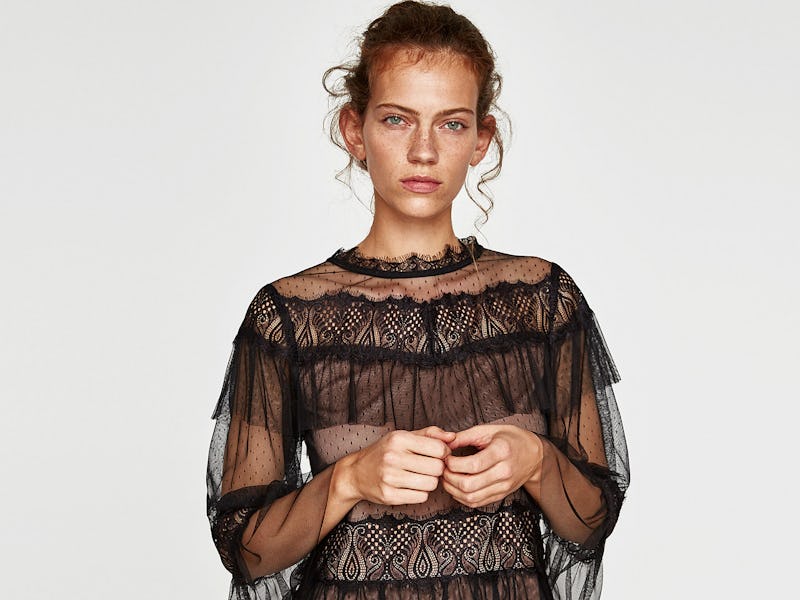 Bustle and Coveteur are working together to bring you the best mix of the season's fashion and beauty releases, shopping tips, and service stories in ways that are both inspirational, and attainable. Check The Fall Style Edit channel weekly to see what we're up to.
There's a particular brand of panic that comes along with being invited to a destination wedding. Round one involves panic over the cost of flights and hotels. Once that's subsided, the worry over how many people you'll actually know there — is it enough to make for a full weekend of hangs? Then finally, what to pack! Destination weddings are so much more fun to dress for than regular ones, and are certainly an excuse to get a little fancier than you might normally do.
But still! What to wear! Fret not — below is a handy guide for how to dress, and what to bring no matter where you're heading.
City
City weddings call for all-out glamour. You have permission to go a little more fashion-forward than you might normally do. Opt for something sparkly, metallic, or sheer — or just something insanely short but made entirely out of ruffles. Whatever your fashion guilty pleasure may be, now's the time to indulge it. Basically, wear whatever you want, as long as it's not white.
Contrast Dress, $50, Zara
Clockwise from upper left:
Attico Grace Sequined Wrap Dress, $2,805, Moda Operandi
Rosetta Getty Split Neck Flared Dress, $990, Moda Operandi
Ulla Johnson Donna French Silk-Lamé Dress, $2,530, Moda Operandi
Solace London One-Shoulder Ruffled Crepe Mini Dress, $495, Net-A-Porter
Clockwise from upper left:
Jimmy Choo Romy 100 Laser-Cut Suede And Metallic Leather Pumps, $775, Net-A-Porter
Crossbody Bag With Star Detail, $40, Zara
Stuart Weitzman Nudist Metallic Leather Sandals, $395, Moda Operandi
Mesh Mini Crossbody Bag, $20, Zara
Beach
Sure, you could take the easy way out and wear something floral, tropical, or predictably "beachy," or, you could go for something bright, but solid colored, structured, and even slightly geometric. You'll stand out from the cliched boho-beach look, but still look drop dead gorgeous. Just avoid anything floor length, and do not, we repeat, do not wear stilettos in the sand!
Protagonist Satin Midi Dress, $540, Net-A-Porter
Clockwise from upper left:
Diane Von Furstenberg, $1,500, Net-A-Porter
Beaufille Medea Ruffle-Trimmed Plissé-Chiffon Midi Dress, $745, Net-A-Porter
Solace London Wyatt Asymmetric Crepe Midi Dress, $600, Net-A-Porter
Striped Dress With Criss-Cross Back, $89.90, Zara
Clockwise from upper left:
Geometric Minaudière, $49.90, Zara
Chloé Camille Metallic Cracked-Leather Platform Sandals, $870, Net-A-Porter
Gianvito Rossi Obi Bow-Embellished Satin Slides, $645, Net-A-Porter
Mountains
Unless you're going to have to physically climb said mountain, there's no reason to go overtly woodsy here. We love the idea of embracing a cozy kind of glamour — lots of reds and burgundys, velvets, and lace trim.
L: Johanna Ortiz Saint Sarah Ruffled Georgette Dress, $2,850, Moda Operandi
R: Crossover Velvet Dress, $50, Zara
L: Velvet Dress With Lace, $70, Zara
R: Alessandra Rich Crystal-Embellished Crepe Gown, $1,840, Net-A-Porter
L: Dolce & Gabbana Ruched Floral-Print Cotton-Tulle Midi Dress, $3,775, Net-A-Porter
R: Printed Velvet Kimono, $90, Zara
Clockwise from top:
Rigid Corduroy Minaudière, $50, Zara
Aquazzura Shanty Tasseled Suede Sandals, $795, Net-A-Porter
Prada Velvet Mules, $620, Net-A-Porter
Aquazzura + Claudia Schiffer Loulou's Tasseled Satin Pumps, $850, Net-A-Porter
Country
Country or vineyard weddings are tricky. On the one hand, you want to look fun and wedding-appropriate. On the other, it's the country! It's relaxed! In the age of Pinterest, the odds are high that you'll end up drinking something out of a Mason Jar at some point in the evening, and you don't want to do it in a floor-length gown (or maybe you do, in which case, we salute you). We recommend something short and fun, with subtle interesting details, like a crystal heel, embroidered bag, or contrast lace dress.
Clockwise from top:
Corset Lace Midi Shift Dress, $65, Topshop
Self-Portrait Velvet-Trimmed Panneled Guipure Lace Midi Dress, $645, Net-A-Porter
Flowing Dress, $40, Zara
Ulla Johnson Imogen Asymmetric Dress, $600, Moda Operandi
Clockwise from upper left:
Beaded Minaudière, $60, Zara
Vetements + Manolo Blahnik Satin Pumps, $1,775, Net-A-Porter
Paul Andrew Arco Satin Sandals, $845, Moda Operandi
Miu Miu Leather-Trimmed Satin Platform Espadrilles, $670, Net-A-Porter
Clockwise from top:
PETITE Layered Lace Midi Dress, $210, Topshop
Self Portrait Floral-Print Devore Midi Dress, $580, Moda Operandi
Attico Carlotta Color-Block Satin Maxi Dress, $1,399, Net-A-Porter
Want more articles like this? Head to Coveteur.com.