This Could Be Trump's Saturday Night Massacre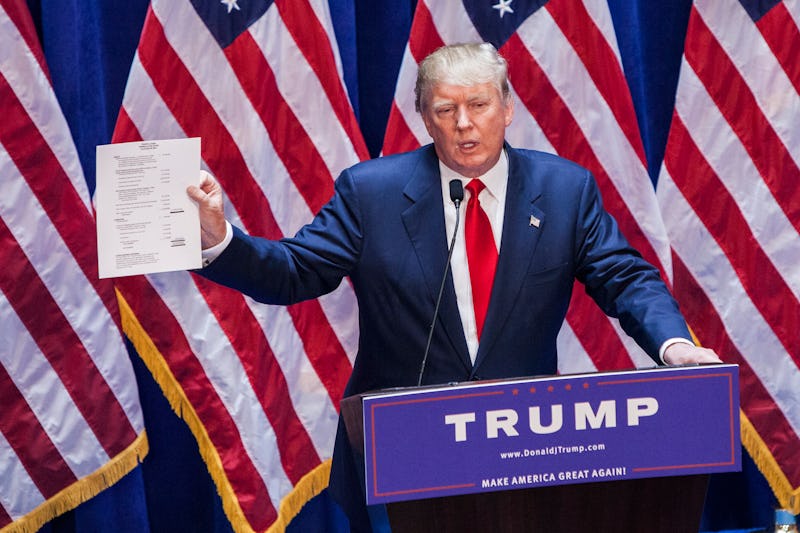 Christopher Gregory/Getty Images News/Getty Images
Donald Trump's removal of acting Attorney General Sally Yates reminded many people of a similar situation that happened decades before. In 1973, the Saturday Night Massacre was part of President Nixon's Watergate crisis — and now the term is being used to describe Trump's immigration order chaos as well.
Back in the '70s, the attorney general was a man named Eliot Richardson. Nixon ordered him to fire Archibald Cox, a special prosecutor assigned to the Watergate investigation who had issued a subpoena for tapes regarding the case. In protest, Richardson resigned. William Ruckelshaus took his place, also refused to fire Cox, and was fired. So the solicitor general, a named Robert Bork, fired Cox and became the attorney general for a few months. Nixon also got rid of the special prosecutor's office and handed the responsibility for investigating Watergate to the Justice Department, which was now being led by someone he got to fire the special prosecutor
The situation became known as the Saturday Night Massacre, and it has eerie similarities to Trump's immigration order situation, in which the acting attorney general refused to defend the executive order that bans all refugees and immigrants from seven Muslim-majority countries from entering the United States. After Yates released a letter stating that she and the entire Department of Justice would not defend the order, Trump fired her and named a replacement, stating that, "The acting Attorney General, Sally Yates, has betrayed the Department of Justice by refusing to enforce a legal order designed to protect the citizens of the United States."
The Washington Post reported that it wasn't just Richardson and Ruckelshaus who defied Nixon, though. The reason he wanted Cox fired in the first place was because Cox had defied orders on how he should proceed with the Watergate case. At the time, Nixon had ordered Cox to stop attempting to obtain tapes and documents related to the case. Cox said no way, and it all snowballed from there.
So, people getting fired over refusal to act as the president demanded? Sounds exactly like what Trump just did to Yates. One would guess that his new acting attorney general, Dana Boente, was named because of his support for Trump's order, but you never know. Only 10 days into Trump's presidency, this might not be the only Saturday Night Massacre we see.