Megyn Kelly Will Reportedly Have Multiple NBC Gigs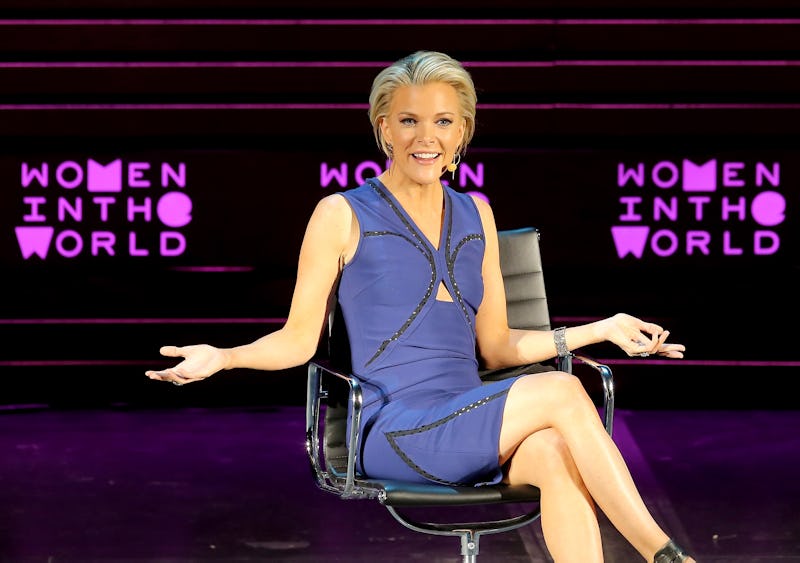 Jemal Countess/Getty Images Entertainment/Getty Images
One of the biggest names in cable news is on the move in 2017. Former Fox News host Megyn Kelly will reportedly depart her old stomping grounds in favor of NBC, in what's undeniably the highest-profile defection in the conservative cable channel's 20-year history. Kelly, 46, has been a solo host on Fox News since 2010, and while she's drawn plaudits from many neutral-minded observers, she has a decidedly conservative edge. So, you may be wondering: What will Megyn Kelly do at NBC?
Well, according to the New York Times report on the transition, it sounds like you won't have any trouble finding her on the airwaves once the transition is complete. She'll reportedly be hosting two shows for NBC News ― one daytime weekday program, a similar role to the one she's played at Fox News, as well as what the Times characterizes as an "in-depth" Sunday night news program.
She'll also reportedly be involved in any big, red-letter events the network wants her on, which is basically exactly what you'd expect. She was a mainstay for Fox News throughout the 2016 presidential election, acting as the moderator in a pair of Republican primary debates.
NBC News has put out a press release announcing the addition of Kelly to its roster of on-air talent. In it, NBCUniversal News Group chairman Andrew Lack calls her an "exceptional journalist and news anchor," and it confirms that she'll be hosting two shows, plus breaking news and special event coverage.
Kelly will become anchor of a new one hour daytime program that she will develop closely with NBC News colleagues. The show will air Monday through Friday at a time to be announced in the coming months. As part of the multi-year agreement, Kelly will also anchor a new Sunday evening news magazine show and will become an important contributor to NBC's breaking news coverage as well as the network's political and special events coverage. Details about both of Kelly's news programs will be unveiled in the coming months.
What remains to be seen, and will surely be fascinating for any fans of cable news (or now, for Kelly, network news) is how shell fit into a far less conservative media ecosystem. While Kelly gained some cross-ideological appeal in recent years, thanks most prominently to her clashes with President-elect Donald Trump (or to be more accurate, Trump's sexist and demeaning attacks on her, which fueled a surge of death threats against her), she also has a controversial record by progressive standards.
For instance, she's drawn fire for her career-long fixation on the New Black Panther party, which many of her critics have argued is at best racially exploitative. She's also been criticized for her assertion that Santa Claus and Jesus were both definitely white, for calling a black teenage girl who was tackled by a Texas police officer at a swimming party "no saint either," and for her disparaging coverage of the Black Lives Matter movement. She's also rejected the term "feminist," saying it implies a "pro-choice" agenda.
In a statement posted to Facebook, Kelly confirmed the news, thanking her Fox News audience for their viewership over the past several years. Although the vast majority of the people who commented on her post were, shall we say, not as gracious or appreciative.
It's unclear when precisely Kelly's NBC News tenure will begin, but it's reportedly expected to occur later this year. And whenever it does, it'll likely be the buzz of the TV news business.