Auntie Anne's Pretzel-Themed Clothing Line Will Instantly Transport You To The 2000s Mall Scene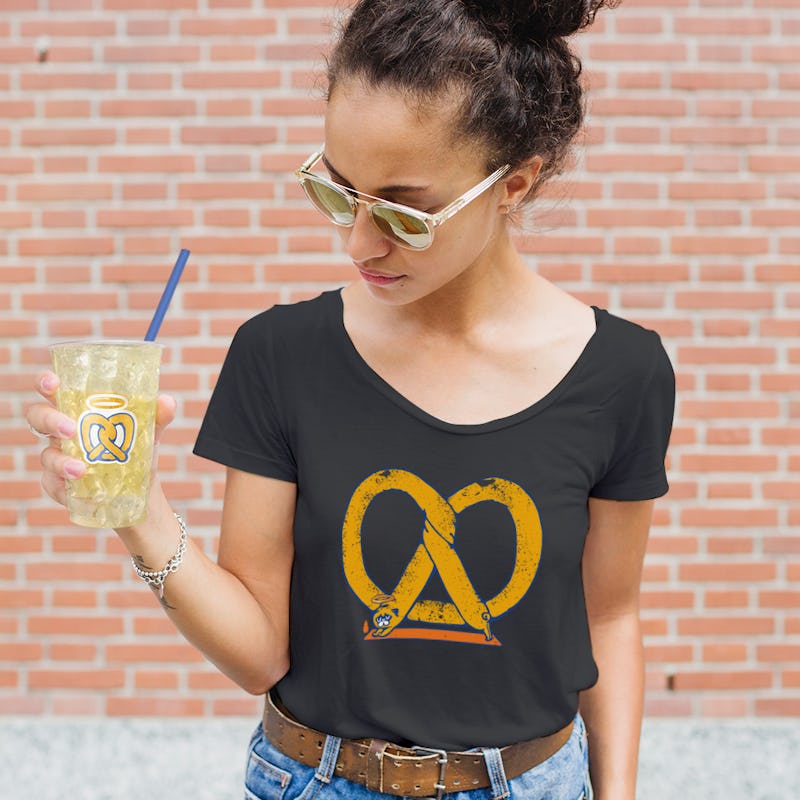 Courtesy of Auntie Anne's
When cruising through the mall in the '00s, you likely hit Hot Topic, American Eagle Outfitters, Wet Seal, and Delia's. All that shopping made you peckish. If you didn't fuel up at the food court, you made a pitstop at Auntie Anne's for a delish, butter-glazed pretzel. Auntie Anne's just launched a pretzel-themed clothing line to celebrate its 30th birthday and it's all the mall nostalgia needed to transport you to the aughts.
Auntie Anne's has partnered with six artists for its "For the Love of Pretzels" collection, which includes apparel and accessories. It arrives just in time for National Pretzel Day, which is Thursday, April 26.
The collection is cute and wearable, featuring hoodies, tees, totes, and other lifestyle items. But it's also charitable. All profits from the collection will be donated to Alex's Lemonade Stand Foundation (ALSF).
"For the first time, fans can showcase their love for Auntie Anne's by wearing our clothing while also contributing to the fight against childhood cancer," said Auntie Anne's president Heather Neary in a press release. "This is going to be a ton of fun for a great cause."
The e-store is also hosted by Threadless, a platform that helps up 'n' coming artists showcase and sell their work, thus building their reputation and portfolio.
"We gave the artists a ton of freedom to push the limits and create their own designs," Neary told Bustle via email. "As a result, the 'For the Love of Pretzels' collection is eclectic, bold, and authentic; this is a complete departure from traditional brand apparel."
She's not kidding. One collection features a pretzel pug... doing yoga!
"Each piece is a conversation starter, "Neary states. "We encouraged the artists to create designs that they would want to wear, not designs that they thought we'd want to see. As a result, the collection doesn't scream 'BRAND!,' and that's intentional. There are subtle nods to Auntie Anne's, but the focus is really on the art itself."
Adorable-ness aside, Neary believes the charitable element is another reason these pieces will resonate with Auntie Anne's lovers. Neary points to the $3.7 million the company helped raise to fight childhood cancer and the fact that customers share that passion, saying, "Who wouldn't want to buy awesome apparel that supports a great cause?"
The brand knew fans would respond to pretzel apparel because of their dedication and due to their requests. "We're celebrating our 30th birthday and really wanted to focus our celebration on our fans," Neary explains. Earlier this year, the brand invited customers to its free pretzel birthday party, which would unlock upon reaching a million RSVPS. "We easily surpassed that goal, which was a testament to the passion our fans have for our pretzels," she explains. "This fashion collection is another way for us to tap into that passion. We constantly receive requests for clothing or accessories."
As for how to wear this pretzel fashions? Neary suggests mixing and matching. "How about a Pretzel Pug Yoga t-shirt underneath a Pretzels Forever hoodie, Pretzel Heaven pants, A Twisted Day shoes, and a Pretzel for Everyone tote bag?," she says. "All while wearing your Auntie Pack, of course!"
Brooklyn illustrator Mike Perry created the aforementioned and hand-painted "Auntie Packs," which are only available via social media giveaway.
But here's a rundown of the entire collection of these purchasable pretzel pieces.
Shawnimal aka Shawn Smith designed the "A Pretzel for Everyone" print.
Bangkok-based Chalermphol Harnchakkham designed the collection of "Pretzel Pug Yoga" items.
Rick Crane made the "Pretzel Heaven" products.
Daniel Allen Stevens produced the print for "A Twisted Day."
Luis Romero created the "Pretzels Forever" design.
Here are a few of the cornerstone items from each collection that you so need to add to your wardrobe.
1. A Pretzel for Everyone Tee
2. Pretzel Pug Yoga Tee
3. Pretzel Heaven Fitted Tee
4. Pretzels Forever Baby Bodysuit
5. Pretzels Forever Pullover Hoodie
6. A Twisted Day Zip Pouch
7. Pretzel Heaven Lounge Pants
Your summer wardrobe is about to quite get a twist.