This ENTIRE Makeup Line Was Created To Be Completely Waterproof & Swim-Friendly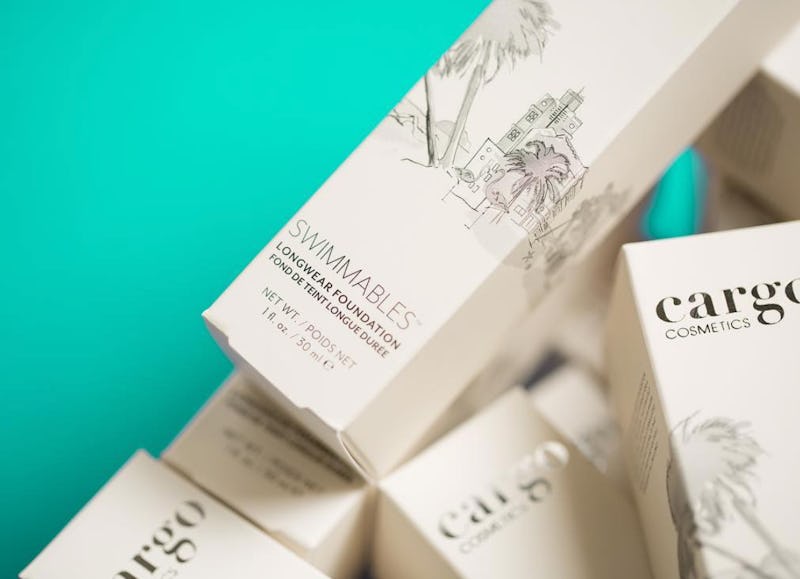 Courtesy of Cargo Cosmetics
Sun's out, fun's out! Do you love poolside action — like swimming, sunning, and enjoying the warm weather — but hate being limited when it comes to wearing makeup during hot months? Do you worry about smearing and smudging your mascara or forgo blush because you fear it will melt in the humidity? Well, Cargo Cosmetics Swimmables Collection will outlast any pool party or height-of-summer BBQ you attend.
The collection is waterproof, sweatproof, and weatherproof. So, yeah, it defies the elements and lets you look your best. You can enjoy makeup no matter what extracurricular activities you are engaging in.
The Cargo Swimmables range includes blushes, bronzers, eye pencils, eyeshadow sticks, brow pencils, lip pencils, and liquid lipsticks. The collection has you and your features covered. There's even a waterproof Mascara Top Coat that will transform any regular ol' mascara into a waterproof version of itself. That's some makeup sorcery right there. But who cares how it works — as long you aren't left with raccoon eyes.
But the hero product of Swimmables is the Longwear Liquid Foundation, which provides a waterproof base for your look. Even if you don't wear anything overtop, you can still enjoy a smooth, creamy canvas with this product.
So go ahead and pack your swimmies, your bottle of water, the book you've been itching to read, your sunblock, and your Cargo Swimmables makeup!
Lipstick that lasts even while submerged?! All your makeup dreams are coming true.
Here's a rundown of the Swimmables collection, which is available via the Cargo site, at Ulta.com, at Kohl's locations, and the Kohl's site.
1. Mascara Top Coat
Like so!
2. Longwear Foundation
3. Brow Pencils
4. Longwear Matte Liquid Lipstick
5. Eyeshadow Sticks
6. Eye Pencils
7. Lip Liners
8. Blush
Don't believe the hype? Watch it in action. Water doesn't ruin the product. Swoon.
9. Bronzer
The Cargo Cosmetics Swimmables makeup collection looks at rain, sweat, humidity, clingy air, ocean water, splashes from the pool, the sun, and all of the elements and thinks, "Is that all you got?" This collection will withstand even the rowdiest of pool parties.