A Popular YouTuber Just Released A Rose Gold Palette That Will Make You Swoon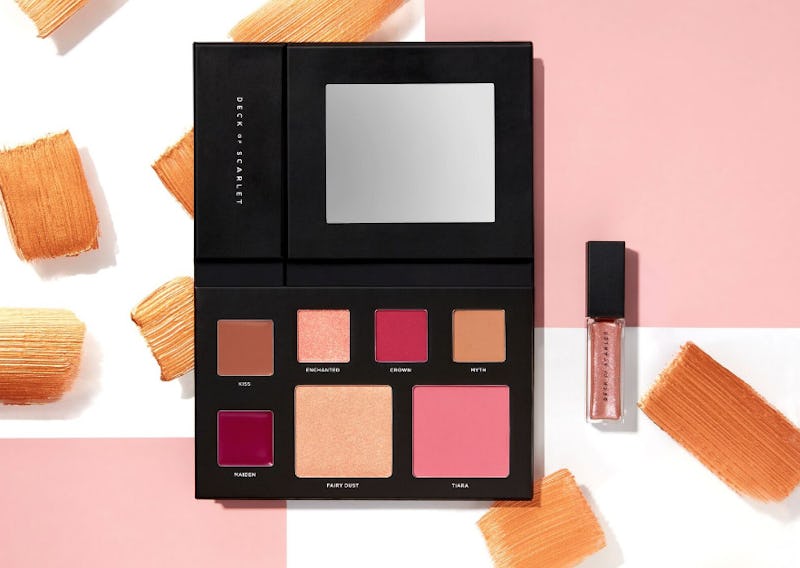 Courtesy of Deck of Scarlet
Go for the gold — rose gold, that is! YouTuber Kim Thai has partnered with Deck of Scarlet for a rose gold palette that will give you gorgeously gilded lids, lips, and cheeks all summer long. The makeup subscription service delivers high quality, deeply pigmented palettes curated by a new Artist in Chief on a bimonthly basis. The AICs are usually influencers and online MUAs.
New palettes can paired with previous ones for custom looks.
Thai, who previously teamed up with OFRA for the fluffy yet super moisturizing Wanderlush face cream, served as the Artist in Chief for Deck of Scarlet 08. Thai loves metallics, she loves pink, and she loves gold. So here we are, with her seven-pan palette. It includes everything you need for glowing, summery makeup. There's even an additional sparkly lip gloss that's included as part of the cruelty-free set.
It's not simply an eyeshadow palette. As if. It's full service for all features and will eliminate the need to pack a huge makeup bag when traveling on weekend road trips this summer season.
Thai, who has nearly 500,000 followers on both YouTube and Instagram, is known for her mega glam makeup looks on her channels. Her Deck of Scarlet arrives on Tuesday, May 1.
Deck of Scarlet Palette No. 08, $45, Deck of Scarlet
Here's a breakdown of what's in the Kim Thai x Deck of Scarlet palette.
The eyeshadow selection is seriously sexy. There's Enchanted, which is a rose shade with golden shimmer. Then there's Crown, a cranberry shade with a satin matte finish. Myth is a mid-toned and matte golden brown. Are you already thinking of what smoky eye or even monochromatic looks you can create with this beautiful trio of shadows?!
For the cheeks, there is Fairy Dust, which is a powder highlighter in a golden x pink hue. It adds glow, baby, glow to all the high points of your face. Or wherever you desire some additional glimmer.
There's also Tiara, which is a pink blush in a matte finish. It glides onto skin and gives you that "I just smooched my crush" flush.
How about dem lips? You get Kiss, a full coverage, nude hued lip paint. It boasts pink and brown undertones and a slight matte finish. Maiden is a bright raspberry lip paint.
Lastly, there's the standalone Lovespell, a high shine, rose gold lip gloss. It's super shimmery without being all sorts of sticky. It's lip gloss at its most modern.
You can go dramatic or subtle when using this palette. You can do bold eyes and a soft lip. Or a light eye with a deeper lip and standout cheeks. You have so many options.
Did you notice the princess and fairytale theme when it comes to the names of the shades?
The palette is available to Deck of Scarlet's subscriber base for $29.95. Each product averages out to about $3.95. If you are not a subscriber, don't fret. You can still grab it a la carte, but at a price of $44.95. Subscribing is a great idea, since it almost cuts the palette price in half. Plus, the palettes are always ace and eliminate the need to shop for colors in piecemeal fashion.
Deck of Scarlet Palette No. 07, $45, Deck of Scarlet
Here is Palette 07, which had a super beachy look. All of those sandy and oceanic shades made it absolutely ace.
The Kim Thai palette is well-coordinated and certainly has a consistent color theme. Stay tuned for the YouTuber's very own video, showing off how to use the colors and products in the collection.
In the meantime, why not enjoy this tutorial featuring affordable products for a "no makeup" makeup look and a natural glow?