Glossier Is Selling A New Makeup Set Ft. All The Essentials At An Awesome Saving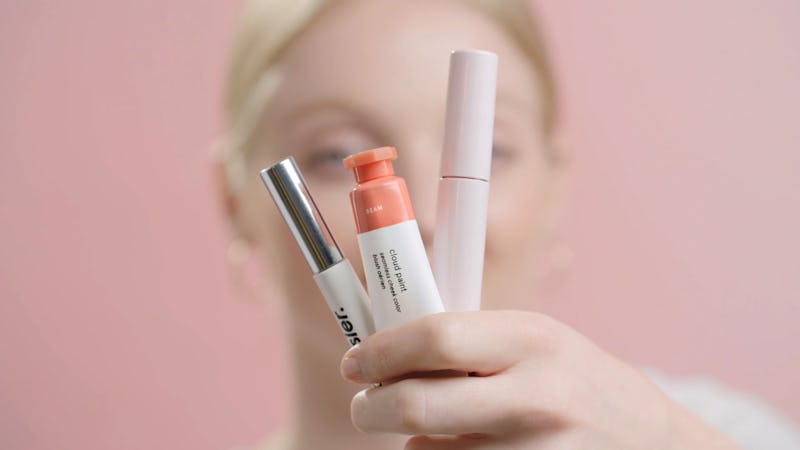 Glossier
Glossier first started out with its skincare essentials, such as their infamous Milky Jelly Cleanser and Priming Moisturiser. The brand named their first "set" of skincare essentials "Phase One" in a bid to prove their dedication to putting skin first. It included the cleanser, moisturiser, and lip balm and pretty much defined the brand for a long while. But then Glossier started producing makeup, and the whole game changed. They've now announced a brand new phase called "the makeup set," which includes some of the best Glossier minimalist makeup must-haves. So what's in Glossier's Makeup Set and when can you buy it?
The new addition to the line will include three of Glossier's most successful makeup products: Glossier Lash Slick Mascara, Glossier Cloud Paint Cream Blusher, and Glossier Boy Brow Brow Product. Not tried any of this trio before? Here's what to expect.
Glossier's Boy Brow became one of the first iconic makeup products to hit the market, hailed for its one-step approach to filling in brows, adding colour and thickening. It comes in four shades: Clear, Brown, Black, and Blond.
The Glossier Cloud Paint Cream Blusher is a creamy cheek colour which blends perfectly onto the cheekbones and comes in a super cute, travel-friendly tube. It comes in six shades for all skin tones, from pale pinks to deep reds, and all colours can be mixed to form your perfect blusher hue.
Glossier's Lash Slick Mascara is one of the brand's most recent additions to its makeup line. Praised for giving lashes the perfect day-time coat of glossy product, it's a brilliant understated way to wear mascara.
Combined, these three products make up the new set, which will retail for £35 meaning you save £8 when you buy the set rather than the three individually. It goes on sale today (5 December 2018) online at Glossier.com and permanently replaces the Phase 2 set, which contains Glossier Boy Brow, Glossier Generation G Lipstick, and Glossier Stretch Concealer.
As well as this exciting new makeup set, Glossier are also launching a super cute limited edition "You Look Good" pocket mirror, which comes with a little pouch. It comes free with any purchase over £45 with the code POCKET, or can be bought separately for £9.
Glossier hit the UK in late 2017, much to the delight of its British fans, who'd been waiting for years to get their hands on the millennial pink pouches and the products inside. While we still don't have a bricks and mortar store in London (or anywhere else in the UK), the brand is available to ship all over the country, and they did have a pop up store in November 2017 to celebrate their introduction into the British market.
Glossier has also recently expanded to other countries all over the world, and now ships everywhere within the U.S. and Canada as well as to the UK, Ireland, Sweden, Denmark, and France. The brand has also opened multiple new stores and pop-ups this year too.