Hailey Baldwin's PLT Line Has Everything You Need To Get Glam This Festive Season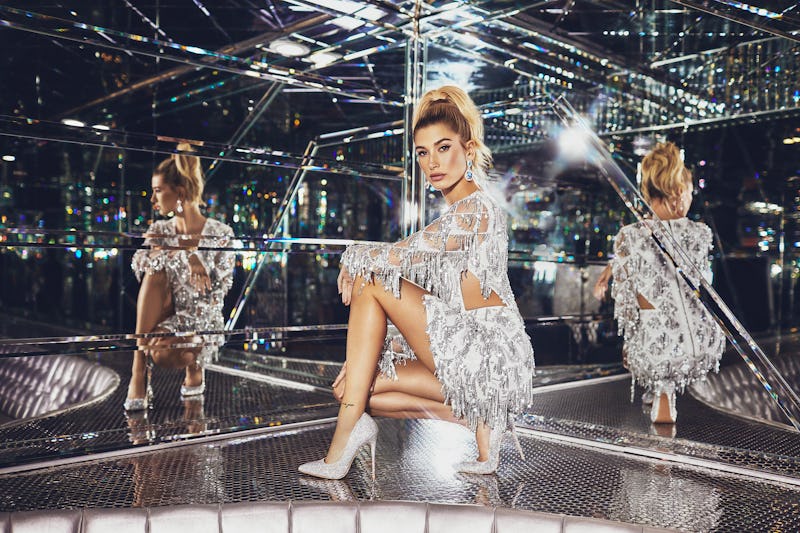 PrettyLittleThing
Halloween has passed, we are well into November, and while some may disagree, I would say it is definitely time to look forward to Christmas. While I love Christmas and all its festive cheer having so many events around one time can be a little stressful. You want to follow the sparkly, glam dress codes but I hate buying outfits that are only Christmas appropriate. But fear not, PLT are here to hook you up. So what's in Hailey Baldwin's PrettyLittleThing collection? Let's just say it's got all the glitz and glamour you need come December.
There is no denying it, Hailey Baldwin is the ultimate cool girl. She has manages to rock the slightly undone, sun-kissed look all year round look and I am there for it. With PLT's Christmas collection coming under the theme "time to shine" she seems like the perfect fit. And talking of fit, the range is available in sizes ranging from UK 6-26 making it one of the more inclusive high-street offerings.
Speaking about Baldwin's involvement with the PLT Christmas campaign, CEO Umar Kamani said, "we are so excited to be working with Hailey on our Christmas campaign. After such a successful year for the brand there wasn't anyone else better suited to see our 2018 out with a bang." Baldwin herself added, "I'm so excited to be announced as the latest face of PrettyLittleThing. I love their holiday collection with so many different looks to choose from and each equally as perfect for this party season."
But what exactly can you expect from the collection that makes it so perfect for every event you have coming this December? Well there is no shortage of glitz and glamour. The collection launched on Nov. 6 and you can buy it all on the PrettyLittleThing website right now. The campaign includes co-ords, jumpsuits, dresses, shoes, and jewellery that will have you looking like the shiniest thing on the dance floor. And you know what they say? Diamonds are a girl best friend.
This high neck bodycon dress is glitzy and perfect for a Christmas party. You will be more sparkly than the glitter ball on the dance floor.
Get prepared to serve major looks in this badass blazer. I mean, just look at it. Delightful.
If you are looking for an outfit that is a little bit edgier, the sequin bandeau crop top and cycling shorts will put you right on trend whilst keeping with any festive theme.
I am in love with these cycling shorts. Paired with the PLT bandeau or dressed down under a big jumper they are everything Christmas should be.
This cowl neck detailing is perfect if you want to show off with a great statement necklace.
If you are looking for a dress that will be completely timeless and perfect for a work party or dinner out, the twist front bodycon dress will have you covered.
This sequin bralet will definitely make a statement on any night out you go on this December.
If, like me, you still can't get over Mamma Mia! and the serious fashion goals it served you need these flares in your wardrobe this Christmas. Paired with the sparkly bralet they are the perfect "Dancing Queen" combination.
This cowl neck dress is chic, glittery and oh so nineties. Paired with some strappy heels and a coat it would be the perfect staple for any night out outfit this December.
If you've got a big event this December look no further than this midi dress. It has sequins. It has tassles. It is basically the embodiment of Christmas in a dress and will look great on the dance floor.
That cowl neck is back again, this time on a halterneck jumpsuit. Perfect for when you're getting prepared for that Spice Girls reunion next year, too.
If two-pieces are more of your cup of tea. This one shoulder crop top with sequins and tassels is perfect with the matching skirt or, if you want to tone down the sparkle a little, would look great with a black midi skirt or high wasted trousers.
This glitzy midi skirt is super sexy with the slit cut up the thigh and would look perfect paired with some killer heels and the matching crop top.
Sparkle, sparkle everywhere. Why not on your ears too.
The backs of these shoes are pure fire. If you're not into the full silver look, this is the way in.
Holy Moly. Sign me up for these slouchy boots.
The stuff of teenage dreams. These are just like something you would have seen on Top of the Pops back in the day, and that makes them great.
It has to be said, the collection has a lot of the diamante clad numbers, but they could definitely be worn all year round. It beats the guilt I have looking at my wardrobe every year when I know I will never wear that hideous Santa jumper dress ever again. Now I just need to rack up enough invites and nights out to give me an excuse to buy the whole collection.