Workout Clothes For Tall Women Have Arrived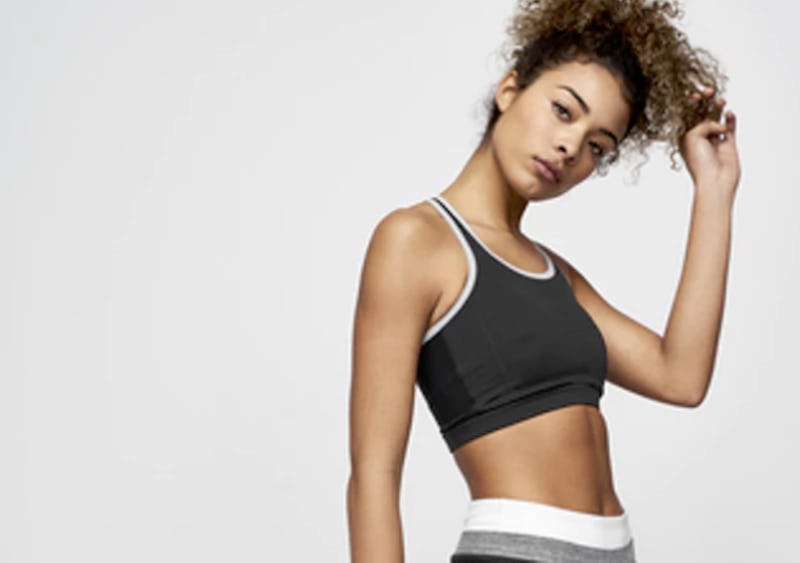 Tall folk unite in collective joy, because Long Tall Sally's Taller & Stronger Collection is here, and it's so much more than pretty clothes. I mean, yes, the clothes are pretty great, and actually made for real, live, tall people, but the collection is also the first fitness line specifically designed for women 5'8'' and taller. For example, did you know 63 percent of tall women slouch and 76 percent experience backache? Right. Tragic. That's why Long Tall Sally's Taller & Stronger Collection comes with exercises and gym hacks to strengthen the back and core, stretch the back, and improve posture. It also has clean eating tips, and real inspo from actual tall athletes. It's chalk full of resources on tall living. Scratch that — tall thriving.
In Long Tall Sally world, tall starts at 5'8" and that means their clothes aren't just cherry picked from a different collection and made with a few inches tacked on here and there. They take tall women into account from conception to completion, meaning things that are often problematic, like rise, length, pocket placement, and waist all work together to give you a worry-free fit. No more tugging and pulling, especially when you're trying to do yoga or get a run in. And of course, the line is bursting with a variety of looks, so don't think I'm implying you have to be a gym rat to enjoy them.
Even though the collection is about so much more than the clothes, I know you totally want to see them, so consider this one wish I can grant.
Here's a preview of the Taller & Stronger program:
According to research from the brand, more than half of women over 5'8" report that it's a challenge to find stylish activewear for tall people. This collection aims to solve that problem, clearly, but also to offer support from all angles. Yes, the bras are supportive, but so are the fitness videos. Everything here has the tall person in mind.
Here are some of the individual pieces:
MPG X LTS Accomplish Sports Bra, $55, Long Tall Sally
Designed for longer torsos, so it won't be riding up to your shoulders.
MPG X LTS Splicer Fabric Mixed Leggings, $89, Long Tall Sally
These are hot. And comfortable. And they fit. It's the trifecta!
MPG X LTS Shelt Mutistrap Yoga Tank, $39, Long Tall Sally
It covers where you want it to, instead of brushing the bottom of your belly button. I mean, the cropped length is a good hot look for some people, but it's not always what you're going for, am I right?
MPG X LTS Eden Warm Down Top, $49, Long Tall Sally
You'll probably live in this. Let's face it.
Washed Sweatpants, $68, Long Tall Sally
The scrunchy ankles will actually be at your ankles.
MPG X LTS Surge Printed Tank, $59, Long Tall Sally
That pattern, though! Coverage, check. Length, check. Style, check!
MPG X LTS Revitalized Leggings, $79, Long Tall Sally
Again, I can't emphasize enough that these will actually fit you.
Yoga Leotard, $32, Long Tall Sally
Leotards and body suits are totally back. You know there's no squeezing yourself into a too-short bodysuit. It just doesn't work. Either your breasts pay the price, or your lady bits do the suffering. This one's made just for you.
Longline Cowl Neck Sweater, $48, Long Tall Sally
It fits like a dream. It feels like one, too.
Tall people no longer have to search the racks for scraps. Long Tall Sally has your back. And all the rest of your parts.
Images Courtesy Brand