MISS A's New A20 Lab Line Is Super Exciting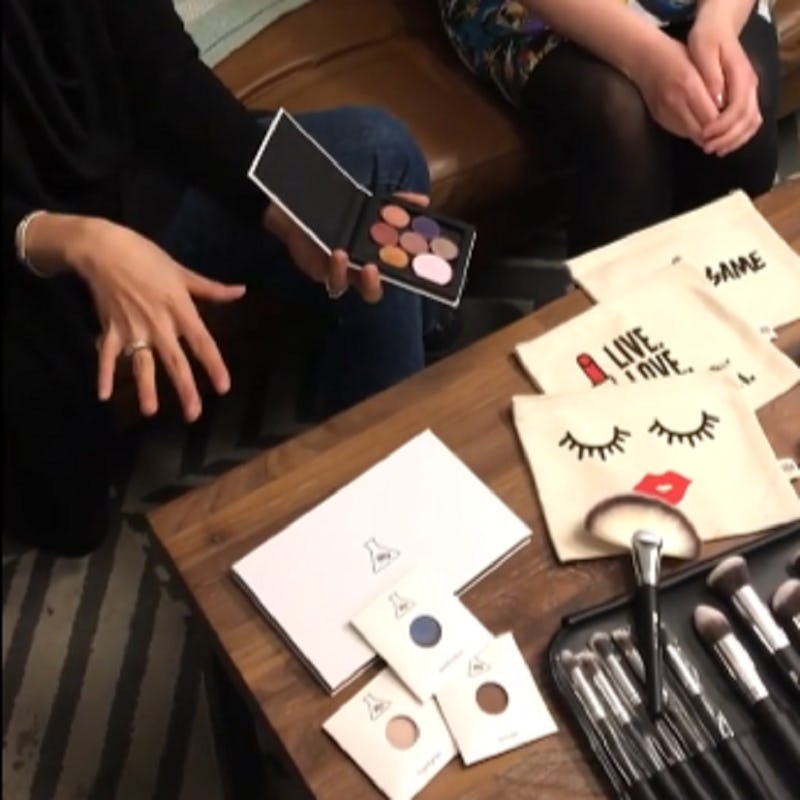 The MISS A AOA Studio line of makeup tools is a huge hit, and why wouldn't it be? It's a collection of quality products with a $1 price tag! Now, they're teasing the A2O Lab line, which is all about finding products to use those tools with. Yes, you heard correctly. The A2O Lab line is here to fill the gap in high-quality, highly pigmented products at super low prices. Everything in their line will be between $2 and $5.
The line features build-your-own-palette buffet of goodness with single pot eyeshadows, bronzers, blushers, and highlighters with magnetic backs that you add to a magnetic palette case. The fact that they snap in and out means you can change them with ease, and create different looks as you get new products. No more carrying a dozen different things in your purse (even though you probably will anyway, let's be honest), or purchasing huge palettes, only to use a couple of the colors inside. You get to pick everything in your A20 Lab makeup arsenal individually.
There are no specifics yet as to what or how many shades they'll offer, as the line doesn't technically drop till spring 2017, but there have been sneak peaks on social media, like this one right here:
So why not $1, like the AOA Studio line? Well, if I had to guess, I'd say it boils down to one word: pigment. From what I could tease out of their Instagram updates, the colors promise to be highly pigmented makeup products, and, well, pigments cost money, kids. Still, a couple of bucks for a super bold shadow is steal, compared to luxury brand products.
Check out this teaser post above. When I see words like "pro-level color range" and "this line is focused on pigmentation" I get really excited. How many times have you bought makeup for cheap and pretty only to find out that you could use infinity coats and still never be able to see it? The worst. But it looks like these products will not lead to those disappointed feels. I have faith. Why is that? Well, they have been able to show dupes of some of the products in other MISS A lines, and they seem to stack up to their expensive counterparts!
And look at the coverage of these $1 concealers! Not bad, right? Or check out the pigmentation situation going on here:
Not too shabby, right? If you showed me the above swatch and told me it was a pricey luxury brand, I would be just as inclined (and possibly more so inclined) to believe as if you told me it was a $1 brand. It's cosmetic anarchy! Ok, it's not really, but it will be nice to be able to add a few reliable, high-quality, go-to items to your collection that didn't take a significant chunk out of your rent fund. Not that you would ever spend your rent money on makeup. *winkey face emoji*
Keep your eyes peeled to the Miss A Instagram for more sneak peaks, swatches, reviews, and exact release dates.
Images: Miss A Instagram