The Alex And Ani Wonder Woman Jewelry Collection Is Adorbs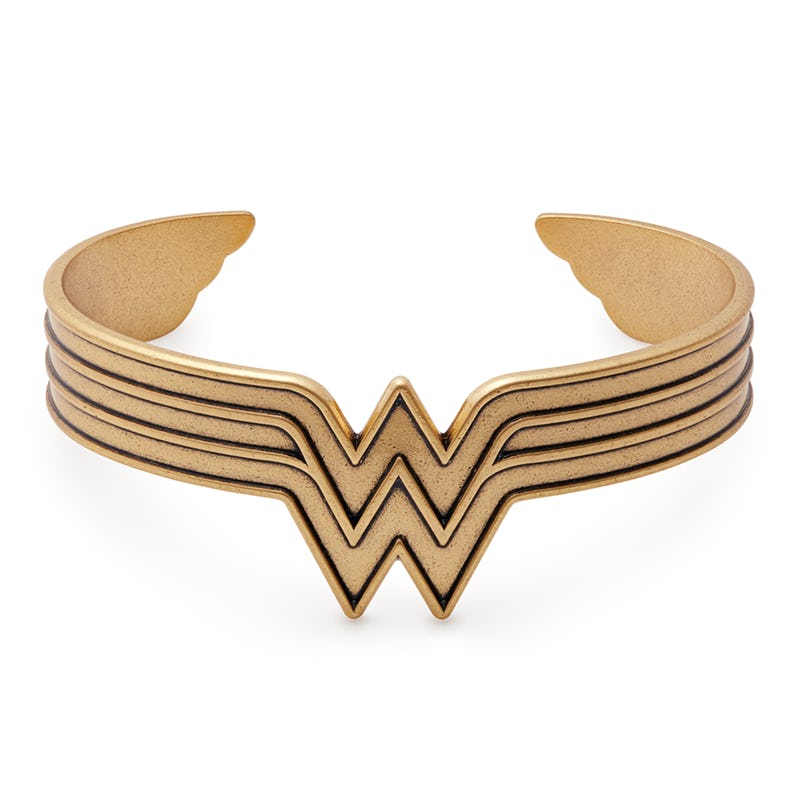 Courtesy of Alex and Ani
With Wonder Woman hitting the multiplex this weekend, branded merch has arrived and the Wonder Woman machine is operating at full force. There's the Luxie Beauty brush collection, the Walgreens makeup bags, and even a Barbie! Also, the Alex and Ani Wonder Woman jewelry collection is a small but focused set that will allow you to channel and display your inner superhero.
What's in the Alex and Ani Wonder Woman collection?
Despite the fact that it's only seven pieces, there is a lot of variety, since the accessories are offered in both gold and silver finishes. I am partial to the gold, since, well, Wonder Woman's clothes and accessories are embellished with gold.
The collection boasts two colorful charm bangles — one with the Wonder Woman logo and one with an image of the icon in her justice-seeking (and eternally sexy) ensemble. There is also a logo cuff because of course there is.
The collection also boasts an adjustable necklace with the Wonder Woman logo and an expandable version with the color logo. There is a wrap ring and logo earrings.
The prices range from $32 to $88, so it's an affordable collection that's totally layerable thanks to the pops of comic book-like color. You can mix and match finishes as you wish.
Wonder Woman Logo Charm Bangle, $38, Alex And Ani
The logo is instantly recognizable, as is the A&A charm bangle style.
Wonder Woman Charm Bangle, $32, Alex And Ani
You can stack the charm bangles or mix the silver with gold because the rules are made to be broken.
Wonder Woman Cuff Bracelet, $48, Alex And Ani
Wonder Woman's gold cuff is as iconic as her red boots. IMO, this is the centerpiece of the collection. I actually ordered it in the gold finish to remain loyal to the original, even though I tend to prefer silver.
Wonder Woman Adjustable Necklace, $88, Alex And Ani
This is the priciest piece in the range. You can play with the length or wear it with the other necklace in the collection.
Wonder Woman Expandable Necklace, $38, Alex And Ani
I told you this collection lends itself to mixing materials and to layering because each piece is so different.
Wonder Woman Ring Wrap, $38, Alex And Ani
This ring works so well with the cuff, right?
Wonder Woman Earrings, $48, Alex And Ani
Wear these earrings on days when you will throw your hair in a pony. Or if you rock short locks, you can show off your love of Wonder Woman all day, every day.
If you want to load up on Wonder Woman merch this summer season, you can hit the official Wonder Wonder boutique, as well.