Your Teenage Self's Favorite Store Just Launched Makeup — And It's Actually Quite Good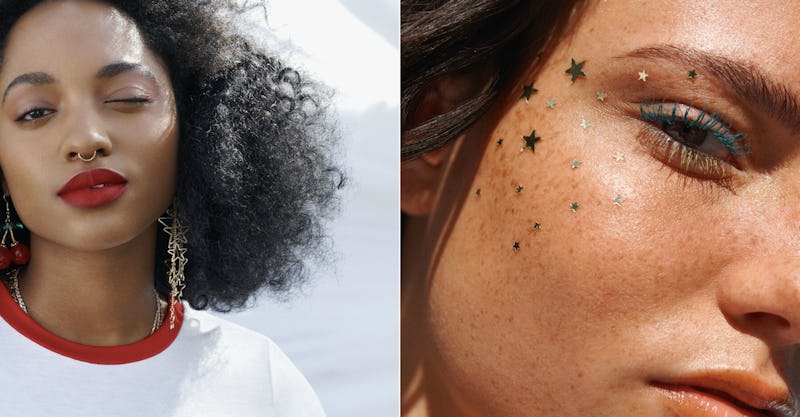 Courtesy Charlotte Russe
As someone who grew up in the suburbs, I have a deeply embedded appreciation for malls — and for the stores in them. Show me a Hollister, Abercrombie & Fitch, or Auntie Anne's kiosk that you can somehow smell from 15 miles away, and I am immediately transported back in time. So a Charlotte Russe makeup line immediately caught my attention on a nostalgic level. But with nothing more expensive than $13 in the line, I wasn't expecting life-changing products to say the very least. After trying a few products in the line, though, I found that the dewy, easy-to-use products were actually quite good. In fact, it's exactly the kind of "no-makeup makeup" that you can easily spend double or triple the amount of money on. With most products under $10, these products should definitely should be a go-to beauty purchase if you find yourself in a mall (or shopping online) any time soon.
The line includes 19 products and 65 color options for eyes, lips, and face. While you might expect the line to have mostly festival-ready, gimmicky options that wouldn't have much practicality for everyday wear, the majority of the available Charlotte Russe products are perfectly on trend with the effortless, dewy glam look that is so popular today. From the Highlight & Contour Kit to the Sheen Queen Lip Gloss, one cool thing about the Charlotte by Charlotte Russe products is that it takes products that are traditionally powder and makes them balm-like instead. This results in product that is easy to blend, but also adds a fresh finish to a makeup look. The highlight and contour options both apply like a balm, leaving a hydrated, glowing effect on the skin rather than a harsh, cakey finish. The eyeshadow pencils are also creamy and easily blendable, as opposed to a traditional powder shadow.
The lip gloss is similar — and, actually, not really like a lip gloss at all. It comes in a stick form, and gives the lips a dose of color without any of the stickiness of a traditional liquid formula. Coming in four shades ranging from nude-y pink to traditional fire engine red, the Sheen Queen Lip Gloss is one of my favorite products in the line. And it's a lot like a shinier, more balm-like cousin of Glossier's Generation G lip color — but a third of the price.
The collection also includes everyday staples like a surprisingly good brow pencil, mascara, and a versatile eyeshadow stick in four different shades. This line is about basics, and it does them in a way that feels fresh, approachable, and fun... all at a price point that is actually reasonable. For those just starting to experiment with makeup, or looking for a few quick on-the-go products, this is an excellent option.
The collection launched on April 18 and has flown under the radar so far, but it's certainly worth checking out if you're in the market for a new, easy-to-try-on brand.
The new makeup line is available for purchase in 250 brick and mortar Charlotte Russe stores across the country as well as online. If you're heading to your local mall to check out the line, reps say the stores will offer a "Charlotte Russe Beauty Bar" that allows customers to test out products to find the shades and formulas that work best for them.
In a world where the giant beauty stores of the world can be both intimidating and overwhelming, Charlotte by Charlotte Russe may be the perfect chance for a beauty newbie in search of something fun and wearable for every day. Whether that's you or you're just looking for a Glossier dupe (aren't we all), it's always encouraging to see fresh beauty products in store that fit into your budget. Plus, if you're at your local mall, you can shop for makeup and still have enough money left for an Auntie Anne's pretzel.