OMG, dELiA*s Is Back — And, Yes, There Are Chunky Boots & Babydoll Dresses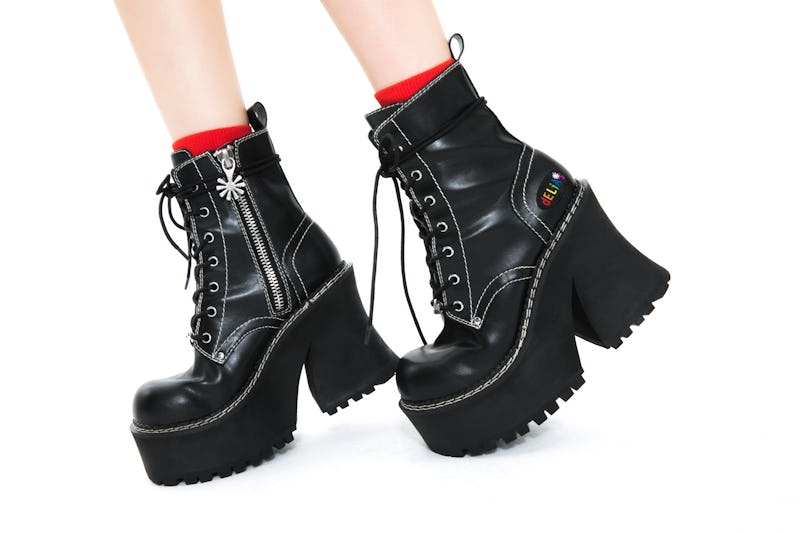 Courtesy of Dolls Kill
What's old is always going to eventually be new again, albeit in an updated, modernized, or altered form, in fashion. The new dELiA*s collection with Dolls Kill (Sizes XS to XL available) channels all of the elements of the iconic '90s and '00s fashion brand. The pieces will speak to fashionistas of all ages and of all personal styles — especially those who remember dELiA*s during its sartorial heyday. It's a late '90s revival and it's really awesome.
dELiA*s was known for its funky fashions and its inspo-providing catalog. It defined the style of the end of the previous millennium and the beginning of the current one. Babydoll dresses and chunky combat boots were a common mix. Accessories were often fluffy, fuzzy, and/or floral. The brand eventually went bankrupt and became a fleeting, fluttery, and fond memory — until now.
The playful dELiA*s aesthetic mixes with the rebelliousness of Dolls Kill, which is a proudly unapologetic fashion brand with a cult-like following, built for those eager to express their individuality. The d*s x DK range is comprised of shirts, shoes, dresses, and accessories.
dELiA*s and Dolls Kill makes sense, since they share a singular ethos: both vintage and retro yet original and bold. Basically, Dolls Kill is licensing the dELiA*s name and unleashing deLiA*s by Dolls Kill, a badass assortment of awesome.
It's a whopping 70-piece capsule that arrives on Friday, Nov. 2. You will be the flyest girl in your class or on your campus when you wear any of these pieces. The collection is limited edition — and the brand expects it to sell out quickly.
"Every '90s girl remembers the dELiA*s catalog hitting her mailbox," said Shaudi Lynn, Dolls Kill co-founder, in a press release. "Tearing through the pages, coveting the 'it girl' looks. dELiA*s was an obsession, shaped a culture, and left a permanent tattoo on a generation. We've always been inspired by dELiA*s' vintage, original style, and it felt like the right time to introduce it to a whole new generation." It surely is.
"Never is the sequel better than the original. Until now," said Betsy McLaughlin, Dolls Kill board member and former CEO of Hot Topic. Those are some massive words, but her sentiment is legit. this collection captures and embodies the spirit of brand as it was. She continued, "An authentic nod to the '90s, Dolls Kill has taken everything we loved about dELiA*s — the quirky fabrics and patterns, the unapologetic attitude — and designed an evocative new collection for the modern dELiA*s customer."
There are mini backpacks, bold flower prints, in both babydoll dresses and crop tops, flared denim, thick-heeled combat boots and Mary Janes, chunky slides a la those Steve Madden's '90s faves, and slip dresses that can be worn with baby tees underneath. It's basically everything Drew Barrymore, Winona Ryder, and Gwen Stefani wore IRL and that Brandy as Moesha, Mayim Balik as Blossom, and Lisa Bonet as Denise Huxtable may have rocked on the screen and off.
The suite of clothes and lifestyle items is a fresh take on the '90s and a reimagining, of course. It's certainly perfect for the modern fashion plate who WOULD HAVE worn the brand during its heyday or who perhaps DID love it way back when. Some of the pieces skew young and teen-centric. But millennials and college-aged stylistas will certainly be able to incorporate pieces into their OOTD for the ultimate injection of nostalgia. The size of the dose is entirely up to you and your personal style.
The range starts at $18 and goes up to $88.
Here are the six best pieces to shop and mix with items already in your closet.
1. Blossom Bright Crossbody Bag
2.Flower Power Babydoll Dress
3. Dark Animal Behavior Platform Boots
4. Blossoming Baby Lace-Up Platforms
5. In Orbit Fitted Pants
6. American Weirdo Wide-Leg Jeans
There are plenty more pieces to shop and lot of hard choices to make when it comes to a infusing your wardrobe with a little dELiA*s.