Fenty Beauty's New Summer Makeup Line Is Rihanna's Version Of The Holographic Trend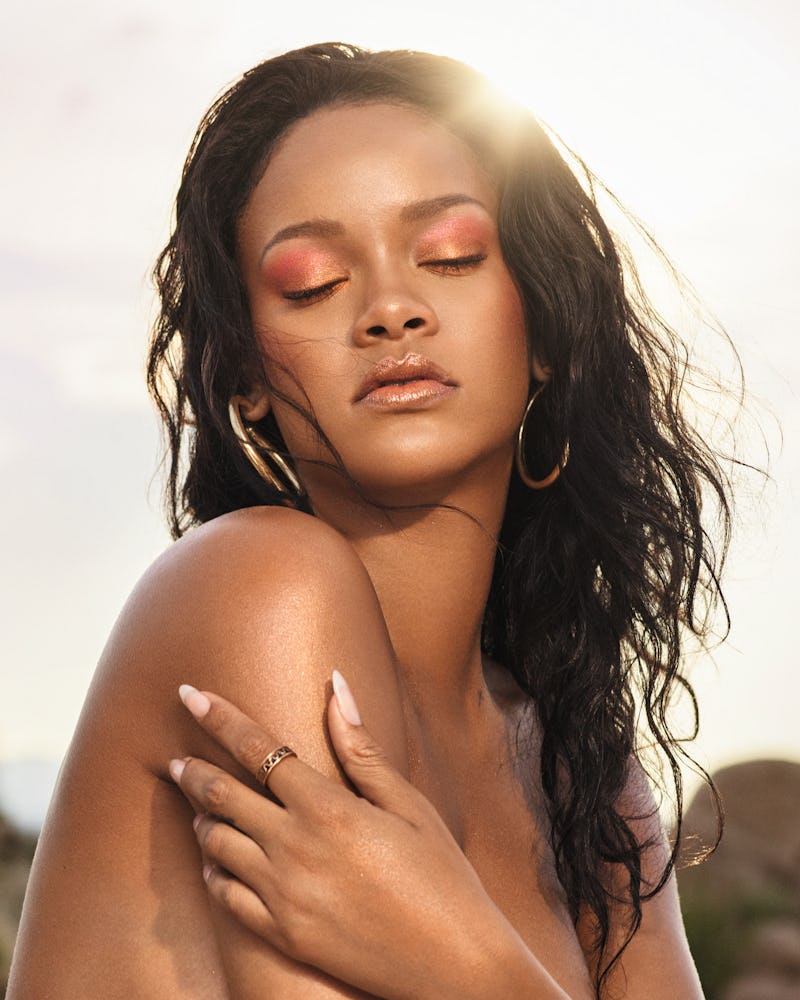 Courtesy of Fenty Beauty
Get ready because your summer go-to beauty products arrive on Monday, May 21. That's when Rihanna and Fenty Beauty will drop the Beach, Please! makeup collection. It's an update to the previous B,P! assortment, which launched with two super shimmery shades of Body Lava and the Fairy Bomb pom pom powder puff. Both were created to add glow and luminosity to the skin. The range is expanding with makeup and it's not just shade extensions for existing products. There are brand new Fenty Beauty items making their debut.
The Fenty Beauty Summer 2018 collection is all about serving up lewks that capture the island paradise essence with lots of radiance. It boasts shimmery, reflective and holographic hues, along with mega metallics.
Rihanna actually teased the products in a playful and informal makeup tutorial that she shared in conjunction of her latest Vogue cover. The products were hiding in plain sight as eagle-eyed Fenty fanatics noticed that the singer was indeed hinting about some Fenty new-ness.
While the Body Lavas were all about loving and luminizing the skin, the second half of the collection brightens and beautifies the face.
The Beach, Please! makeup suite is small but focused. It's inspired by how Rihanna wears shimmers and highlights. It's all about layering.
Rihanna's two-toned lids in this campaign image are everything and you can recreate the look with her new duos. The Killawatt Foil Freestyle Highlighter Duos are a permanent part of the Fenty family. They were inspired by Rih's patented highlighting technique. It's like Rihanna is your personal makeup artist — sharing her tips and her products. Weeeee!
The products are designed to allow you to layer your highlight — from cheeks to eyes to temples. The trick is to diffuse the line where your highlight begins and your eyeshadow ends. Blend, buff, and blur those lines courtesy of Fenty Beauty.
Here's a rundown of the entire Beach, Please! range. Note that they go on sale on Monday.
1. Killawatt Freestyle Foil Highlighter Duos
2. Island Bling 2-in-1 Liquid Eye Shimmer
3. Summer Daze & Summer Nights Iridescent Lip Luminizer Trio
Beach, Please! will illuminate those lips and lids — and elsewhere!— all summer long.