Kipling Released A Mary Poppins Bag Collection & Yes, It's Supercalifragilisticexpialidocious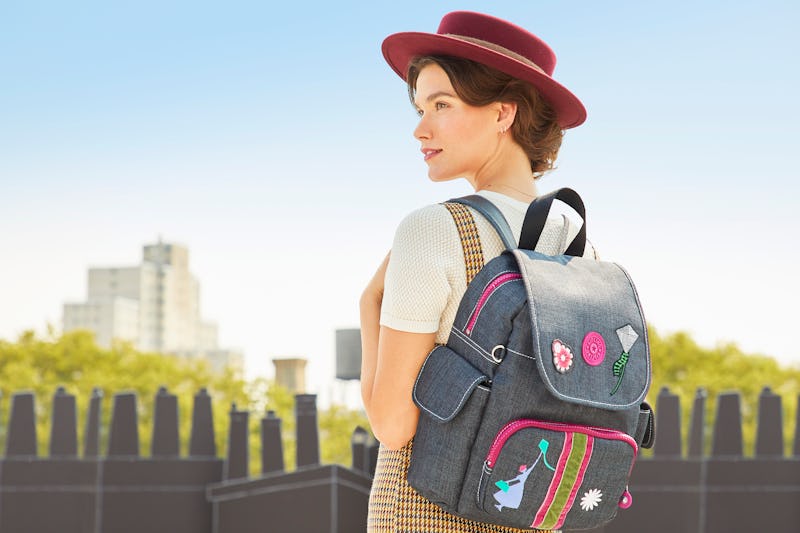 Courtesy of Kipling
Your wardrobe is about to get a dose of supercalifragilisticexpialidocious-ness. The buzz on the upcoming Mary Poppins Returns movie featuring Emily Blunt is growing louder. The accompanying Kipling x Mary Poppins accessories collection features 18 pieces, ranging from backpacks to totes to handbags to pouches to pen cases to collectible key chains. The series will suit all of your carrying needs.
The Mary Poppins Returns collection effectively and adorably captures the magical spirit of the enduring Disney tale, complete with kite motifs and floral details. If there is a Disney diehard in your life and on your holiday shopping list — and more specifically, a Mary Poppins enthusiast — now you know exactly what to get 'em.
The collection starts as low as $19 and goes as high as $169. Each bag is outfitted with a keychain boasting Mary Poppins' silhouette. This assortment is all about the details.
One of the cornerstone pieces in the range is Kipling's interpretation of Mary Poppins' iconic and infamous carpet bag. The brand offers a new twist on a classic — the bag looks structured all the while maintaining a soft, lightweight feel.
The collection arrives via the Kipling-USA site on Thursday, Nov. 29, as well as in department stores that sell the brand.
The Kipling x Mary Poppins assortment is peak whimsical.
If Mary Poppins is one of your fave Disney characters ever, she is well-repped by this range.
These accessories will pack a Poppins punch for your OOTD.
You are seriously going to want to scoop every bag in this suite. But that's the usually the case with all Kipling x Disney ranges. The Alice in Wonderland collab was primo. Several of those styles are still available on the Kipling site and many are on sale. You might want to take a gander at that collection, since you can score a Disney princess bag on deal.
Now that's what you call "inspo."
Below are some of the most wearable yet playful offerings. All generations of Mary Poppins devotees can rock any or all of these pieces.
1. Large Pouch
2. Mini Bag
3. Mini Pouch
4. 3-in-1 Convertible Bag
5. Large Backpack
There are plenty of pouches that can double as night out clutches or makeup bags. As Poppins herself said, "In every job that must be done, there is an element of fun." That sentiment applies to the entire bag collection.
This one could fit a lot of matte liquid lipsticks or glosses. Or pens. The instantly recognizable graphic is utterly classic.
Kites are key to Mary Poppins lore. Of course they are a recurring theme in the collection. Like so.
No truer words.
This is also a very true statement. Don't you love when your fashion choices make a statement with actual words?
The Kipling x Mary Poppins accessories collection is full of can't-go-wrong bags. The film hits multiplexes on Dec. 18. There's already some Oscar buzz surrounding Blunt's portrayal of Poppins. Include the film in your holiday plans and the Kipling accessories collection on your holiday wish list.