Martha Stewart Designed A Payless Shoe Line & It Looks Like Something Meghan Markle Would Wear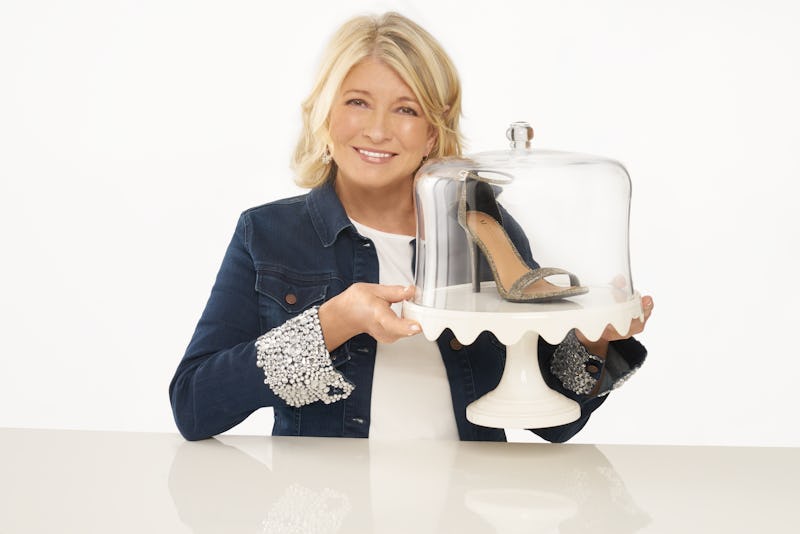 Courtesy of Payless
This shoe collab is so good that style icon Meghan Markle or fictitious Sex and the City shoe queen Carrie Bradshaw would wear it — seriously. The Martha Stewart x Payless collab, dubbed "Martha Everyday" and running from Size 5 to 13, is as sophisticated as it is inexpensive. There's also some sexiness happening with this suite of shoes.
You're going to want to own every single pair.
While you might not immediately associate domestic doyenne Martha Stewart with strappy stilettos, the collection includes such a pair, among several others.
The first collection, co-designed by M. Stew herself, will be made available via the retailer's site as of Wednesday, Dec. 5. The five-pair range features slingbacks, kitten heel mules, a slingback x mule hybrid, ankle strap heels, and super cute ballet flats. They come black, nude, cognac, and "gilver," which is a unique silver shade with a dash of holiday-appropriate sparkle.
The shoes are truly chic. And better yet — they all cost $35 and under. The heel heights are 2.75" and 4", respectively. Translation — they're affordable and wearable.
The debut collection is limited edition and is obviously designed for holiday parties, gatherings, and fetes. The shoes can be dressed up or down — they can be worn with LBDs, party frocks, or jeans and leggings. The assortment is also inspired by the lifestyle guru's everyday life and simple style.
"I am thrilled to partner with Payless to design a line of footwear that's both beautiful and affordable," Stewart enthused in a press release received by Bustle. "For as long as I've been in business, my goal has been to deliver well-made products to my audience, at the right price. Payless has the same goal, making them a perfect partner to collaborate with to create gorgeous shoes that our customers can afford."
She's not kidding. Millennials, Gen Xers, and beyond can and should wear these shoes. Additional styles are planned for Spring 2019.
Below is the rundown of the entire collection. Try not to stare. Actually, nevermind. Go ahead and gawk.
1. The Haven Black
2. The Haven Gold
3. The Highclere Black
4. The Highclere Gilver
5. The Highclere Nude
6. The Laurels Black
7. The Laurels Nude
8. The Primrose Black
9. The Primrose Cognac
10. The Primrose Gold
11. The Wayside Black
12. The Wayside Gilver
Don't you want to own at least one of each pair?
Martha Stewart's premiere Payless shoe collection is part lovely, part sexy, and all stylish. These shoes won't send you spiraling into debt. You won't sacrifice one iota of chic-ness, either. You can also wear any or all of the shoes beyond the holiday season, too. They avail themselves of many occasions. Seriously, you can rock the Highcleres to a wedding. When it comes time to dance your face off at the reception, you can dip out of the heels and into the Primrose flats to give your feet a break — all the while remaining stylish and while spending less than $70 for both.
We legit could see Duchess Meghan loving and rocking every pair in every shade, too.
Go ahead and grab 'em.