Torrid Just Launched Their Most Comfortable Intimates Collection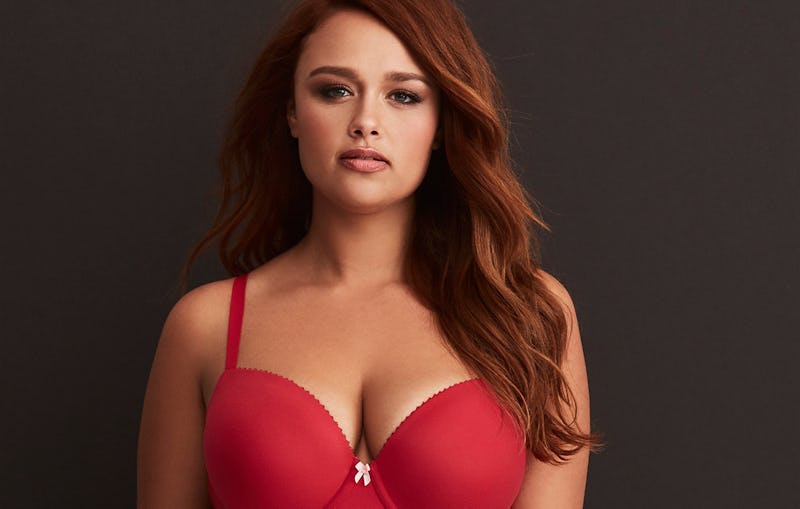 Courtesy of Torrid
If you've ever struggled to find bras or pairs of underwear that both fit you and are comfortable, you're not alone. After their first ever fashion show at New York Fashion Week, Torrid launched Curve Collection, a new intimates line with two special bra styles to spice up your bra and panties closet.
While Torrid has offered intimates before, along with their awesome #TheseCurves campaign where the brand inspires women to show off their curves, this new line of comfortable bras and panties might just be your favorite yet.
The Torrid Curve Collection was designed with comfort in mind. The designers utilized a shaping memory foam and ultra-soft fabric so that it's the brand's most comfortable and sexy fit yet.
So what exactly is in the new Torrid Curve Collection? If you're in need of basic bra and panty sets, you can shop two new bra styles including the Torrid Curve Demi Bra and the Torrid Curve Plunge Bra, both of which come with matching panties.
If you're wondering what the differences are between the two new styles, here's the lowdown. The Torrid Curve Demi Bra offers full coverage as well as a lift, and the Torrid Curve Plunge Bra has a deeper, sexier neckline.
While it's true that you always need a black or a nude bra, these new pieces come in other adorable colors including red, a dark purple, grey, white, a light pink, and a navy blue. Because life's too short for just having bras in basic colors, right?
The bras come in sizes 36 to 48 in B to DDD cup size. Even more exciting, they are both $49 each — an affordable price for a bra you'll want to wear every day.
These bras were made with such soft fabric that Liz Munoz, Torrid's senior vice president of Torrid Design, said they'll "hug your body's curves" and are so comfortable, "you'll never want to take them off." These bras could be your new staples and your daily go-tos.
How sexy does model Candice Huffine look in this campaign? If it doesn't convince you to shop the new collection, perhaps taking a look at everything that's available will.
Here's what's in the new Torrid Curve Intimates collection.
1. Curve Plunge Bra
Curve Plunge Bra, $49, Torrid
Constructed with memory foam shaping cups, Torrid's new curve plunge bra is not only soft and comfortable on your skin, but it also forms to your shape. This bra also works well for low-cut tops thanks to its plunging neckline.
2. Curve Sexy Brief Panty
Curve Sexy Brief Panty, $17, Torrid
This high-waisted panty is all about its hold-you-in style. The panty is super soft and also includes a flirty touch of lace on the sides.
3. Curve Demi Bra
Curve Demi Bra, $49, Torrid
You're going to want to wear this bra every day. Even though Torrid's new curve demi bra is lined, it gives you the perfect amount of support and lift while also still being comfortable enough to wear with your favorite tee. What's also great about these bras, you can change the straps so that they criss-cross in the back for even more support.
4. Curve Hipster Panty
Curve Hipster Panty, $17, Torrid
This is one of the silkiest and softest panty Torrid has made yet! A ruched back adds an even cuter detail on this everyday panty.
Head over to Torrid.com or your local Torrid store to pick up your new essential intimates.