The Newest Urban Decay Vault Is The Lipstick Collection Of Your Dreams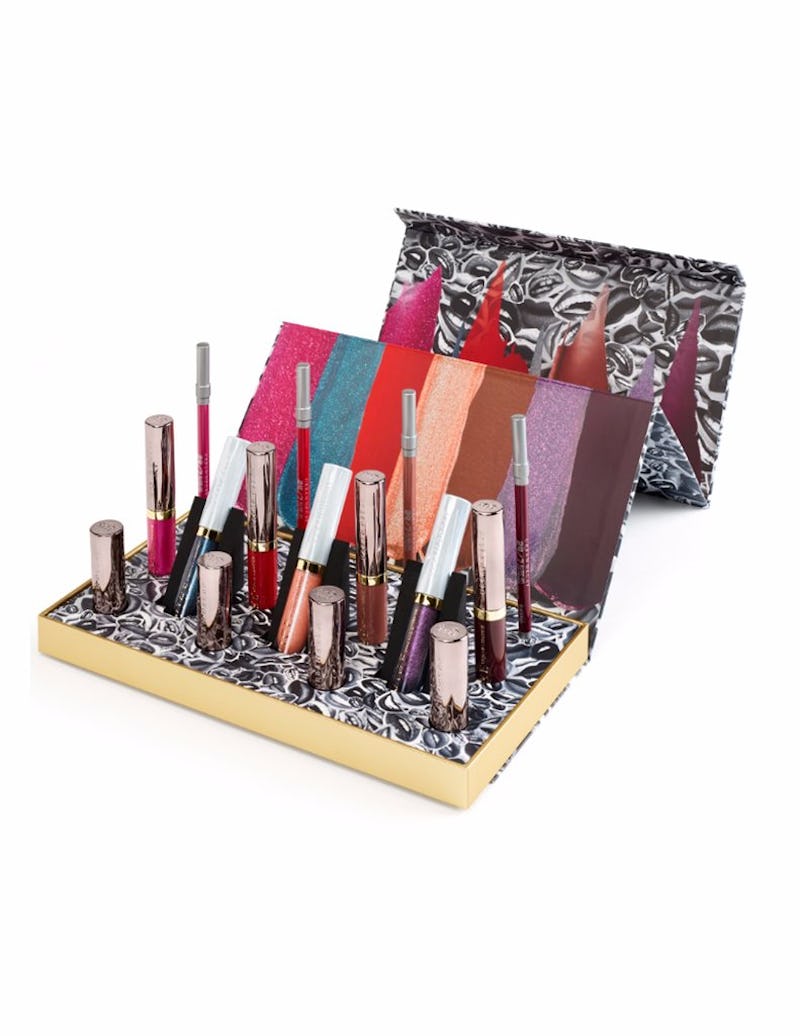 Courtesy of Urban Decay
All of your lipstick dreams are about to come true. Urban Decay is known for its epic vaults, which collect palettes and products under one slaytastic roof. They are collectible and equally coveted by the serious Beauty Junkie and the casual makeup user. The Urban Decay Vault of Vice is the latest in the series and it's the lipstick wardrobe you've always wanted and needed. It's also part of the brand's Holiday 2017 collection and is available now on the brand's site. It costs $150, so start rearranging your budget so that you can throw down the necessary loot cakes for this worthwhile set.
When Urban Decay relaunched its lipstick range in 2016 with the 100-plus collection of bullet lipsticks, it was maj. The lippies came in all sorts of colors that suited so many skin tones and boasted matte, sheer, and metallic finishes. At the time, Bustle wondered if the brand would do a Vice Vault containing every color in the collection for true lipstick lovers. The brand denied that such a Vault was in the works.
Still, UD continued to expand the Vice range, adding liquid lipsticks earlier this year. Those are super smooth and last through a meal, BTW. Lip liners were also introduced into the Vice repertoire.
While the Vault of Vice doesn't comprise the entire Vice lipstick range, because that would be absolutely massive, it is epic and expertly coordinated.
Urban Decay Vault of Vice, $150, Nordstrom
The Vault of Vice is highly edited selection of the bullet lipsticks with sleek cases. These shades are paired with their lip liner and liquid lipstick counterparts. A few of the brand's Vice Special Effects Topcoats, which are basically lip glosses that can be worn a la carte or slicked over a rich pigmented matte lipstick for additional dimension and sparkle, are included.
Before we share what's in the collection, we'll allow you a minute to grab a tissue because you're going to need it to mop up the drool. That's how good the Vault of Vice is.
The packaging just asks to be displayed on your vanity or makeup counter. It's pretty and it's convenient.
The '90s brown 1993 is the neutral option in the VoV. Your lips can totally pay homage to the decade everyone is nostalgic for with this hue.
The super goth Blackmail is the perfect cold weather color. You can stain your pout with this Bordeaux shade and literally wear nothing else on your face and still look glam AF.
The bombshell red 714 is as Old Hollywood x screen siren as it gets.
Meanwhile, the shimmery and fun fuchsia Big Bang suits so many occasions, from date night to a GNO.
The Special Effects Topcoats in the teal Ritual, the peachy Fever, and the royal purple Reverb are there to add some additional shimmer whenever you want it.
Ultimately, you get a wearable neutral, a deep, dark shade, an essential red, and a playful, bold pink. That's a lipstick shade to suit any mood or look you may be going for on any given day.
You can go for a precise pout with one color, or you can get experimental and attempt the ombre lip trend by mixing 1993 and Blackmail or 714 and Big Bang. You can interchange colors, formulas, and topcoats to create custom looks as often as you wish. Urban Decay is providing all of the tools under one roof.
The brand is giving its fans and lipstick obsessives a curated collection that makes completing your look of the day with a swipe of lipstick (or more!) super easy.
But, as is the case with most UD Vaults, the Vault of Vice is limited edition.
BTW, one of our esteemed editors enjoyed a sneak peek of other UD Holiday 2017 Vaults and is sharing it here! Wait til you see what's released next...