Nancy & Jonathan's 'Stranger Things' Halloween Costumes Are So Appropriate For Two Cool Teens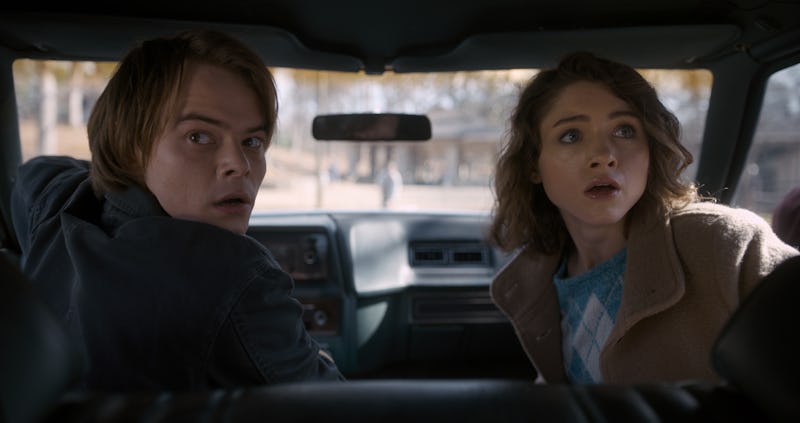 Netflix
A spooky show can't be a spooky show without some sort of a teen Halloween party, and Stranger Things Season 2 didn't let us down. But Nancy's Halloween costume on Stranger Things may be harder to pin down than the others. It's Halloween 1984, in the second episode, and Will, Lucas, Mike, and Dustin are dressed up as the Ghostbusters (although they're having trouble deciding who is who). Nancy and Steve, who are a couple again now, are dressed up for a classmate's party too. But their costumes are a little bit harder to recognize for people who weren't even born by that specific Halloween.
Ghostbusters was released in theaters in June 1984, so the boys' costumes are especially timely. I mean, duh — did you think that four nerdy kids who love Dungeons & Dragons wouldn't dress up as characters from the biggest nerdy movie of the year? Of course they would. Nancy and Steve, though, they went back to 1983 for their costume inspiration, which is understandable — they were probably too busy dealing with the Upside Down and neglecting their friend Barb to catch the biggest flicks of the year. Instead, Nancy and Steve chose the film that set Tom Cruise's winning, asymmetrical smile (Google it, it will blow your mind) on the road to stardom: Risky Business.
The plot of Risky Business goes a little something like this: high school student Joel Goodson lives with his parents in a ritzy area of Chicago, and when his parents go away on a trip, Joel decides it's time to party (natch). He drinks, he skids around the house in socks and underwear, and he gets a prostitute, Lana, to have fun with for the weekend. When he goes to get Lana the cash she is owed, Joel comes back to find that Lana has bailed, taking a very expensive Steuben glass egg with her. Other hijinks ensue, but basically, they turn Joel's parents' house into a brothel for a night, a Porsche goes into Lake Michigan, and Cruise and Rebecca De Mornay's characters have sex on a moving train. At the end, Cruise gets the girl and a scholarship to Princeton (and his parents never find out about the aforementioned hijinks), so it's basically a movie that any high school would think is the coolest.
Steve's costume is clearly Tom Cruise, with his Ray Ban Wayfarer sunglasses, oversize blazer, and t-shirt. It's a little harder to nail down than Cruise's iconic white shirt, underwear, and socks look, but not completely crazy.
Nancy's look is taken from the movie, too, and it's pretty darn close, in her white sweater, black necktie, and white skirt. Here's the original look, worn by Rebecca De Mornay.
Not bad for a high school kid, right? Both are good costumes because they basically work with what's already in the closet. It's actually a little shocking that Steve says that they've been working on their costumes for so long, because, how? But in any case, costumes are the least of their worries on Halloween night. Nancy is feeling very guilty for what happened to Barb — she keeps seeing her old friend in weird places — but Steve, well, Steve is being Steve. Aloof, fun-loving, and kind of dumb.
At the party, Nancy decides to get too drunk, Steve tries to get her to slow her roll, and she spills punch all over that white sweater (that will never come out, girlfriend). In the bathroom, cleaning up, Nancy basically tells Steve that she never loved him and doesn't love him at all, and she wants Jonathan. Yikes. Steve has Jonathan take Nancy home because he doesn't want to deal with that (also, his heart is broken). The next morning, Nancy has no recollection (and no hangover, which is suspect), but Steve is done. I guess even a couple's costume couldn't save these two from the Upside Down.