How The Keystone & Dakota Access Pipelines Differ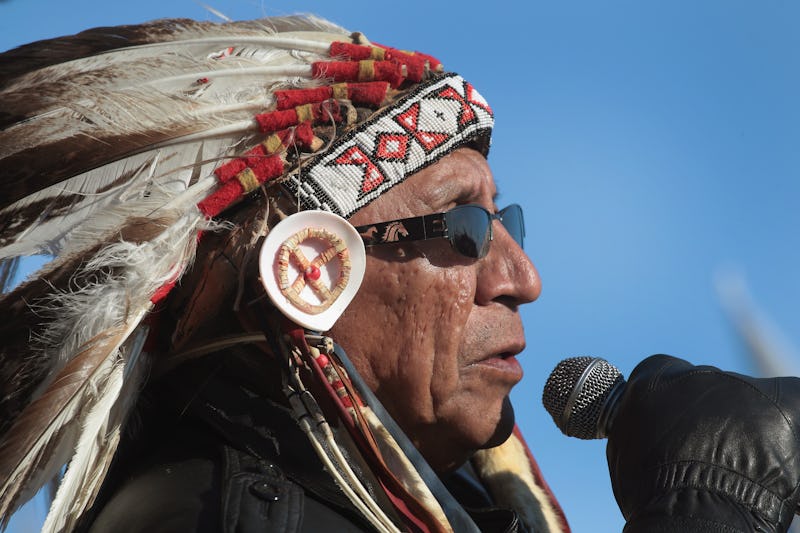 Scott Olson/Getty Images News/Getty Images
President Trump has been busy during his first days in office, signing a flurry of executive orders, many of which sparked immediate controversy. Among them were Trump's approval of the Dakota Access and Keystone pipelines, both sources of longstanding opposition. But in this case, a pipeline isn't just a pipeline. Anti-Keystone activists and #NoDAPL protesters share some environmental generalities in common, but the specifics surrounding these two pipelines make it imperative to understand each on its own merits.
Approved just one year ago by the North Dakota Public Service Commission, the Dakota Access pipeline met with immediate opposition from the Standing Rock Sioux tribe, who claimed its proposed pathway crossed through sites they hold as sacred. Given the treatment of many Native Americans over the course of American history, the outcry from the Standing Rock Sioux tribe led to growing support for their cause. After months of protests, often in frigid conditions and at times including harsh police responses, the Army Corps of engineers announced in early December that the pipeline project had been halted. This was greeted as an enormous victory for the Standing Rock Sioux, but also for all the Native Americans of various tribes who had banded together in opposition to the pipeline.
By contrast, opposition to the Keystone pipeline did not originate with Native American tribes. The main petition against it instead came from environmental activists, who argued that the transnational project will increase dependence on fossil fuels.
Approved by Canada in 2010, the proposed pipeline would transport oil from shale sands in Alberta to Nebraska. Part of the pipeline is already in operation, moving oil from Cushing, Oklahoma to the Gulf Coast. However, President Obama refused to allow approval for the building of new pipeline to Nebraska.
Opponents of the Keystone pipeline are adamant that supporting dependence on fossil fuels is tacit apathy towards the potential environmental consequences of fossil fuels. Since 550,000 barrels of oil already flow to the United States from Canada, the Keystone pipeline has become more of a symbolic measure of commitment to combating climate change. But since Trump seems hostile to the very concept, and Canadian Prime Minister Justin Trudeau is fully in support of green-lighting the Keystone pipeline, it seems inevitable that this project will go forward.
Both the Keystone and Dakota Access pipelines are designed to move oil, and their proponents argue that this mode of transportation is safer and less environmentally destructive than shipping oil by train or truck.
The key distinction to keep in mind between the Keystone and Dakota Access pipelines is that the latter involves the legal rights of the Standing Rock Sioux tribe. Everyone is free to debate the relative environmental impact of pipelines in general, but there should be no argument about infringing on the promises our government has made to Native Americans.