Why You'll Have To Wait A While Before Kit Harington & Rose Leslie Get Married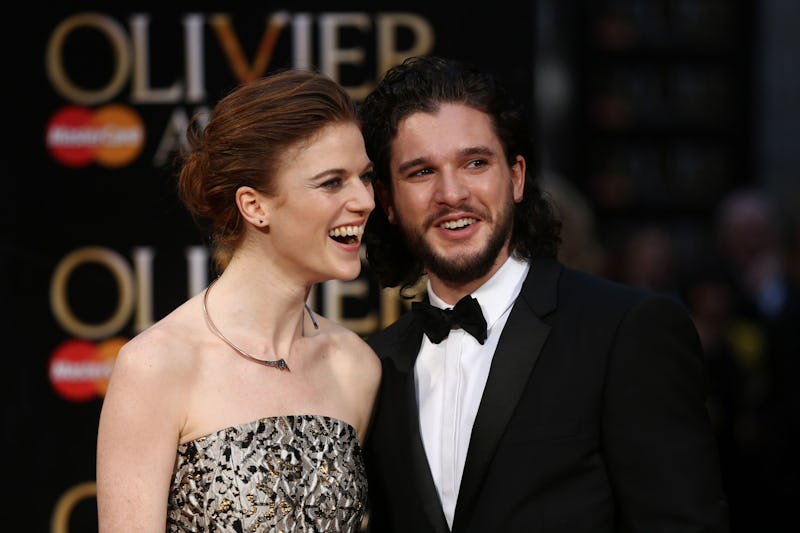 JUSTIN TALLIS/AFP/Getty Images
Well Jon Snow stans, abandon all hope: Kit Harington is forever taken. The Game of Thrones star finally proposed to his former co-star and on-screen love, Rose Leslie (aka Ygritte the wildling). The pair got engaged in September, and their betrothal was revealed in a charmingly old-fashioned, very understated British way: in a newspaper announcement! The couple have been supposedly dating on and off since 2012 when they first worked on the show together, they moved in together this year, and they just got engaged. So, when will Kit Harington and Rose Leslie get married and bring us a Westerosi wedding that doesn't end in bloodshed.
At this point, a wedding date has not been announced, although it's likely to be after Game of Thrones finishes filming its final season, which begins filming in October. (Season 7 filmed from September to February, according to Entertainment Weekly, which means Season 8 would likely take until at least March.) Not just so Jon Snow is free, but so everyone is available, because Harington wants his whole GoT family present. He said on The Jonathan Ross Show that he wanted the whole cast there (so it obviously won't be a small wedding), and that he called one of the show's producers to get everyone's schedules.
"I rang him up and I said, 'I'm getting married and it's your fault actually,'" Harington explained. "I was like, 'You need to factor in a Game of Thrones wedding by the way. They [the cast] have all got to be there so the whole thing has got to shut down!" Jon Snow, showing some authority.
It hasn't been very long since Harington and Leslie officially announced their engagement in the London Times in September. It read (please use your best English accent):
Mr K.C. Harington and Miss R.E. Leslie. The engagement is announced between Kit, younger son of David and Deborah Harington of Worcestershire, and Rose, middle daughter of Sebastian and Candy Leslie of Aberdeenshire.
First, Leslie's parents have the coolest names. Also, so English of this group to hail from not one but two 'shires.
The engagement announcement was very austere, but considering how tight-lipped and private Harington and Leslie are about their relationship, it's surprising that they let the world know so soon after the proposal. The couple didn't even publicly acknowledge their relationship until 2016, when they appeared together on the red carpet at the Olivier Awards, holding hands and generally being adorable.
Still, they've never confirmed exactly when it was they began dating, but Harington hinted they fell in love on set. In an interview with Vogue Italia in May 2016, Harington made hearts everywhere flutter when he talked about falling in love with Leslie. He said his favorite memory was shooting Season 2 in Iceland:
Because the country is beautiful, because the Northern Lights are magical, and because it was there that I fell in love. If you're already attracted to someone, and then they play your love interest in the show, it's becomes very easy to fall in love.
Sigh! Jon Snow was always very in touch with his softer side.
The proposal was also idyllic, even though Harington jumped the gun. He told the story on The Jonathan Ross Show, saying his intentions were good and he had an even more romantic plan in mind, but alas, things took a turn. He ended up proposing to Leslie a day early. Or, as Harington put it, "I blew my load early." Figuratively, of course. He explained,
"I was going to string up some lights in some trees and do all the romantic stuff but we were in the country and we were under this beautiful night sky and had a log fire burning and red wine and I blew my load early. Sorry that's a really bad expression! What I meant to say was, I popped my question a bit early. Not blew my load."
So don't get it twisted; Kit Harington did not blow his load.
While they haven't announced a wedding date yet, whenever the blessed day comes, sadly neither Harington nor Leslie will be sharing photos on social media, because neither of them have any social media — at least not public accounts. But luckily, since the whole GoT cast will be there, and most of them love Instagram, surely the first happy Game of Thrones wedding will be seen all across the realm.