Sophie Turner & Joe Jonas Have Been Together Longer Than You Think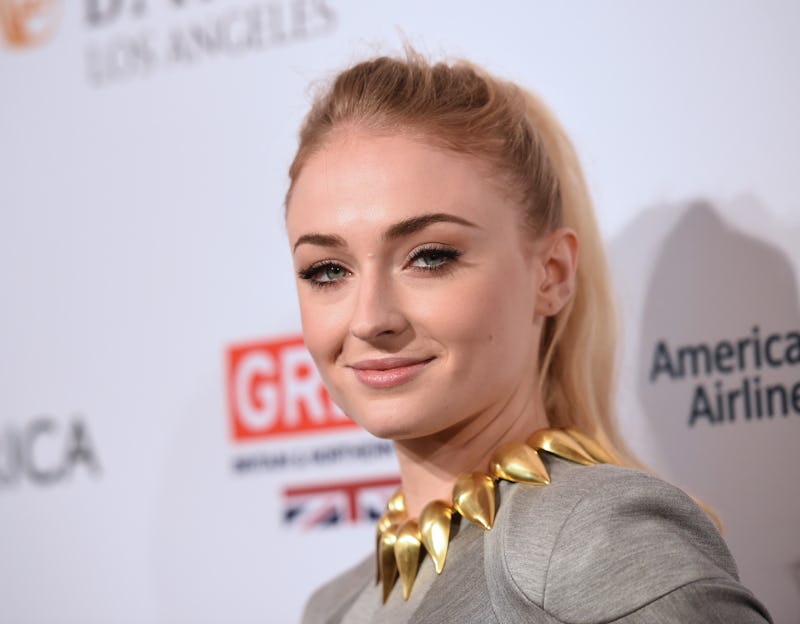 CHRIS DELMAS/AFP/Getty Images
First Jon Snow and Ygritte announced they were tying the knot, and now Sansa Stark is engaged too — and to a Jonas brother, no less. That's right, Sophie Turner and Joe Jonas are engaged, which begs the question, when did Turner and Jonas start dating? This couple has kept their relationship out of the spotlight for the most part, but they were first spotted together in November 2016. Now, almost a year later, Jonas popped the question, and both he and Turner confirmed she said yes on their respective Instagram pages on Oct. 15.
Turner and Jonas' news comes just days after her Game of Thrones co-star Kit Harington announced that production on Season 8 of the hit HBO show would be shutdown so that the cast could attend his wedding to Rose Leslie. There's no word yet on when Turner and Jonas will be walking down the aisle, but it's unlikely that Sansa Stark and Jon Snow will be having a double wedding — although that would be amazing.
In all likelihood, Turner and Jonas' wedding will be as low key as their relationship has been so far. Since they began dating, the two have made it a point to keep their relationship off of social media. Shortly after they were first spotted together at the MTV Europe Music Awards, Turner joined Jonas and his family for a Thanksgiving wedding. It seemed things were serious between the two right from the start, and that could be one of the reasons they've been protective of their romance.
Both the singer and actor posted the same simple picture to confirm their engagement. It's a photo of Turner's hand resting on top of Jonas' hand, and she's sporting what appears to be a stunning diamond ring.
Since they were spotted together last November, they've both met each other's families, and they even adopted a puppy together. In September, People reported they were spotted in New York City with their new Siberian Husky, Porky Basquiat. Since then, Porky has become a bit of an Instagram favorite, appearing in photos with captions like, "What is DNCE anyway?" (DNCE is Jonas' band.)
They didn't make their relationship Instagram official until January, when Turner posted a photo of Jonas smoking a cigar on a boat. She captioned the image, "Miami daze." In an August interview with Marie Claire, Turner admitted that dating a fellow celebrity isn't always easy. She told the magazine of her relationship,
"You do feel like you're living in a fishbowl… It's frustrating [that] it's the most mundane things that make the news — how boring! There are really no other headlines?"
At the time, she was far more interested in talking about her friendship with her Game of Thrones castmate, Maisie Williams. When asked what she thought about her "ship" name with Jonas — Jophie — she said she preferred Mophie, a mash-up of her name and Maisie's. She told Marie Claire, "What's that thing they say? Relationships come and go, but friendship is always there."
If Williams doesn't end up being Turner's maid of honor it will be shocking. Jonas must know the Stark sisters are a package deal by now.
As for Jonas, it seems the former boy band member was smitten right from the start. In June, a source close to the couple told People, "Joe is taking this relationship very seriously." That statement appears to have been verified now that the couple are engaged. After a year of dating and building their relationship together privately, Turner and Jonas are ready to say "I do."
Is it too much to hope for a winter wedding? Jonas is about to be a Stark, after all. He might as well embrace the family's words, and make things official during one of the chilly months. No pressure, but November seems to have been good to the couple so far.