Kim K Just Announced A New Beauty Product That Will Give You Her Glow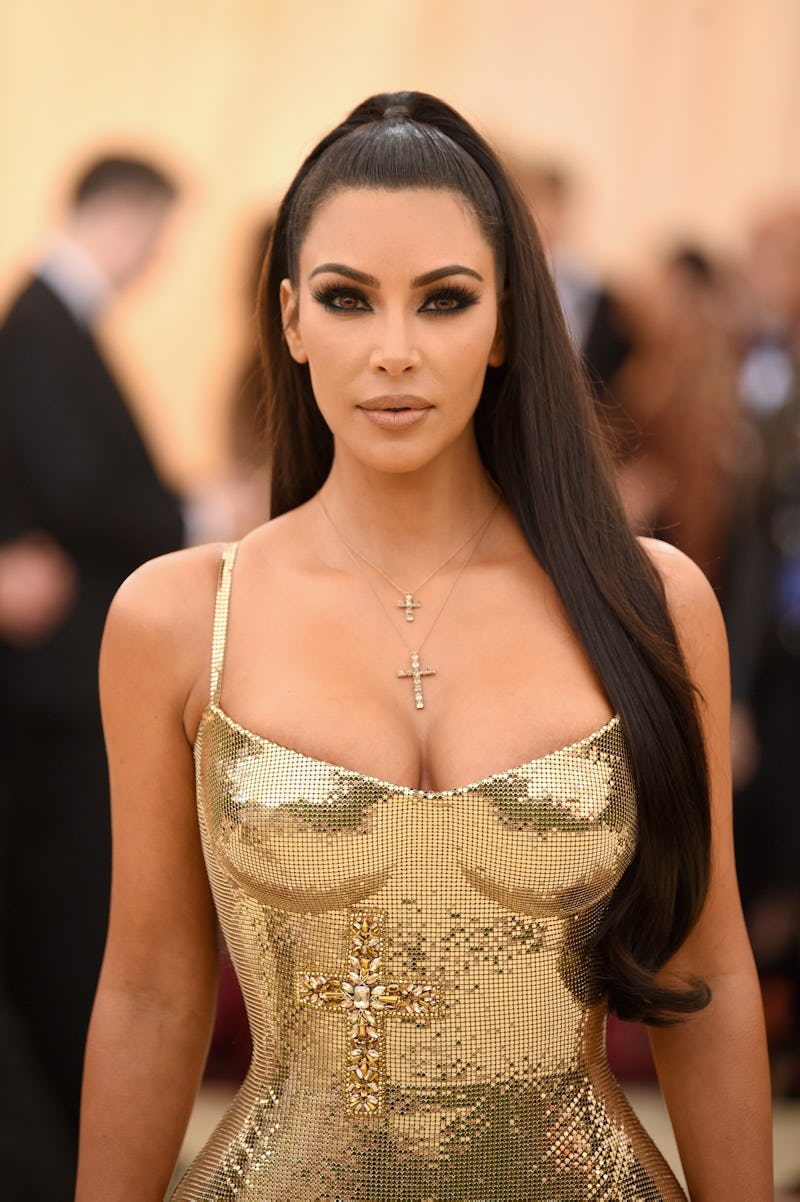 Jason Kempin/Getty Images Entertainment/Getty Images
We've got a new product alert from the KKW Beauty Front. After dropping the KKW x Mario eyeshadow palette, the KKW Body fragrance with a bottle molded from her own body, and the eyeshadow sticks to much fanfare, Kim Kardashian West and her brand are dropping another product. KKW Beauty Highlighter Palettes are coming just in time for summer. These quads offer a safe and sexy way to shimmer and to secure that dewy, golden glow.
The KKW Highlighter Palettes arrive on Thursday, May 24 at 3 p.m. ET/12 p.m. PT, which is the usual time for KKW Beauty drops.
There are two quads — each holds four pans of product that you can swirl, mix, blend, and layer for a custom glow. You can use a big, fluffy brush and swipe it over your entire face to glow, baby, glow. Or you can use it to spotlight specific points on your face, such as the Cupid's Bow, along the temples, or even in the inner corners of eyes. These quads are super versatile and can be used in a multitude of ways.
One palette is super light and golden, featuring ivory, pink, peach, and soft beige hues. The other is rosier, with darker beige, pink, and golden tones. Clearly, both will work with a variety of skin tones.
Since there are four hues in each set, you can build your glow by adding or mixing them. That's the beauty and creativity of makeup.
The highlighter palettes are different than the KKW Powder Contour and Highlight Kits since these quads are all about the shimmer, glimmer, and dewiness. The C&H kits are designed to creates lines and definition by alternating light and dark, matte and shimmer.
The official KKW Beauty Instagram posted swatches of two of the shades — each of which you will want to bathe in.
So. Much. Shimmer.
Look at that molten, metallic glowiness.
This palette is a little deeper in tone. But both sets are suitable for and wearable by all.
Of course fans went wild over these palettes. Many of the comments were inquiries about the pricing. But others were already ready to kiss that cash goodbye — with glossed lips, of course.
These users are seeing their highlighter dreams come true.
KKW and ko. will reveal the cost in due time.
Straight fire, yo!
This tweet sums up all the feels. The color and the shimmer really draw the eye. Think about everything you can do with this product when you dip a brush into it. You could even use the hues as washes of color on the lid and pair with a cat eye flick created by a liquid black eyeliner.
You could also use on the décolletage to add some unexpected and sexy shimmer to your cleavage area, which you may be showing off more due to the warm weather.
If you are curious about how these highlighters differ from the cream contour kits, these palettes are all about the sparkle rather than creating lines through contrast and texture.
Additionally, a highlighter palette such as this is pretty foolproof. It's really hard to mess it up — unless, of course, you apply way too much and look radioactive! You can simply dust these highlighters wherever you wish with a light touch whereas the contour kits require a little more experience, practice, or even the help of a makeup vet's hand when deciding where to place product on your face.
If you are concerned that the color palette is too limited, remember that layering shades will give you a DNA-distinct look. You can get artistic in making all of the shades work for your unique tone.
If you are a makeup novice and love that KKW glow, this is definitely the product with which to start.
Happy shopping (and ultimately shimmering!) on Thursday, May 24.