This Black-Owned Brand Is Coming To Ulta — And It's Launching A New Collection, Too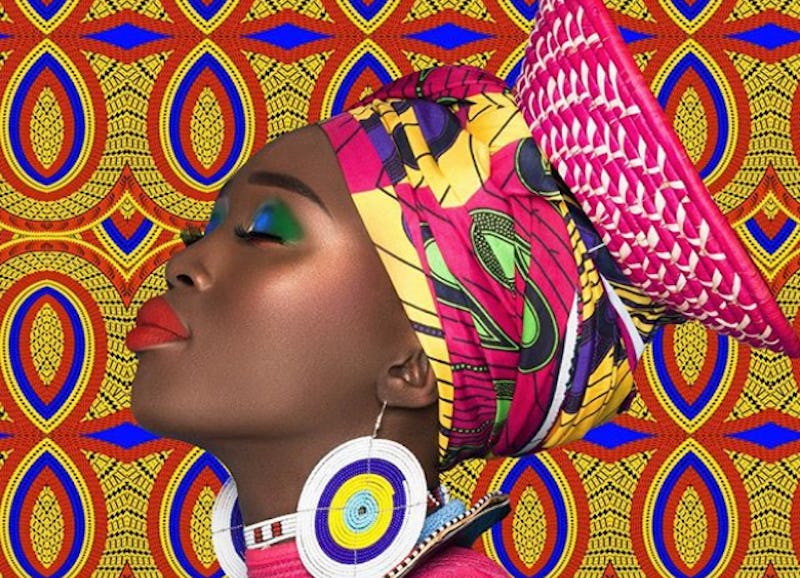 If you've never squealed from pure excitement before, get ready to experience the feeling now. Juvia's Place will launch at Ulta Beauty, so the black-owned makeup brand is finally making its first-ever debut in stores.
Ulta has done it again. Even if you're a die hard Sephora loyalist, the mecca for all things beauty is making it very hard not to pass underneath their bright orange awning every now and then. The retailer has beefed up its offerings with so many internet-based brands makeup lovers were dying to try in stores. The company introduced Morphe, ColourPop, Dose of Colors, Ofra, and so much more to their stores, becoming the ultimate paradise for a beauty fanatic. Now, Ulta is tipping the iceberg because the indie, POC-friendly makeup brand that has the hugest eyeshadow pans and super-duper pigmented products for barely any money is getting a place on their shelves.
It's really a major move for the brand inspired by African heritage, and not just because it will place ethnic culture and art in a mainstream setting. Juvia's Place is also kicking off their highly-anticipated debut in stores with a brand new collection that already has the beauty community hype AF.
This is not a dirty trick. Juvia's Place really is joining the Ulta Beauty family, as announced by the brand via their Instagram. Come July 22, the brand that has options that swatch beautifully on the fairest and deepest skin tones will hit Ulta's website.
You're even in luck if you've never tried a palette stamped with an African beauty for yourself. Juvia's announced the brand will begin appearing in 500 Ulta stores across the nation once September rolls around.
Although the brand is hitting brick-and-mortars in due time, the wait will be excruciating. Considering Juvia's is using the Ulta launch to introduce a vibrant, new set of shadows, the Afrique palette, you'll have to wait to try it before making a purchase — cue a long stream of sighs.
The new palette is everything fans know and love about the brand. It features the boldest mattes, striking shimmers, and shades named after African countries, cities, and villages. Retailing for just $20, the budget-friendly price point is just as enticing as its formula and packaging. Although it's currently on pre-order via Juvia's online, Ulta Beauty may be your best bet for bagging the gem in the event that the brand's website is flooded on launch day.
The new palette will also be accompanied by a sultry lippie, the Afrik liquid lipstick. So, it's a must that you snag this pout enhancer, too, once you're able to shop its complimenting palette. Ladies and gents, this is one hell of a launch.
To see Ulta expand with the addition of a black-owned brand that promotes African culture is incredibly empowering. The launch will offer representation for people of color in the retailer's aisles, a move that will hopefully lead to more inclusive brands like Juvia's hitting the mainstream market. For now, the wait is on until that glorious July date when Juvia's Place comes for everyone's wallet.