Your Fave Baking Show 'Nailed It' Is Coming Back SUPER Soon For So Many More Cake Fails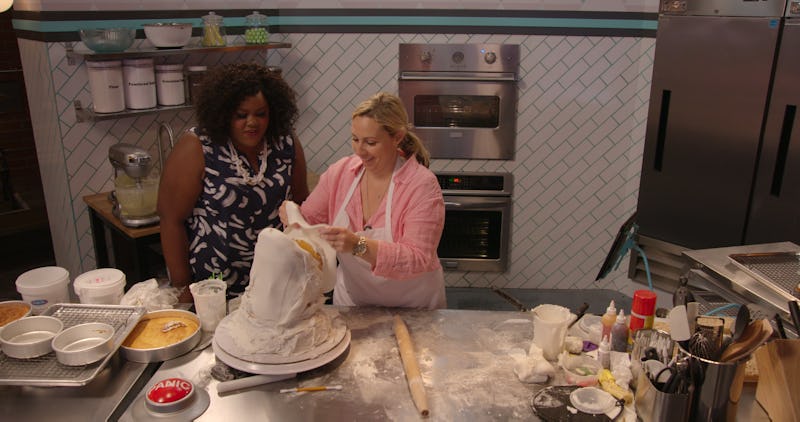 Netflix
In a TV landscape filled with reality cooking and baking competitions, Nailed It stands out for its distinct sense of humor. Netflix describes the premise of Nailed It saying: "Home bakers with a terrible track record take a crack at recreating edible masterpieces for a 10,000 dollar prize. It's part reality competition, part hot mess." The show is hosted by comedian Nicole Byer, is currently on Netflix, and features some of the quirkiest, most relatable contestants. The fun of the show comes from learning baking tips and tricks, and watching a competition unfold while also having a good laugh. And, Nailed It will return for Season 2, so get ready for more kitchen hilarity.
Deadline reported that Nailed It has been picked up for Season 2, along with a few other new popular Netflix shows. Netflix unscripted content chief Bela Bajaria spoke to Vulture about this decision. He said:
"With Nailed It, the goal will be to try to get more episodes in 2018 ... Areas like cooking and cars — they're not new formats or genres. But we can elevate it. We can do a different kind of take on formats that may seem familiar. And it has been really fun and rewarding to see the launch of this first slate of shows, and to see how well they're being received."
Nailed It is the familiar cooking competition show format with a twist. Bakers try to replicate designer cakes, but they're... well... decorationally challenged might be a nice way to put it. Season 2 should only bring more new bakers to the show to make more fun, messy desserts.
As the host, Byer provides the perfect laugh track and comedic quips about some of the more outrageous dessert fails. Nailed It relies on hitting the right tone, laughing at the creations while maintaining a sense of play, not cruelty. Byer spoke to Fast Company about Nailed It, and why it's the perfect show for her to host. "I genuinely love disasters. I like ugly things, so it's easy to find the positive in something that looks wild," she said, adding that her comedy is family friendly in this instance. "Kids like me. I'm like a big ole cartoon character."
According to her IMDB, Byer has been on a variety of shows including her own series called Loosely Exactly Nicole. The experienced comedian is the perfect host of this quirky cooking competition.
Working with Byer is pastry chief Jacques Torres, who provides a more experienced baking voice to the show. Torres not only adds his own joking commentary, but also serves to provide helpful tips in the kitchen. Torres spoke to Refinery29 about working on Nailed It, speaking to his love for working with baking amateurs. He told the publication:
"I rarely work with professionals. If you look at my career, I love to teach. I'm the dean of a school called the International Culinary Center. I rarely do demonstrations in classes for professionals because I like a blank slate."
Torres said he also loves working on such a unique show.
"I really don't like many other competitive cooking shows. In a way, they are too serious and they are fake. I'm not crazy for that. So, when Netflix approached me and asked me to do a show where it was going to be fun and it was going to be funny, I was all excited about it because it was something different. It was something where I would be able to teach, but it would be light and entertaining and fun."
The show's mission ultimately translated on screen, resulting in it getting picked up for Season 2.
While waiting for Season 2 of Nailed It, try some at home baking challenges of your own like some other fans have. Then sit back, eat some cake, and prepare for the return of the hilarious baking show, hopefully sometime this year.