You Can Now Buy Beyonce's HBCU Coachella Sweatshirt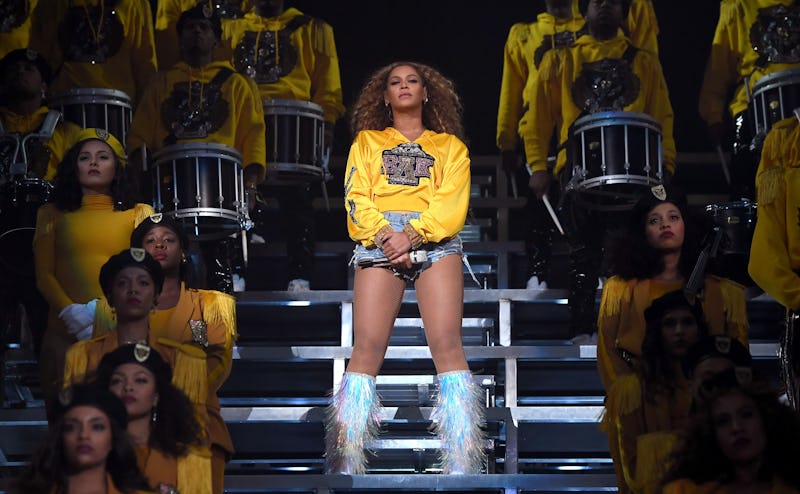 Larry Busacca/Getty Images Entertainment/Getty Images
Beyoncé made history in 2018 when she became the first black woman to headline Coachella, and and when you consider the iconic women that were skipped over the years — from Janet Jackson, to Lauryn Hill, to Erykah Badu, just to name a few — it's an accomplishment that has been a long time coming. And now a Balmain x Beyoncé collection will commemorate that historic moment by recreating the costumes worn on stage and offering them up to fans.
To honor the significant moment at the festival, Beyoncé channeled historically black colleges and universities throughout her set, inviting an HBCU marching band to perform, sang the black national anthem, "Lift Every Voice and Sing," and played a clip of Malcolm X's speech, "Who Taught You To Hate Yourself?," which he delivered at the 1962 funeral of Ronald Stokes, who was killed by the Los Angeles Police.
Not only that, but after the performance Beyoncé donated $100,000 to four historically black colleges after her set.
It was a celebration of blackness, and Balmain was the label behind the stage costumes, run by creative director Olivier Rousteing. A young black man in the fashion industry, Rousteing himself has experienced racism since taking over the label in 2011. "People were like, 'Oh my God, he's a minority taking over a French house,'" Rousteing told Out in 2015. He then pointed out the serious lack of representation of people of color in the fashion industry, citing perfume ads as an example.
"You never see black girls, and if you do, they use Photoshop so much that they almost look white. It's just wrong. People post on my Instagram that they are so happy to see black boys and black girls. I'm happy that they see it and don't think that fashion belongs to white people."
Together, Rousteing and Beyoncé created the yellow and pink college sweatshirts with Greek letters for the festival, tying in the HBCU theme. But after seeing how fans reacted to the performance, they realized that people wanted a permanent memento of the historic performance, and so they decided to collaborate to bring those pieces to the public.
On July 13, Balmain will launch a Balmain x Beyoncé collection in its Paris store, as well as sell the items both on balmain.com and beyonce.com on July 14. The collection will consist of three items: the yellow and pink sweatshirts Beyoncé wore on stage, as well as a black t-shirt with the same graphics.
"Sometimes, you create a moment, and it's just one moment. With the clothes that we are creating now, it's going to be a moment that keeps going and going and going. This is something really important," Rousteing shared with Vogue.
Getting to bring this collaboration to the masses is a big deal for Rousteing, who is mixed race and adopted by white parents. "This to me feels really emotional because, as you know, I'm of mixed race. I'm black and my parents are white. I grew up in France without having a real identification of being black and being an adult. I couldn't see myself in the future, in a way, because there were not so many people in the '80s or early '90s that could show me a direction," he shared.
But there is an ulterior motive for the collection. Not only do the two want to give fans the chance to bring home a piece of history, but they are also raising money for the HBCUs. A part of the proceeds from the collaboration will go to the United Negro College Fund, which funds scholarships for 37 private historically black colleges and universities.
Once again, Beyoncé is not only making history, but helping her community.