A 'Star Wars' Makeup Collection Is Coming & It's Every Makeup Geek's Dream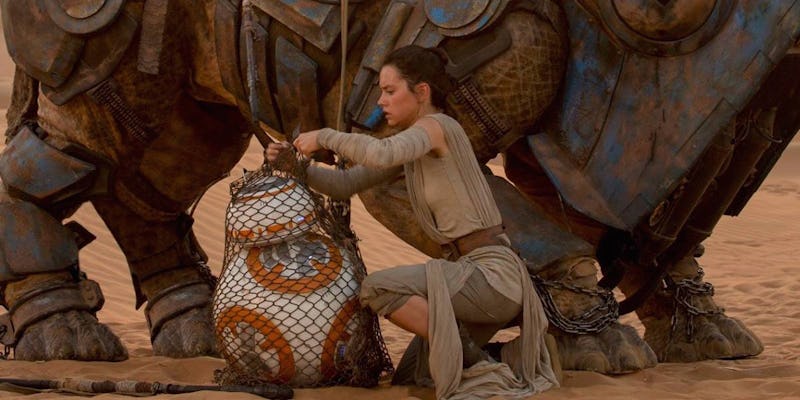 Disney
If you're a die hard Star Wars fan, you might want to sit down while reading this. The Millennium Falcon is coming to a makeup bag near you. Storybook Cosmetics just revealed a Star Wars collaboration, translating the franchise into galactic cosmetics. The news broke on the brand's Instagram page, where Storybook Cosmetics posted a sneak peak video alerting fans to watch for some Wookie-inspired makeup in 2018.
A night sky video appeared on followers' feeds, where the caption myseteriously read, "PRESS PLAY to see our HUGE reveal!!! #coming2018 #DreamComeTrue." The brand's logo then pops up, along with the iconic Star Wars title. Nothing else was mentioned or revealed, but fans were quick to guess that a collaboration is on the horizon, set to drop sometime next year. While no dates were officially given, people are already speculating the collection will drop in December 2018 around the debut of the next film.
Now fans have two things to impatiently anticipate: The next movie installment and products the cosmetics brand is currently whipping up. How is a fan to cope?
Judging by the comments under the posted video, fans are going to find it hard to be patient. Though beauty nerds don't even know what is in the collection yet, they are all in.
"I must buy all this 😂😂😂 I don't even know what it is but I can't miss it," one follower wrote.
"I'm so here for this it hurts," another shared.
Last year in 2016, the brand shared mockups of Lightsaber makeup brushes, but that was as close to the intergalactic franchise as we got. The brand couldn't proceed with production until they secured the licensing rights from Disney and Star Wars.
Maybe this announcement indicates Storybook is finally moving forward with the project — or maybe there are still even more products in the works. Only time will tell. In the meantime, below are some more of their childhood throwback collections to get you excited over just how amazing this line will be.