ModCloth's Annual Friends & Family Sale Will Make Your Wallet & Closet Happy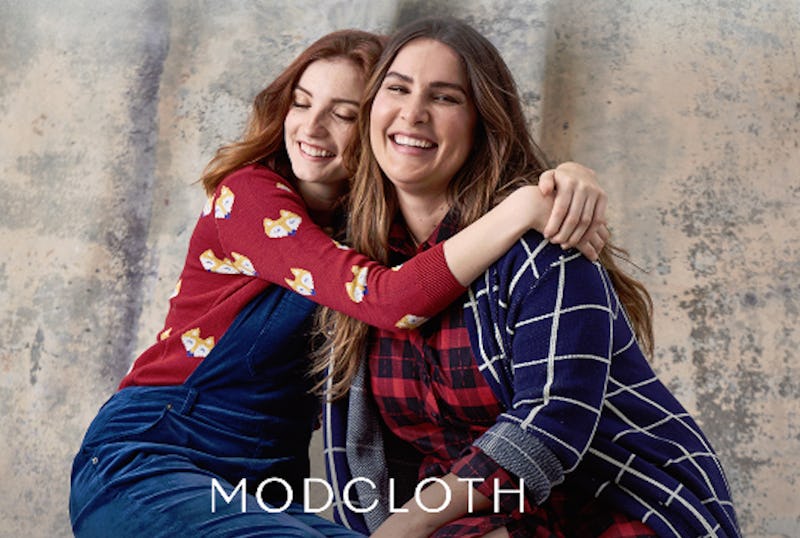 Courtesy of ModCloth
The holiday shopping season is on the horizon. Nobody panic, but sooner than later, you'll need to start creating shopping lists and budgeting for gift purchases because viva capitalism! But here's some good news that will have you focusing on the precious here and now — ModCloth's Annual Friends & Family Sale is currently happening and it demands your attention.
ModCloth's sale is active as of Monday, Oct. 9, and runs through Sunday, Oct. 15 at 11:59 p.m. ET.
Your wardrobe and your wallet will love this deal. Shoppers are able to enjoy a whopping 30 percent off purchases of $100 or more. No coupon code is required, either. The discount is automatically applied at checkout.
Seriously, though. The retailer couldn't make this sale any easier for the ModCloth faithful that loves the band for its vintage-inspired pieces and inclusive size options.
Also, since the ModCloth Friends & Family Sale runs for an entire week and isn't super time-sensitive, you have plenty of time to browse the site, make a list of pieces you are interested in adding to your closet, and then edit it down to the items you really want for yourself or for someone else in your life who is sartorially minded.
Since it's not a single-day sale, you won't be swept away by a mad dash to load up your digital cart and therefore you won't make impulse purchases.
That said, you shouldn't wait too long to start shopping the sale, since it's very likely that lots of other ModCloth customers will also be taking advantage of the savings and certain items or sizes may sell out. So don't delay, either. Be strategic so that you can update your wardrobe with the exact pieces you desire.
But there's another reason the ModCloth F&F Sale matters so much, besides offering deep discounts on the brand's super cute clothing and accessories.
Before you get caught up in the inevitable holiday shopping frenzy that is just weeks away, you can (and should) indulge in a little personal retail therapy and some "me" time.
You can refresh your autumn and winter wardrobe with some layering pieces that define the cold weather season. Or you can prepare for all those office and family holiday parties that are undoubtedly in your future by picking out some dresses for these festivities now. ModCloth is revered for its adorable dress selection, which is known for boasting lots of retro details.
Emily and Fin Unmatched Panache Midi Dress in NYC, $100, ModCloth
Wouldn't you love to wear this NYC skyline-inspired frock to any holiday fete in any metropolis during the holidays? You could add a cardi and opaque tights to "winterize" it and keep you warm and stylish.
Or you can use this sale to get a head start on buying something for the fashionable friends on your shopping list.
Saving 30 percent off on over-$100 purchases may help preserve some of your holiday shopping budget, too. Isn't it absolutely beautiful how this sale works?
ModCloth grabbed headlines earlier this year when it was acquired by Walmart, with loyalists expressing concern that the two brands had values that were at odds. Founder Susan Gregg Koger, who launched ModCloth from her dorm room in 2002, was quick to respond that the partnership would be good for the company and its customers since it would provide more resources to help foster further growth.
For now, it appears to be biz as usual for ModCloth, which operates off the motto of "distinctly darling fashion from XS to 4X." The brand continues to be size inclusive and offer a fun take on vintage fashion with modern touches.
Have fun shopping the ModCloth Annual Friends & Family Sale this week. It's too awesome to snooze on, so don't.