The Rihanna x Puma Slides Got A Major Makeover You Need To See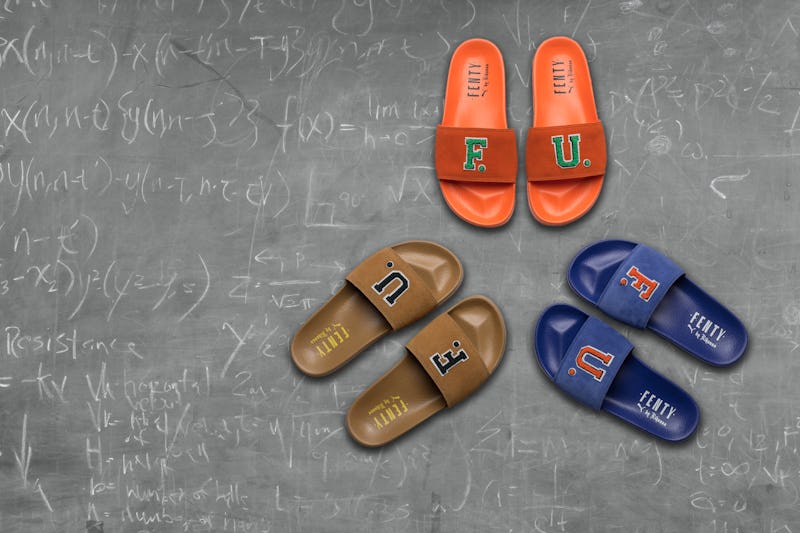 Courtesy of Puma
You can slide into fall, campus life, and errand-running activities with the latest edition of the Rihanna x Puma Slides. The first generation of Puma Fenty Slides boasted a fur strap, elevating them from shower shoes to urban cool. Later versions included a satin bow and a variety of colors, indicating that Rihanna and the brand aren't afraid to play with hues, textures, materials, and presentation when it comes to these casual shoes. And now, it's time for a little something different.
The new Fall 2017 Rihanna x Puma Slides arrives on Oct. 5 at 10 a.m., and there are several new design elements.
First, this slide has a suede strap. It's a chic take on the footwear that many soccer players wear when off the field. They come in a men's and women's sizes in a selection of fresh shades, from blue to golden brown to orange.
The suede slide also replaces the Puma name and the cat logo with the "F.U." branding that defines the new Fenty collection, which has a decidedly collegiate vibe. Of course the letters are a playful exercise in double entendre, and turn this shoe into a legit conversation starter.
You can expect your friends to look down at your feet and respond, "Dude! Your shoes say 'F.U.,'" to which you can either roll your eyes or reply, "Yeah, they do!"
The slides are so much more than shoes for schlepping around campus or the dorm, although those are perfectly acceptable activities during which to rock them. You can slip these on to run errands or with an athleisure ensemble, like leggings and a cozy, oversized hoodie. Or you can rock them with boyfriend jeans and a cropped tee. They would look adorbs with a denim mini during date night. Socks and sandals is an oft-frowned upon pairing, yet the Puma slides are stylish enough to transform that combo into a fashion "do!"
The possibilities are truly endless.
Bottom line: These slides are incredibly versatile and can be dressed up or down, depending on how you style them.
Team Fenty is fully committed to the co-ed aesthetic with its latest collection of clothes and shoes.
The suede fabric and the varsity lettering balance the shoe, making it fashionable but laid back and the ultimate execution of the ever-popular athleisure concept.
Fenty University isn't an actual learning institution but it's certainly a fashion academy. The royal blue slides are the right shade for autumn and winter.
Quick! Someone cue the Elvis Presley song "Blue Suede Shoes."
The orange version can wake up any outfit, thanks to the dose of color it provides.
This camel-colored version is an essential neutral that will go with everything.
The Fenty x Puma brand appears as though it will continue to revamp its designs, remaining innovative and cutting edge, all the while offering customers additional options.
The Creeper, which repeatedly sold out when introduced, has been reimagined in a soft leather material with an ankle strap bearing the Puma logo.
The sneaker also got a boost — literally — with the cleated version, which features an additional layer to the platform sole, pulling inspo from the '90s and The Spice Girls for sure. That's due to Rih's attention to detail, innate understanding of what looks good, and stylistic influence.
How about a blast from the past? Enjoy this throwback to the original trio of fur slides, which came in black, white, and blush. Perhaps the brand will resurrect this trifecta next season — or maybe it will offer the suede "F.U." slides in these old school colors.
The suede slides are available at the Puma site and all Puma retailers if you want to score a pair. Prepare to live in them, though. They are that comfy.