Here's When The Senate Will Vote On HR-7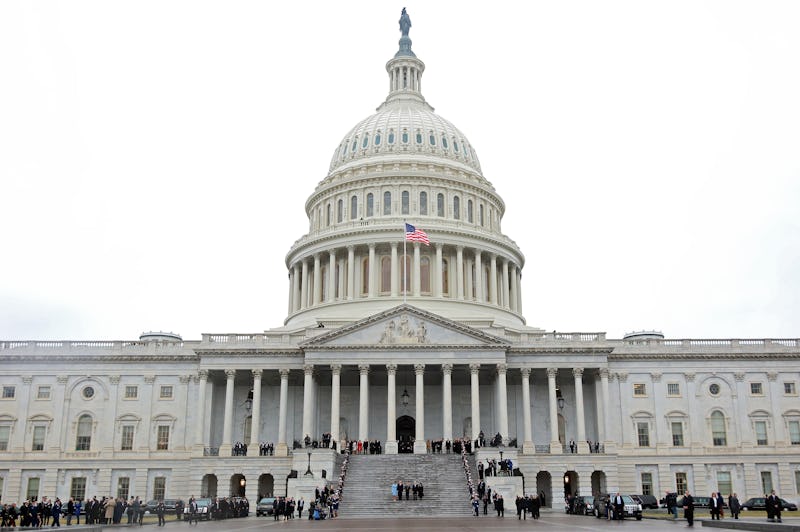 Michael Heiman/Getty Images News/Getty Images
The No Taxpayer Funding for Abortion and Abortion Insurance Full Disclosure Act of 2017, otherwise known as HR-7, has gotten a lot of people worried after the House of Representatives passed it on Tuesday. However, there's still no news on when the Senate will vote on HR-7. Given the breakneck speed at which things are progressing in the Trump administration so far, though, you can venture a guess that the Senate will take this one up soon.
HR-7 is causing such a furor on the left side of the political spectrum because of how much it would limit women's access to safe abortions, and it would disproportionately affect low-income women and women of color. Basically, if it were to make it through the Senate to be signed into law by Donald Trump, anyone getting their health insurance through the federal government will not be able to use their insurance to pay for an abortion. That will be true whether the insurance comes from a job in any branch of the government, private health insurance through Affordable Care Act subsidies, or Medicaid. Women will be allowed to pay for an abortion out of pocket, sure — but if you're on Medicaid already, chances are that that's going to be prohibitively expensive. That's why this bill is such a huge problem.
Republicans in the House of Representatives hold a comfortable majority, so it's no surprise that the bill sailed through there with no problems. Now it's up to the Senate to stand up for women's rights, but they haven't given any indication of when HR-7 will come up for discussion. There's actually a fairly good chance that HR-7 won't pass in the Senate, as the GOP would need 60 votes to get it through, and they only have 52 seats. While three Democrats in the House voted for it, it's much less likely that Senate Republicans will get eight of their Democratic colleagues to join them in taking this huge step backwards.
Just because they haven't let anyone know when they'll bring this one up, though, doesn't mean that you can sit around and wait for it to happen. They could do it whenever Mitch McConnell sees fit, so you need to call your senators now, Democratic or Republican, and let them know where you stand. You only have two of them, and two phone calls is nothing. You could literally help to save a woman's life by helping to retain her right to a safe abortion. It's totally worth it, you just need to act quickly — don't let Senate Republicans catch you off guard.