Pics Of Bey & Jay's Twins May Not Be Released For A While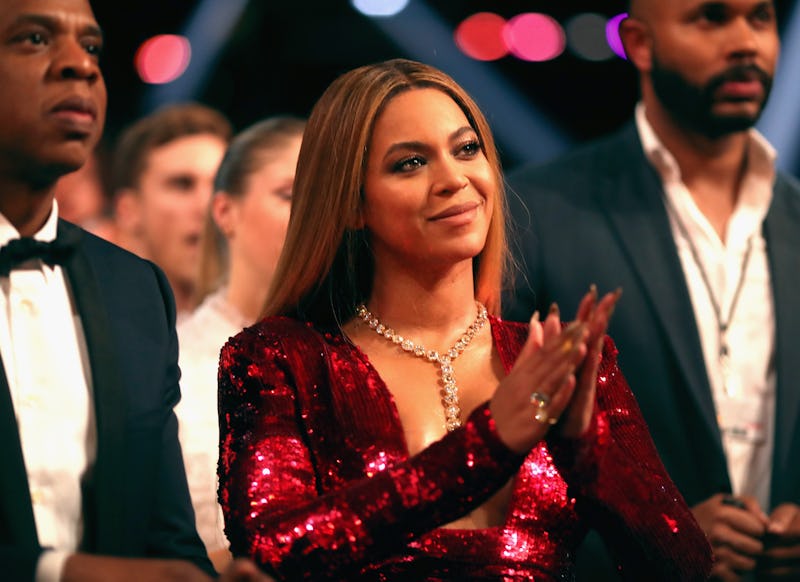 Christopher Polk/Getty Images Entertainment/Getty Images
Well, y'all, the day has arrived and news is out that Beyoncé has given birth to her twins. According to Us Weekly, the babies were reportedly born earlier this week. (Bustle reached out to the couple's reps for comment, but did not receive an immediate response.) While Bey and her husband, Jay Z, are probably still basking in their new additions to the family, there is no doubt that the general public is already very curious about these two very lucky babies, so when will there be photos of Beyoncé's twins? Based on the couple's history when it came to releasing the first photos of big sister Blue Ivy, the couple might make us wait just a little bit.
I admit I am already so anxious to see these two cuties. Who wouldn't be? Back in 2012, Bey and Jay released the first photos of Blue Ivy on their own terms, opening up a special Tumblr account to share intimate snaps of the family in the hospital. While Blue was born on Jan. 7, the Carters didn't publish her photos until Feb. 10, so I would think they might do the same thing for the new twins and wait about a month. We know that Beyoncé especially loves to add a little drama to her baby announcements, so why not let the curiosity simmer for a while? It'll make the photos of the Carter twins worth the wait.
I honestly already picture Bey and her team putting together an incredible photo shoot situation for the babies. Since the beginning of her pregnancy with the twins, Bey has used Instagram as her main source of photo sharing and the photos have been much more curated than when Blue was born. Granted, social media has gone to much bigger heights than back in 2012. While Bey announced her pregnancy with Blue during a performance on an MTV stage, she announced her twins with a now-iconic image on her Instagram:
From that moment, she didn't shy away from showing of her bump in fabulous outfits and highly stylized photos, so I am confident that photos of the twins will be in similar fashion.
Sure, she could just throw us a huge curveball and post a fairly normal photo of the twins in normal baby blankets and onesies, but, lest we forget, this is Beyoncé we're talking about.