Lawmakers Will Get To Grill Bill Barr On The Mueller Report Very Soon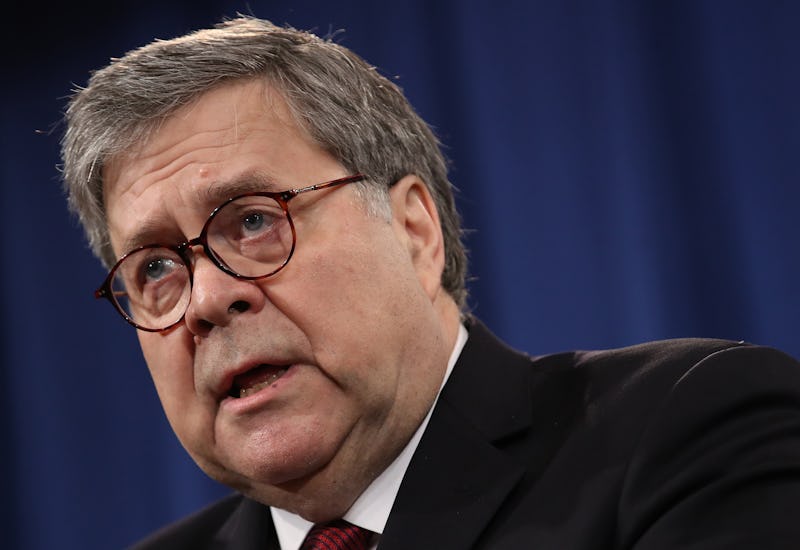 Win McNamee/Getty Images News/Getty Images
Now that the federal Russia investigation has been wrapped up, you might be wondering when Attorney General Bill Barr will testify about the probe. Come Wednesday, May 1, Barr will testify about Special Counsel Robert Mueller's federal Russia inquiry in front of the Senate Judiciary Committee, according to The Hill. It will be the first time that the attorney general will appear before the Senate ever since he released the Mueller report.
The Hill described the upcoming early May testimony as a chance for lawmakers from both parties to question Barr on how he handled presenting the Mueller report to the public. The report, which was released in April, was heavily redacted. The special counsel and his team of prosecutors ultimately concluded that there was no collusion between President Donald Trump's 2016 presidential campaign arm and Russian officials.
Still, the report revealed some major, if not eyebrow-raising, findings about the relationship between Trump's campaign team and Russia. It noted that although there was no collaboration, the "Russian government perceived it would benefit from a Trump presidency and worked to secure that outcome." It added that Trump's "campaign expected it would benefit electorally from information stolen and released through Russian efforts."
On May 2, Barr will also testify about his handling of the Mueller report in front of the House Judiciary Committee. It's possible that Barr will face some intense grilling from House Democrats, particularly those who have called for his resignation in the aftermath of the release of the federal inquiry and its conclusion.
On April 18, one of those critics, California Democratic Rep. Eric Swalwell, who is a member of the House Intelligence Committee, published a fiery tweet: "Russia attacked us. The #MuellerReport details a multiplicity of contacts between Russia and @realDonaldTrump's team and that Trump and his team 'materially impaired' the investigation."
"Yet, OUR Attorney General acts as Trump's defense attorney," Swalwell added. "He can't represent both. Barr must resign."
It wasn't just Swalwell who criticized Barr. Another House Democrat, California Rep. Norma Torres, tweeted on the same day as her colleague: "Is the #MuellerReport available in Russian? Only the redacted parts? Asking for a friend." The California Democrat added a hashtag: #LapDogBarrMustResign. California Democrat Rep. Barbara Lee also echoed Swalwell and Torres' sentiment in a tweet where she said Barr should resign.
Additionally, Rhode Island Rep. David Cicilline tweeted that "Barr lied through his teeth this morning" and California Democratic Rep. Maxine Waters stated that the attorney general had "proven himself to be a capable liar and fraud."
With these strong sentiments dogging Barr, it's possible that Americans will end up witnessing some intense questioning from various lawmakers in the Senate and House Judiciary Committees collectively. In the middle of this, The Hill reported that Mueller himself may testify in front of the Senate and House committees.
The details of Mueller's potential appearance are unclear but according to the publication, Barr indicated that he would allow the special counsel to testify about the explosive Russia probe. If you're interested in watching the attorney general testify in front of lawmakers on Capitol Hill, tune into the Senate Judiciary Committee's livestream on May 1.