You Shouldn't Expect Sophie Turner & Joe Jonas' Wedding To Happen For Awhile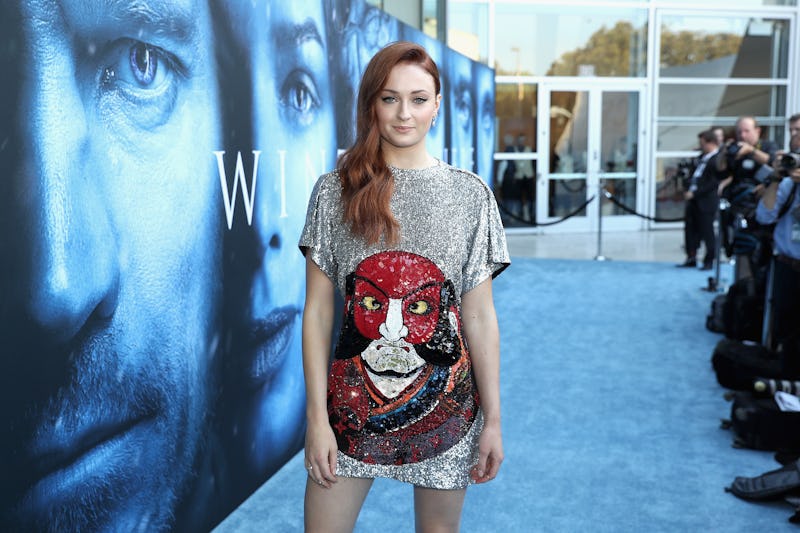 Neilson Barnard/Getty Images Entertainment/Getty Images
Joe Jonas and Sophie Turner had the internet going bananas on Sunday, Oct. 15 when news of the couple's engagement broke. Turner and Jonas announced their engagement via their respective Instagram. The newly engaged couple simultaneously posted a photo that shows Turner's hand sitting casually on top of Jonas's as the Game of Thrones star shows off the stunning pear-shaped diamond that the DNCE frontman gave to her. Like many fans of the pair, you're probably dying to get the scoop on the details surrounding the wedding, like when Turner and Jonas will get married, who will be in attendance, etc. But seeing as the couple just let the cat out of the bag a few hours ago, it's safe to say that it might be too soon to tell when the wedding will take place.
Since announcing their engagement, both stars have received an outpouring of support from fellow celebrities and and the millions of fans that follow them both on social media. The photo of the engagement ring currently has almost a million likes and over 31,000 comments on Sophie Turner's Instagram account, while Joe Jonas's photo garnered half a million likes and over 25,000 comments in just three hours. Right now, the couple is probably just enjoying the amount of support they're currently receiving and not thinking too much about what happens next. You don't have to currently be planning a wedding to know that doing so can get pretty stressful at times, so they've probably already planned to take some time to adjust to being happily engaged before really getting the wedding planning underway.
It's also worth noting that the pair has been dating since last November, though they both have understandably kept the details of their relationship under wraps for the past year. Since the beginning of their romance, when they were spotted together at a concert overseas, the couple didn't even become Instagram official until around a month later, when Turner shared a photo of Jonas wearing a baseball cap and holding a cigar while cruising on a boat in Miami. Other than that, aside from the occasional paparazzi photo, many aspects of their relationship appear to be kept pretty private anyway, so even if they have already set a date, it wouldn't necessarily be a surprise if they decided to keep fans guessing about what to expect from the upcoming wedding.
And let's not forget that Turner and Jonas also have some pretty busy schedules to keep to. Joe Jonas and his band DNCE are gearing up for a brief tour that kicks off in November, and the first stop is in Tokyo. From there, the band is set to travel to a handful of different cities in Japan, Brazil, Argentina, and Peru before wrapping things up in Ecuador on Dec. 2.
On the other side of things, Sophie Turner also seems to have a lot on her plate. You know, like being the star of a hit HBO series? The final episode of Game of Thrones' penultimate season aired back in August, but the show's cast and crew will probably begin filming Season 8 in early 2018. Planning a wedding in the midst of touring and filming a show with a set in a completely different country just sounds it'd be a lot to handle, so it'd be totally understandable if Turner and Jonas made the decision to wait until both of their engagements wrap up to finally tie the knot.
Whenever the wedding happens, there's no doubting that it'll be absolutely amazing. Fans will probably have to hold out on getting any details about the big date, but at least they'll know that Joe and Sophie are enjoying being newly engaged in the meantime.