What Jason Mesnick Regrets About Letting 'The Bachelor' Film His Breakup With Melissa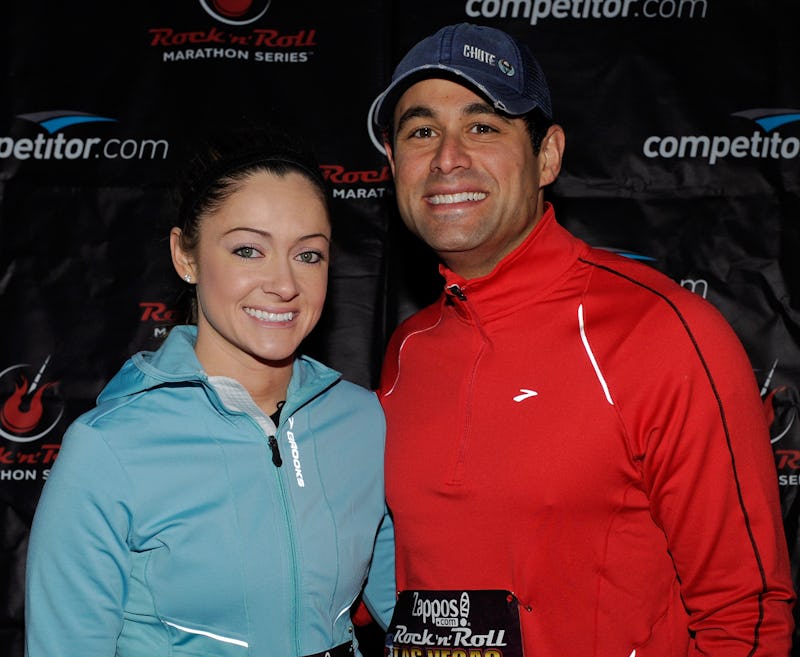 Ethan Miller/Getty Images Entertainment/Getty Images
When Jason Mesnick changed his mind after he initially chose his fiancée on The Bachelor, he became one of the most hated men in the franchise. Originally, Jason proposed to Melissa Rycroft. It wasn't until After The Final Rose that he revealed he was still in love with runner-up Molly Malaney. In that televised moment, Jason begged for Molly to give him another chance, after dumping Melissa moments before. Spoiler alert: Jason and Molly got back together, up against a sea of skeptical fan opinions, but ultimately proved their haters wrong. So, what are Bachelor stars Jason and Molly doing in 2018? The pair are living their best life, proving that true love can last against the odds.
In 2010, Jason and Molly got married in a televised ceremony on ABC, and the event was highly publicized. Fans who had hated on the couple — Jason for changing his mind, and Molly for taking him back — were forced to realize that some things happen for a reason.
Only a few years later, they had a daughter together named Riley Anne. And, as time passed, the family became a franchise favorite — despite the rocky start. These days, they're a pillar of success for the show and its new couples.
But, it wasn't always smooth sailing. In an interview with the Huffington Post, Jason reflected on the intensity of his post-show experience. He said he now regrets having let it all play out on camera and that Melissa was hurt in the process. He claimed to HuffPo:
"The biggest thing [producers said] was, 'Jason, we want Melissa to be the next Bachelorette [which didn't happen]. Because we're going to let you ask Molly out, and you can't do that away from the camera because you're under a five million dollar contract [that said there would be no contact with the runner-up], we need your help to have America feel for Melissa in the same way they felt for you when DeAnna dumped you [on The Bachelorette]. The fans just need to feel sorry for Melissa. Work with us and we'll let you have Molly' ... In my gut I knew it was the wrong thing to do."
(ABC declined to comment on his claims.)
It seems that Jason has found more peace with what happened over the years. Jason said in the same Huffington Post article:
"Today, I've had to take a step back and I'm thinking about: 'What is happiness to me?' And I'm just fortunate enough to have a beautiful wife and two wonderful kids and when I think about happiness, just sitting here right now, I'm lucky."
These days, Jason and Molly live together in Seattle, Washington, according to their social media pages. They are raising their adorable kids and documenting most of it on Instagram. Jason posted the above Instagram with the caption, "Coffee and donuts with my girls!!!!"
Both Jason and Molly are also working parents. According to LinkedIn, Jason is a real estate broker for Northwest Group Real Estate and is on the board of directors for the Big Brothers Big Sisters Of Puget Sound. Molly has a radio show and podcast, "Bender and Molly" on 106.1 KISS FM.
Despite Jason's criticisms about the way his ending went down, the pair has stayed active in Bachelor world. Molly has been tweeting about The Bachelor, like the tweet above, and both have made cameos on franchise shows.
Basically, the two balance living a normal life, while also making occasional TV appearances. They went on a special Bachelor edition of Family Feud and also a Bachelor Wife Swap episode with Catherine and Sean Lowe. But, other than occasionally popping up on TV, the couple tends to stay in their Seattle routine.
So, I suppose Arie should take note that whatever happens in his finale — and no matter how dramatic it is, nothing is really ever the end of the world on this show. If Jason and Molly can bounce back — anybody can.