The Obamas' Last Helicopter Ride Will Be Memorable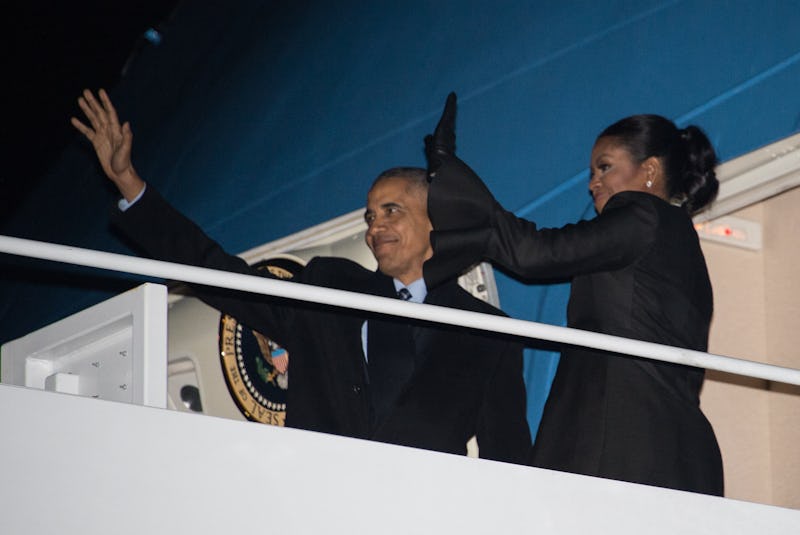 NICHOLAS KAMM/AFP/Getty Images
For all the things the 2017 inauguration of Donald Trump as president represents, it undeniably is the nation's last goodbye to the family that has lived at its helm for the past eight years. After President Barack Obama oversees Trump's swearing-in, he and Michelle will exit the proceedings in style. The Obamas' final helicopter ride is a bittersweet part of inaugural tradition, and one that is symbolic of the "passing of the torch" of the presidency.
As per tradition, the Obamas, as the outgoing presidential family, will take a helicopter to Andrews Air Force Base, where they will then board a plane and head home. Although for them, home will be Washington, D.C. for the foreseeable future, making Obama the first president to stay in the district since Woodrow Wilson left office in 1921. The family is reportedly moving to the chic D.C. neighborhood of Kalorama, just a few miles from the White House, and plan on staying there at least until Sasha, who is a sophomore in high school, graduates.
The final presidential helicopter ride is a major point of history in American political lore — Ronald Reagan reportedly cried on the short helicopter ride to the Air Force base, and Jimmy Carter supposedly tried unsuccessfully to get back into the Situation Room to help handle the Iranian hostage crisis.
While so much of the focus will be on the incoming presidential family, the outgoing president's administration is also busy preparing for a new leader. On Jan. 6, news broke that members of Trump's transition team reportedly ordered all Obama-appointed ambassadors out of their offices by Jan. 20. Because the move requires that all ambassadors who served under President Obama leave their posts "without exception" by that date, the move is historically unprecedented.
Despite the transition, Obama will have his farewell party to look forward to. While most members of the public will only get a second-hand scoop of the event, the unconfirmed guest list names artists like Chance the Rapper, Bruce Springsteen, and Paul McCartney as reported attendees. Though the list has yet to be confirmed, the event is sure to be star-studded.
With an event the size and magnitude of Trump's inauguration, much less the political context that spurred it on, the symbolism of traditions may very well be heightened. On the Obamas' last presidential helicopter ride, a massive historical shift of power will be recorded for all the world to see.