Here Are The Warming Stations At The Women's March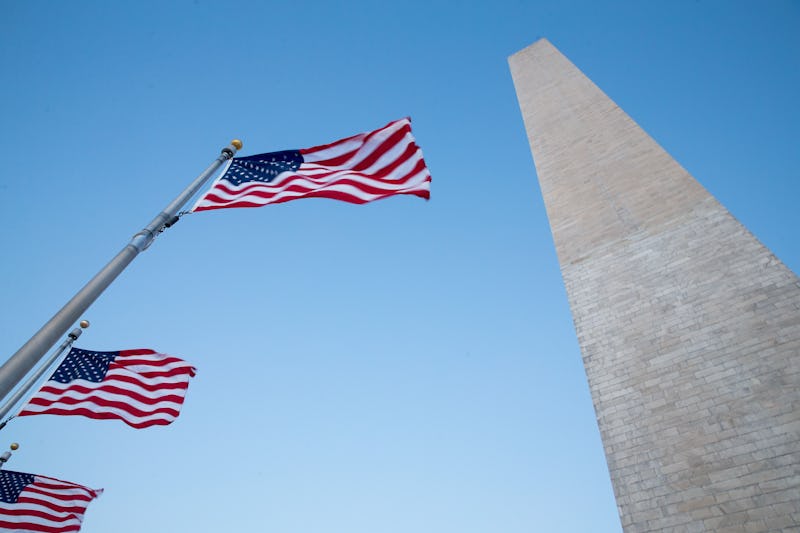 TASOS KATOPODIS/AFP/Getty Images
The Women's March on Washington is assembling Saturday, January 21 for a grassroots-organized rally and march through the streets of D.C., ending at the Washington Monument. Although the event has four national co-chairs and a national organizing committee, it was largely assembled by independent coordinators working at the state and local levels to organize everything from transportation to legal guides for safer protest practices. The event is a constitutionally-protected protest with all the necessary permits. But some attendees might be wondering where they can recharge during the march. So where are the Women's March warming stations? Luckily, plenty of places have volunteered their resources for easily accessible self-care all along the protest route.
Lori Boerner and burlesque dancer Kay Sera have organized an interactive Google map listing 30 venues (and counting) willing to offer a variety of services to women attending the protest. They write on the map's description:
"This is a (growing) list of places in D.C. near the Women's March that will have special Welcome Stations catering specifically to March attendees — offering services such as: bathrooms, meeting areas (to meet and find your group at), drinks/snacks (some are offering free hot chocolate, etc.), getting warm inside if it's really cold outside, charging your cell phones, prayer services, etc."
As many young activists know, self-care is a critical part of political activism. Taking breaks to recuperate, recharge, and get the things we need physically and emotionally are crucial in building up the stamina to survive the long-haul of that infamously slow arc of progress. As Audre Lorde once said, "Caring for myself is not self-indulgence, it is self-preservation, and that is an act of political warfare."
You can access the interactive map here, or check out a list of locations below.
Air & Space Museum
AMAR International
Belmont-Paul Women's Equality National Monument (Sewall-Belmont House)
Capitol Hill United Methodist Church (CHUMC)
Centrolina
Councilmember Mary Cheh's Office
Del Campo
Fantom Comics
Friends Committee on National Legislation
Holiday Inn (Capitol) - sponsored by CARE
Hyatt Regency - sponsored by Religious Action Center of Reform Judaism
Impact Hub DC
Iron Gate Restaurant
Labyrinth Games & Puzzles
Lutheran Church Of The Reformation
Mia's Coffeehouse
Mr. Henry's Restaurant
National Museum of the American Indian
National Museum of Women in the Arts
New York Avenue Presbyterian Church
Nordstrom Rack
Pleasant Pops
Population Institute
Pretzel Bakery
Sojourners
St. Mark's Episcopal Church
United Church of Christ at the First Congregational UCC
Western Presbyterian Church
William Penn House
Woolly Mammoth Theatre Company