Converse Just Released Super Sparkly Shoes That You Need For Your Holiday #OOTD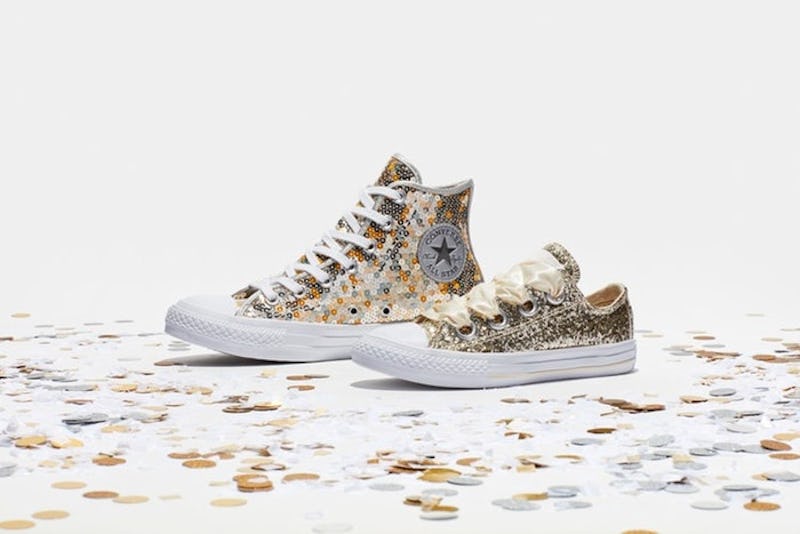 Converse
Now that Halloween is officially over you can finally bring out the hot chocolate, put on the Christmas music, and start watching Hallmark holiday movies around the clock, because it's time for the holidays! And that includes donning your most festive holiday clothes — which includes Converse's "Holiday Scene Sequins" collection. This new line is everything merry and bright, and will glitter-bomb your feet in the most festive of ways. You know how the world turns into a ball of twinkling lights come December? This new pack mirrors that sentiment, just bringing it to your feet.
This new pack has re-imagined the Chuck 70 high top and the Chuck 70 low top, taking the classic shoes and dipping them in red, purple, and metallic sequins. They will be the perfect shoes to wear while you're out battling the crowds and shopping for people on your holiday list, or while you're drinking spiced wine with mittens on at a Christmas market. They add that festive touch to any outfit, and will most definitely pep up those black parkas and peacoats we all disappear into once the temperatures start dropping and the frosts roll in.
Specifically, the new high tops come in three different colorways: one that features violet, purple, and white sequins; another that has gold, copper, and silver sequins; and a third that has black, blue, and purple sequins.
The low tops offer something very similar, but in a different shoe form. They also come in three colorways, letting you choose from a teal and blue sequin option; a gold, copper and silver pair; or a red, orange, and purple pick. Even the shoe's logo is made with a multi-colored, reflective material, giving it a real jolly vibe.
If you're a sucker for anything that shines, then these shoes are going to be right up your alley this season. Not only will they be great for off-duty outfits, but they will also be your go-to shoe during the party circuit. Whether you're going out with friends for Saturday night and want something glittery on your feet, or you want to skip heels for a holiday party but still want to wear something festive, these options will do in a pinch.
Converse also made a second holiday pack, in case you needed even more sparkly options this season. The "After Party" collection focuses more on glitter rather than sequins, and it has re-imagined both the One Star Low Tops and the Chuck 70 High Tops. The low tops come in three colorways, spanning from a midnight black, a bright blue, and an understated white. The high tops mimic the same hues, bringing a streetstyle-ready amount of glitter to your outfit.
These are a little more understated (if that's possible) than the "Holiday Scene Sequin" collection because of their lack of sequins — they look sleeker, making them the perfect thing to wear to an after party.
Both collections are now available at Converse — start building that holiday wardrobe!